Teaching in the Clemson Experimental Forest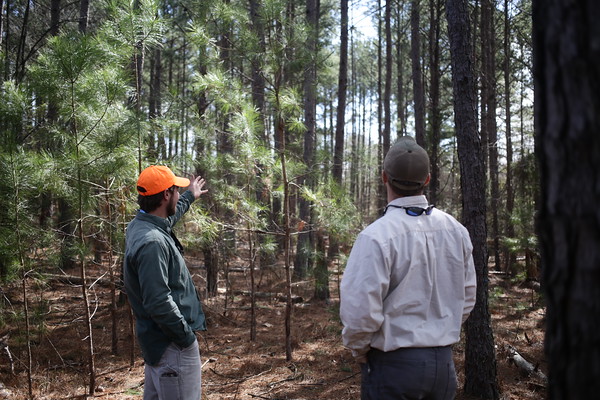 The Clemson Experimental Forest's (CEF) broad expanse, diverse landscape, varied multiple uses (ranging from forest management, recreation, and historical preservation), and close proximity to Clemson University allows the forest to perform as an outdoor laboratory for many disciplines within Clemson University. It also provides an opportunity for volunteer service to be completed which fosters community involvement and the development of a land ethic. 
The establishment of Clemson University and the management of the CEF revolve around a mandate established by the Morrill Act (1862; amended in 1890 to include southern states) which established land grant colleges across the country and provided educational opportunities to any U.S. citizen. The central tenet of the Act states: 
"…by each State which may take and claim the benefits of this act, to the endowment, support, and maintenance of at least one college where the leading object shall be, without excluding other scientific and classical studies, & including military tactics, to teach such branches of learning as are related to agriculture & the mechanical arts, as the legislature of the states may respectively prescribe, in order to promote the liberal & practical education of the industrial classes in the several pursuits & professions in life."
At this time, approximately 37 classes utilize the CEF in some facet to compliment the traditional classroom setting, including Creative Inquiry Research projects. Please contact us for permission to use the Forest for educational purposes.
Stream Team Article ( © South Carolina Wildlife magazine 2012: posted with permission)
Forest Fest
Close to 1,000 people came out to support the inaugural Forest Fest in the Clemson Experimental Forest. At the fun and family-friendly event, people were able to "choose their own adventure" from a variety of activities, games, demonstrations and more. The primary goal of this event is to bring people together to celebrate both the treasure that is the Clemson Experimental Forest and all of the partners and people who work so hard to manage the Forest and use it for teaching research and service.