Online M.S. for Science Educators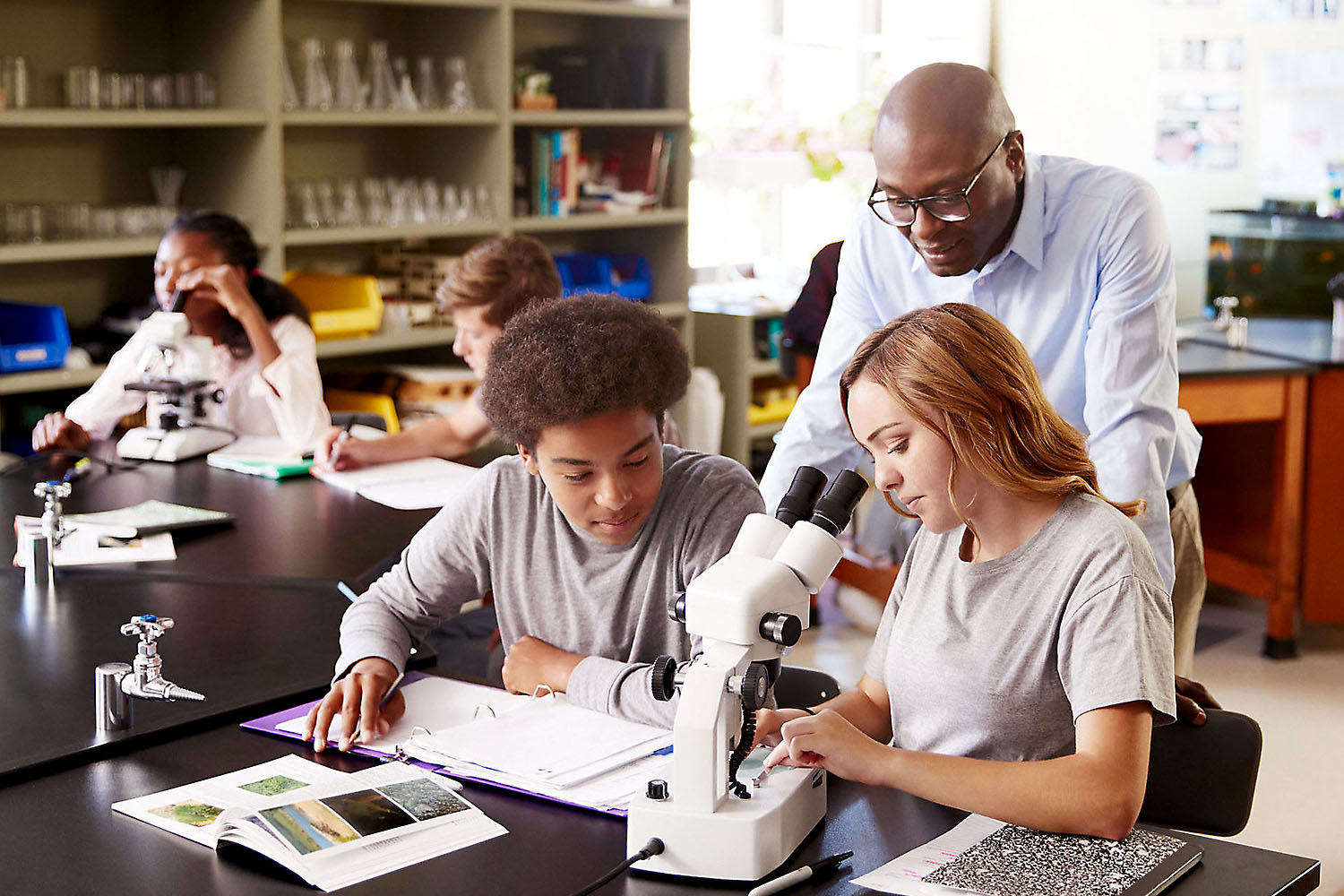 The Department of Biological Sciences offers an online, non-thesis M.S. in biological sciences for teachers and science educators interested in biological sciences. Students include teachers at all levels, as well as scientists from museums, field stations and research laboratories. This program is fully in a distance-learning format and lectures are available 24/7.
Two Options
Two academic paths are offered to accommodate the needs of students: one for advanced students not seeking additional degrees, and one for students wishing to attain a non-thesis M.S. in biological sciences degree.
Note that the tuition rate is higher for advanced student status students. Non-degree-seeking students may benefit financially by applying to the degree-seeking program even if they do not intend to complete the program. 
Which Path is Right For You?
Advanced Student Status
This is for non-degree-seeking students. Admission to the non-degree category is restricted primarily to those who may benefit professionally from additional study at the graduate level. For example, current primary-, middle- and secondary-education teachers wishing to gain recertification most commonly apply as non-degree-seeking students. Regardless of the student's reason for applying non-degree, in all cases the non-degree student must receive permission from the program coordinator or the department chair before enrolling in any graduate course.
If you have been previously enrolled at Clemson at any time in the past six years as a non-degree student in the same area you wish to apply to, then you do not need to complete an application. Instead, visit the graduate application for re-entrance webpage and complete the application.
Non-degree-seeking students may complete courses in our program curriculum before applying as a degree-seeking student. Students who have taken courses from our program curriculum before their admission to the graduate program may transfer 12 credits of those courses into the non-thesis degree program.
Degree-Seeking Students
This degree-seeking option requires a total of 30 semester hours of graduate course work. At least 18 of the 30 hours must be at the 800 level. Degree-seeking students may transfer up to 12 credits of graduate courses into the degree program from accredited degree-granting institutions whose scholastic reputation is acceptable to Clemson University. To transfer, the graduate course content must be similar to one of our required courses with a grade of B or above. Transfer credits must not have been used to satisfy the requirements for any other degree and must have been completed within the six-year period preceding the date the graduate degree will be awarded. Transfer courses cannot be revalidated for graduate credit. The program coordinator must approve all transfer courses. There are no exceptions to this requirement.
A research proposal and project whose results are presented in written format is also a requirement of the non-thesis master's degree. The scope of the research project is not as extensive as the regular master's thesis degree option. However, it is expected that a non-thesis student will conduct original scientific research (one semester of data collection during BIOL 8480) and write a research report (BIOL 8490) that is of the caliber of a manuscript suitable for submission to a peer-reviewed journal. The student and student's graduate committee will determine the research project. For example, teachers may choose a research project that involves using their students to collect and analyze data.
Technology and Accessibility

General Assistance

Email Address

Email communications for the University go through a student's Clemson email address. Contact CCIT to set up email once you've been accepted. If you do not use your Clemson email address, you may miss out on important information.

Canvas

Canvas is Clemson's enhanced learning management system. Once you are in the Clemson email system and have a password and username, visit the Canvas homepage and sign in. You may be required to set up Duo two-factor authentication. Visit the Canvas training page to access Canvas resources.

Ensemble

Ensemble is a lecture capture system. The system enables faculty to record audio, course visuals and optional video for students to review in digital format. This provides students with powerful tools that can be used to provide instruction that is entirely web based. Students will have the ability to seek forward or back in a presentation to particular segments of the captured session. The captures can be viewed via a web browser and/or be downloaded to a computer or mobile device.

Clemson Online

Clemson Online provides expertise and personalized support to create and sustain unique learning opportunities and environments.

Graduation
The Graduate School

Current graduate students may find the following links containing University policies helpful:

For general information about the Clemson University Graduate School, as well as the most current degree requirements and course listings, visit the Records and Registration page.
The non-thesis M.S. in biological sciences (MS-BIOS-G-AAC) is offered online with no residency requirement. Please note that the tuition rate is higher for advanced student status students. Non-degree seeking students may benefit financially by applying to the degree-seeking program even though they do not intend to complete the program. Textbooks are an additional cost above tuition. For current course tuition rates, please email biologyonline@clemson.edu.

Visit the Records and Registration page for information about paying tuition and the deadlines for payments to be made. The Office of Student Financial Aid has information about financial assistance.
Tuition and Deadlines
The following links provide information about paying tuition and the deadlines for payments to be made:  
Department of Biological Sciences
Department of Biological Sciences | 132 Long Hall, Clemson, SC 29634