Biology Merit Exam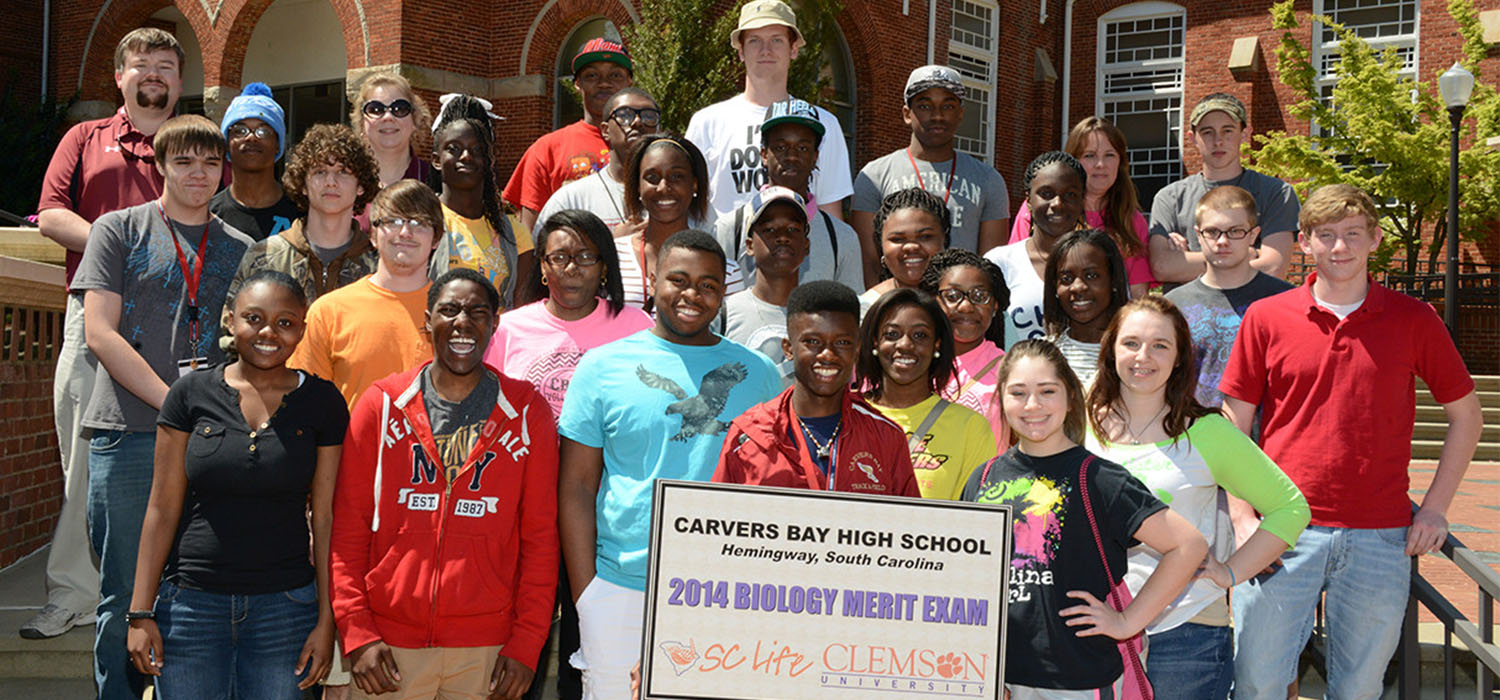 The Clemson University Department of Biological Sciences annually conducts the Biology Merit Exam to recognize and promote outstanding achievement in the biological sciences among middle and high school students in South Carolina.
Students participating in the Biology Merit Exam will have an opportunity to:
Test their biology knowledge.
Acquaint themselves with Clemson University.
Tour the Clemson campus, explore the museums, attend special science exhibits and demonstrations (as part of Bio Science Expo).
Prepare for the Advanced Placement exam.
Prepare for success on the biology end-of-course exam.
Explore a college atmosphere and see what a college freshman exam might look like.
Compete against students at grade level for awards.
Participants
Any middle school or high school students who have completed or are currently enrolled in a biology or life science course and who have been identified by their teachers as having a strong interest and aptitude in the biological sciences are eligible to participate. Home-school students and students from out of state are welcome to participate.
Exam Structure
The Biology Merit Exam consists of 40 multiple-choice questions of varying degrees of difficulty that are distributed among the major areas of biology. Each year the exam has a different theme animal. Examples of previous exam themes include the biology of the yellow jacket, polar bear, wandering albatross, tiger, killer whale and octopus. Biology content areas include:
General principles.
Molecular biology.
Cellular biology.
Genetics.
Ecology.
Taxonomy.
Plant structure and function.
Animal structure and function.
Three divisions
Students compete only against others in their own division, and awards are given to the top three students as well as honorable mentions in each division.
Division I: Middle school students having completed or presently enrolled in life sciences or high school students having credit for middle school life science only.
Division II: High school students having completed or presently enrolled in their first biology course.
Division III: High school students having completed or presently enrolled in a second year of a high school life science.
The Department of Biological Sciences will again host an online and free edition of the annual Biology Merit Exam on April 21, 2023. The animal theme this year is coyotes.
Additional Questions?
For additional information, or to get answers to any questions not addressed here, contact Ginger Foulk, Biology Merit Exam director, 132 Long Hall, Department of Biological Sciences, Clemson University, Clemson, SC 29634. Email: foulk@clemson.edu. 
Department of Biological Sciences
Department of Biological Sciences | 132 Long Hall, Clemson, SC 29634