How to Register for Intramural Sports
Visit the Campus Recreation Member Portal and select Sport Programs
Sign in using your Clemson username and password
Click on the Intramural Sports banner to be directed to the IMLeagues home page
Once you are logged in to IMLeagues you can:
View current or upcoming sport seasons or tournaments
Create a team, or join an existing team roster
To be eligible for registration:
Participants must have a current student, faculty, or staff Campus Recreation membership
Participants may not have any existing Campus Recreation and/or Intramural Sports suspensions
Sport Programs Assistant
Sport Programs Assistants are responsible for serving in a support role for intramural, club, and open recreation events and activities. Assistants will serve in various roles that include sports officials (no previous experience needed) and field attendants. Assistants will help oversee recreational facilities in order to provide a safe and enjoyable atmosphere for participants. Click the button below to apply today!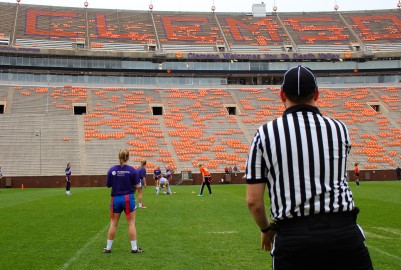 Campus Recreation
Campus Recreation | 110 Heisman Street, Clemson, SC 29634