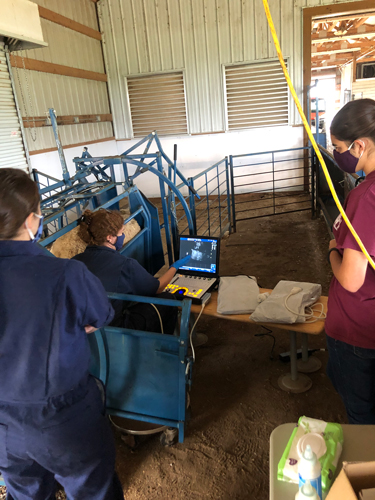 The Clemson University Sheep Farm is part of the Piedmont Research and Education Center and is located on Lebanon Road in Pendleton, SC about 10 miles southeast of Clemson University's main campus. The Sheep Farm maintains a sheep flock which supports the Research, Teaching and Extension missions undertaken by the university. 
The 70 ewe flock is comprised primarily of the Suffolk and Texel breeds. Suffolks are a large breed and are known for their black head and legs and fast growing lambs. Texels are known for their remarkable muscle development and leanness. Both produce medium grade wool.    
The farm employs 4-6 students for much of the feeding and daily tasks so that they can gain hands-on experience with all aspects of sheep production and research.
The farm consists of approximately 25 acres of pasture, a main barn for lambing, research, demonstration and teaching activities and a hay barn for stored feed and equipment. Pastures are a combination of perennial and annual forages which are managed to provide nutritionally appropriate forage throughout the production cycle. 
Lambing occurs primarily in the late winter and early spring so that spring forages can be utilized for lactating ewes and growing lambs. 
Ongoing areas of research include tall fescue effects and mitigation strategies, fetal growth and development and muscle development.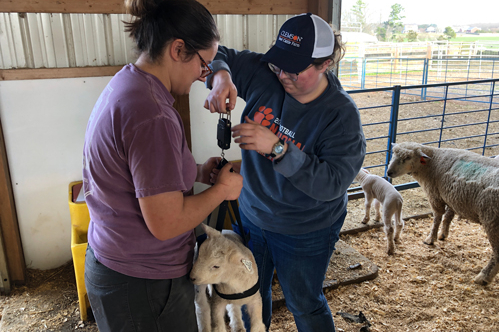 Students at The Clemson University Sheep Farm weighing a lamb.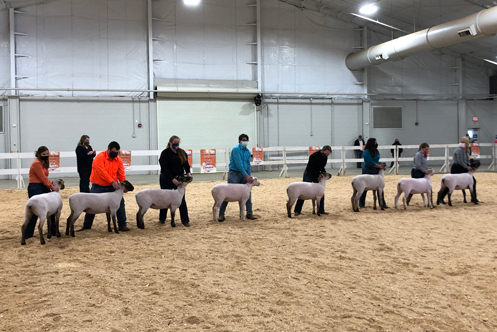 Participants in Little North American Livestock Show.
For biosecurity reasons, this property is not open to the public for drop-in visits. If you would like to visit this farm, please contact the farm manager for scheduling information.
Contact information:
Lydia Owens – Farm Manager
lgo@g.clemson.edu 864-650-1190