Incoming Fall Students can request their TigerOne ID beginning June 2nd.
Students are eligible for their first ID at no charge. Both the Mobile ID and Physical ID are considered Official University IDs, and your initial selection is considered your first free ID. Information regarding how to purchase a secondary Mobile ID or Physical card after your initial selection can be found below in the Secondary ID section. 
IMPORTANT - PLEASE READ BEFORE SELECTING ID TYPE
NFC or Near Field Communication is REQUIRED for the use of the TigerOne Mobile ID. Many Android phones, especially international devices, do not have this technology and are not compatible.
Please ensure your Android device has NFC and it is enabled BEFORE selecting the Android Mobile ID as your first free credential. If you find your Android device does not have NFC, simply chose "Device Not Supported". This will allow you to receive a physical ID at no charge for your first credential.
If you do not follow this procedure and you chose the Android Mobile ID without checking that your device has NFC first, you will be required to purchase a physical card for $20. Please be diligent in checking your device compatibility BEFORE selecting your device type to avoid a charge.
To begin your TigerOne ID request, please visit our TigerOne Online Office to get started.
The following devices are supported for the TigerOne Mobile ID: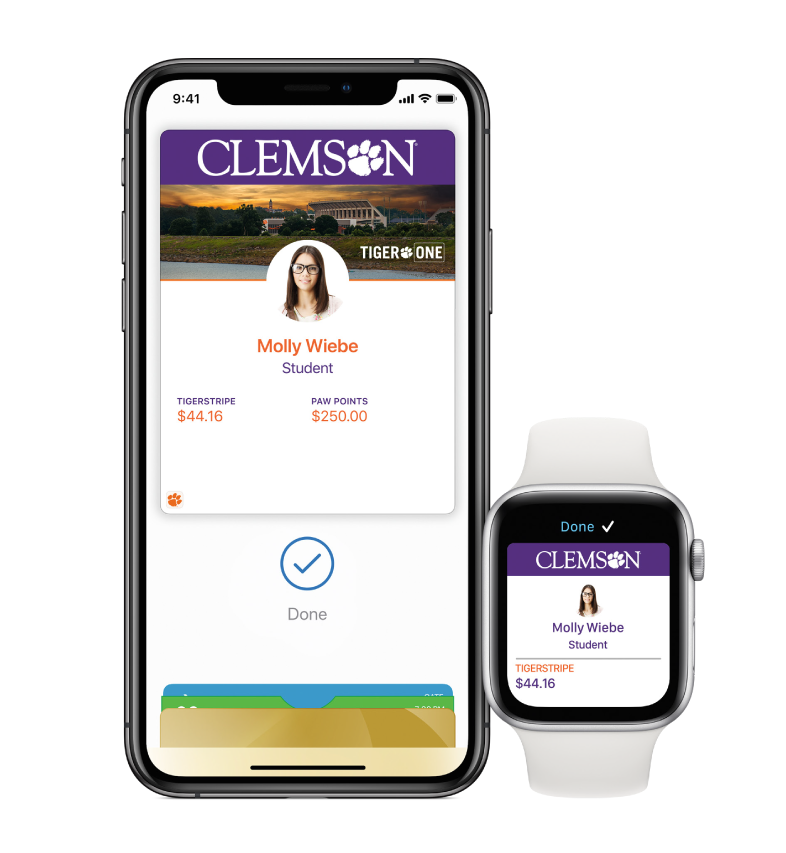 Transfer Mobile ID to a New device
Transferring your TigerOne Mobile ID to a new device is simple. There is no charge for transferring your TigerOne Mobile ID. 
Visit the TigerOne Online Office to begin the reset procedures. 
If you are transferring from an Apple device to another Apple device, select Reset iPhone Mobile ID or Reset Apple Watch Mobile ID. After five minutes, go to the my.Clemson app on your new device and select the ID icon in the top menu and you should now be able to add the Mobile ID to your new Apple device. 
If you are transferring from an Android device to another Android device, select Reset Android Mobile ID. After five minutes, go to the GET Mobile app on your new device and select the Add ID to phone button. 
If you are transferring from an Apple device to an Android device or vice versa, select Switch Mobile ID to Android or Switch Mobile ID to Apple and follow the instructions provided after selection. 
Students may purchase a secondary ID type for $20 at the TigerOne Online Office. Select Physical Cards or Mobile Credentials to proceed to purchase. 
The secondary credential allows for flexible use of technology if you do not regularly carry your mobile device. The secondary credential can also serve as traditional keepsake for those who wish to have a physical card commemorating their Clemson experience.
Please note that the secondary credential must be the opposite of your first credential selection. For example, if you have the TigerOne Mobile ID, you may purchase a physical card for a fee. If you have a physical card, you may purchase a TigerOne Mobile ID for a fee.
Use of the University ID is limited to the cardholder ONLY. Misuse of the Card or Account will be reported to the Office of Community and Ethical Standards and is subject to disciplinary action by the University. Review the Terms and Conditions for more details on use of the University ID.
If you have lost your ID, please deactivate it online immediately.
The Cardholder is responsible for all charges made with the card; even if the card or account number is lost or stolen. Therefore, it is important to notify TigerOne immediately upon discovering loss or theft to limit potential loss of funds.
If you have lost your Mobile Device, you can add the TigerOne Mobile ID to your device again at no charge by resetting your device platform online.
If you lost your physical card and would like to replace it, you can purchase a new physical card online for a fee of $20.
Deactivate Lost ID
If you have lost your TigerOne ID, deactivate it online immediately to prevent misuse.
Physical ID
If you suspect your physical card is broken, please first review the Presentation Methods and Troubleshooting procedures.
If after troubleshooting, you have determined your ID is still broken, please submit a Broken Card Request. We will investigate your case and contact you on resolution.
If your card is broken through normal wear and tear, a replacement card free of charge will be provided. You will be required to turn in your old, nonfunctioning card to receive a new one at no charge. If you do not have the old card, a $20 charge will be applied.
Mobile ID
If the NFC antenna on your device is broken, you will find your TigerOne Mobile ID to no longer respond to readers on campus. You can confirm that your NFC antenna has broken by testing a debit or credit card in your Apple, Samsung, or GPay wallet. If you cannot complete transactions at all, your NFC antenna is broken.
If this is the case, you may purchase a new cellular device and transfer the Mobile ID to a new device using the "Transfer Mobile ID to a New Device" instructions above, or you may purchase a physical card for $20.
Troubleshoot Access
Review the procedures on how to present and ensure your ID is properly assigned to your device before requesting a new ID.