Planning Modern Infrastructure
Civil engineering is the broadest of the engineering professions. It is the stem from which most other branches of engineering have developed. Civil engineering involves the planning, design, construction, maintenance and operation of facilities and systems to control and improve the environment for modern civilizations. This includes projects of significant importance such as bridges, transportation systems, buildings, ports and water distribution systems.
Designed to provide the student with knowledge of basic science, engineering science and engineering design, the undergraduate degree program in the Department of Civil Engineering is accredited by ABET.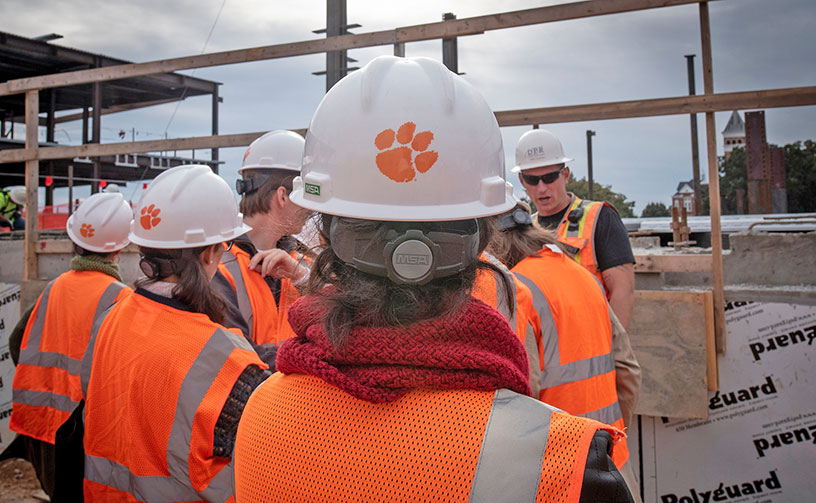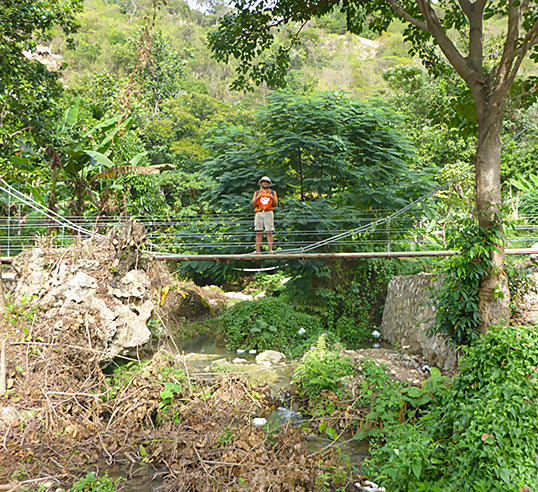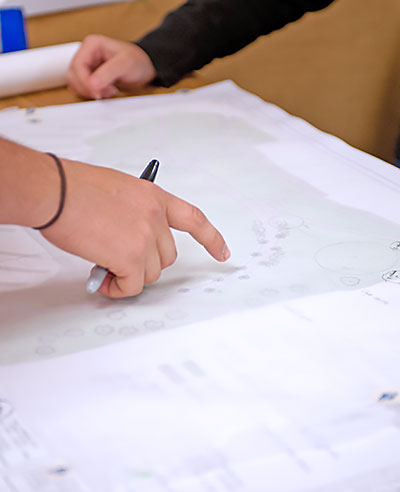 Undergraduate Studies
Clemson engineers are prepared to work immediately upon graduation in most areas of the profession. These include traffic and transportation engineering, structural engineering, construction engineering, soils and foundation engineering, coastal and water resources engineering, and public works. The Clemson graduate is also educated in the humanities and social sciences, developing communication and leadership skills. Graduates are encouraged to become registered professional engineers and to continue their education throughout their professional careers.
Senior departmental honors in civil engineering can be added to enhance the degree; students have two options for completing the program extension: a thesis option and a portfolio option.
B.S. Program
Civil Honors
Design Experiences: ARCH Initiatives
Arch Initiatives disrupt the status quo and facilitate new interactions between students, faculty, and industry partners. Beginning sophomore year, students take Springer I & II, which provides the foundation for successful teamwork, professional ethics, critical thinking, design processes, and professional formation as civil engineers.
In a traditional engineering curriculum, students may not grasp the link between the information learned in class and its real-world application. Springers bridge that gap.
While Springer I focuses on oral communication, Springer II focuses on writing. Assignments build in complexity, helping students gain confidence and develop their writing skills through projects, including field memos, cover letters, resumes, and team lab reports.
Communication is a key component in the Arch Initiatives, which is why the department includes coaching and mentoring students as part of the curriculum. In addition to individual assignments, students complete team projects that combine communication and technical content, shaped by stakeholder advice, that gets incorporated into the final design. The advice will often include developing strong written and oral communication skills.
By their junior year, students are well-prepared to take on more challenging projects to meet the grand challenges facing society. In three-hour studio block courses, the students design projects with a stronger emphasis on developing connections and creating stakeholder involvement. The junior studio goes beyond technical skills, inviting students to learn about complex societal issues with no clear answer. Students learn to develop solutions based on the community's needs and desires. The responsibility of learning and protecting leadership moves more toward the students. Emphasis is placed on using the strengths of the team to create value and collaboration.
The second series of courses is called Studio courses. In this part, students begin moving from the project's conceptual phase into more of the preliminary design phase.
"It gives a student a chance to take the things they learn in Springer, all of their communication skills, and then apply them in a more advanced course. And so I teach them not only all of the different engineering typical of a junior-senior level course, but I also give them a chance to apply all those communication skills in the context of this subject they're working on. So, I like to say that it gives them time to practice what they learned in Springer and polish their product on the way to success in Keystone."

Brandon Ross

Cottingham Associate Professor
Emphasis Areas
Undergraduate Civil Engineering students can utilize some of their Technical Requirements and Free Electives to obtain an emphasis area in any of several specified areas. These Emphasis Areas require 12 to 13 credits of coursework. The successful completion will be noted on the student's transcript. To receive credit for completing an emphasis, see CJ Bolding, our Student Services Manager, to complete the appropriate form.
Structural

An emphasis in Structural Engineering provides students with specialized technical training and prepares them for practice as a structural engineer or graduate school in the field. Structural engineers design structural systems (buildings, bridges, towers, and others) capable of safely resisting imposed loads without undue risk to society. In addition, these engineered structures must satisfy all required performance criteria in an efficient, cost-effective, practical, and aesthetic way. To accomplish this, structural engineers must possess a thorough understanding of the behavior of various structural materials and be able to analyze and design complex structural systems

Take a total of four approved courses. (No more than one course can be counted from Group B)

Group A

CE 4010 - Matrix Structural Analysis
CE 4020 - Reinforced Concrete Design
CE 4060 - Steel Design

Group B

CE 4040 - Masonry Design
CE 4070 - Wood Design
CE 4080 - Structural Loads and Systems 
CE 4210 - Geotechnical Engineering Design
CE 4240 - Earth Slopes and Retaining Structures
CE 4900 - Special Topics (Structural Topic with Chair Approval)

Transportation

Transportation systems are essential for the efficient movement of people and goods. Interconnected air, land and marine transportation systems play a vital role in ensuring strong economic health and improved quality of life. An emphasis on Transportation Systems provides the student with specialized training that will better prepare Civil Engineering undergraduates for practice as a transportation planner or engineer or to graduate school in either of these fields.

For an emphasis on Transportation Systems, you must take 4 courses. Take at least 2 courses from Group A. The remainder of your courses can come from Group A or B.

Group A

CE 4100 - Transportation Planning
CE 4110 - Roadway Geometric Design
CE 4120 - Traffic Engineering

Group B

CE 4330 - Construction Planning and Scheduling
CE 4340 - Construction Estimating and Project Control
CE 4470 - Storm Water Management
CE 4560 - Pavement Design and Construction
CE 4900 - Special Topics (Structural topic, with Chair's approval)
CRP 4110 - Introduction to City and Regional Planning
CRP 4150 - Small City and Rural Planning
CRP 4340 - Geographic Information Systems for Landscape Planning
CRP 4730 - Government and Planning Law
CRP 4720 - Planning Process and Administration
CRP 4740 - Real Estate Master Builder Development Process
EX ST 3110 - Introductory Statistics II
GEOG 3030 - Urban Geography
IE 3800 - Methods of Operational Research
MGT 3050 - Economics of Transportation

Water Resources

An emphasis in this area provides the student with specialized engineering training in selected applied areas of fluid mechanics and courses that will broaden the more technical topics. 

A total of 4 courses must be taken from the following list. Take at least 2 courses from Group A and the remaining 2 courses from Group A or B.

Group A

CE 4430 - Water Resources Engineering
CE 4460 - Flood Hazards and Protective Design
CE 4470 - Storm Water Management
CE 4620 - Coastal Engineering
CE 4910 - Special Topics - Introduction to Environmental Fluid Mechanics
CE 4910 - Special Topics - Hydrologic Analysis and Design

Group B

EE&S 4020 - Water and Waste Treatment Systems
CE 4820 - Groundwater and Contaminant Transport
CE 4900 - Special Topics (Fluid Mechanics topic, with Chair's approval)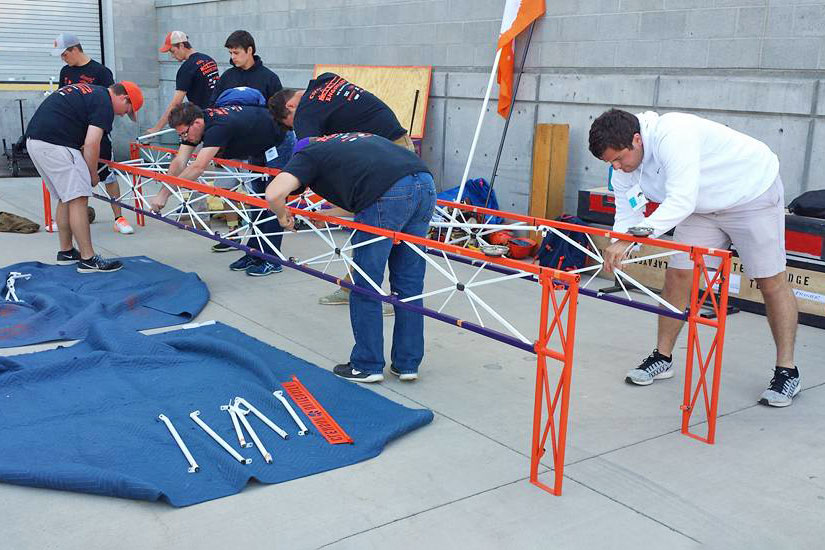 Creative Inquiry
Creative Inquiry (CI) is a form of undergraduate research that uses an imaginative way to address different topics. Popular CI projects are the ASCE Steel Bridge Team, Design Morphology, and Engage Domenica.
CI Projects
Study Abroad
In an increasingly globalized world, including an international background in engineering is invaluable. Through our study abroad program at Clemson, students can gain challenging real-world experience. For more information, please visit Clemson's Study Abroad website.
Global Learning
CO-OP
Many Civil Engineering undergrads elect to participate in the Cooperative Education Program. The co-op program enables students to alternate semesters of work and study to gain practical experience in civil engineering while pursuing their academic goals.
Career Center
Academic Support
All engineering students are admitted into the General Engineering Program for the first year. Afterwards, students can declare their major. Transfer students must show that they have completed the general engineering requirements before being admitted into the Civil Engineering program. Each student is assigned a faculty advisor upon entering the civil engineering program.
Civil Advising
Academic Policies
Career Planning
Change Major
Course Registration
Credits Taken Elsewhere
Degree Requirements
Internship Opportunities