Global Contributions
If you find it fascinating how tiny fibers in a bulletproof vest can stop a speeding bullet, wonder how biofuels are produced, or have a love of science and math, chemical engineering at Clemson combines two avenues of interest into one exciting course of study. Chemical engineering uses science, math and engineering principles to solve today's technical problems. This major also offers unique research and study abroad opportunities that give hands-on experience.
Working with chemical and biological systems provides the building blocks of advanced materials, a sustainable environment, nanotechnology, biomedical devices and much more. With a degree in chemical engineering, you will be making contributions to the development of humankind.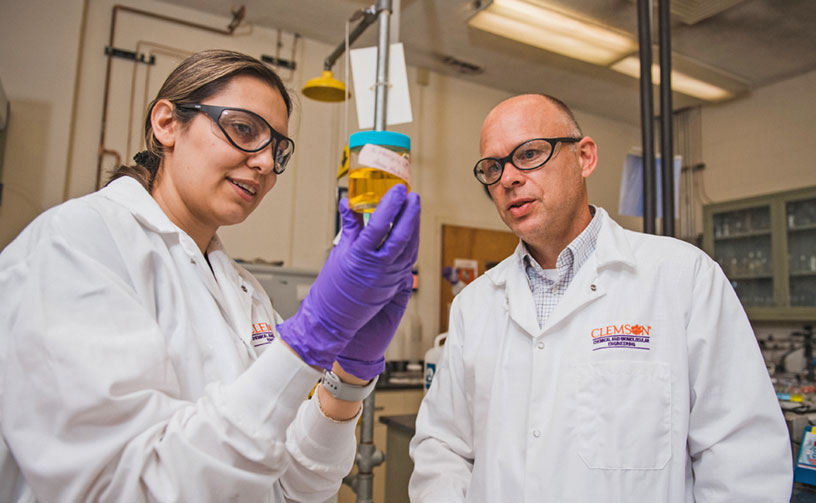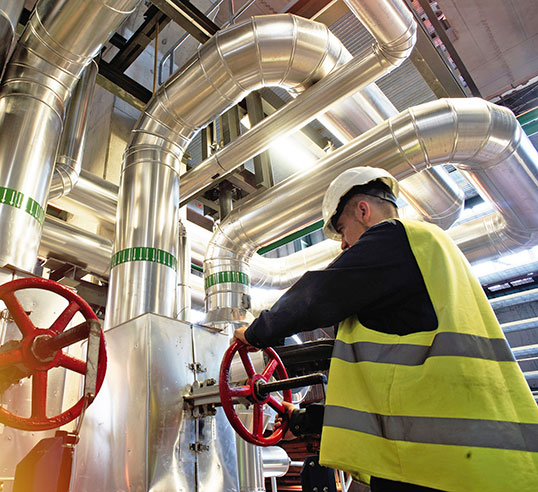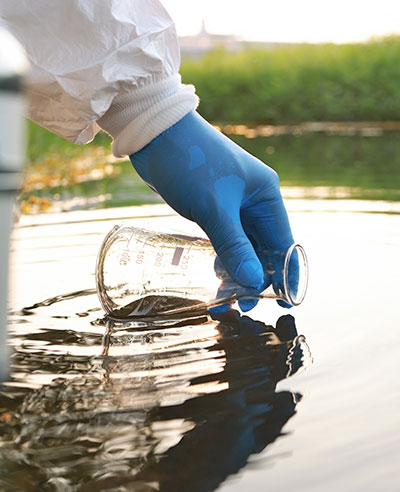 Career Paths
Chemical engineering uses science, math and engineering principles to solve technical problems that face the world today. For both the undergraduate and graduate programs, unique research opportunities provide hands-on experience for career growth. Students in chemical engineering are sought by employers from many industry sectors with a present starting annual salary average of $70,000 with a range of $55,000–$105,000.
Chemicals
Biotechnology
Pharmaceuticals
Business Consulting
Food Production and Processing
Manufacturing
Fossil, Nuclear, and Renewable Energy
ChBE Research
Career Center
Emphasis Areas
The Chemical Engineering curriculum includes Emphasis Areas to allow students flexibility in selecting courses and planning their future careers. Students must declare an area of interest in the Fall semester of their sophomore year.
Biomolecular Engineering
Environmental Engineering and Science
Polymeric Materials
Business Management
Energy Studies
Applied Engineering, Mathematics, & Science
Making an Impact
Problem-solving is a significant part of the field of engineering. From identifying to implementing, Clemson has programs that allow you to make an impact.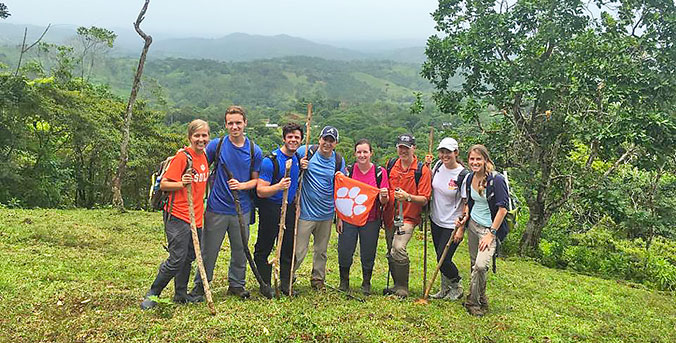 Engineers Without Borders
Engineers Without Borders' Clemson University Chapter is a service organization that partners with communities to identify their most extensive needs. Afterwards, students work on projects to create solutions to these problems. Two recent projects in Nicaragua include building a bridge and purifying water. You can join as a Creative Inquiry class or as a club member.
"I have been involved with Engineers Without Borders since freshman year, and it has been a great opportunity for me to learn how I can use my engineering degree to impact other people's lives and help people around the world. One of my favorite parts about Clemson is all the opportunities, especially for students who are interested in research. I think it's really great that the University has set up these different programs for students to learn and become successful in their college careers."

Emily Miller

Chemical Engineering '21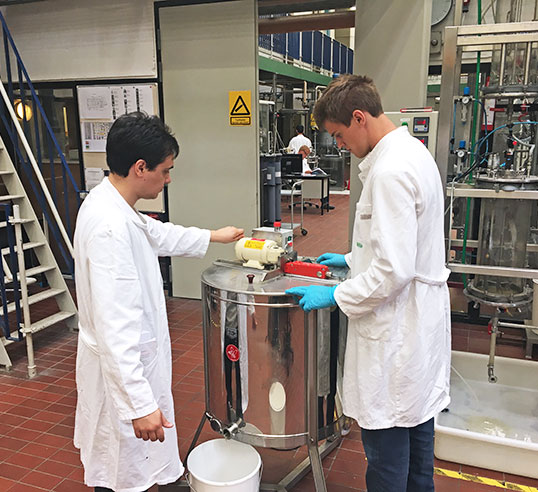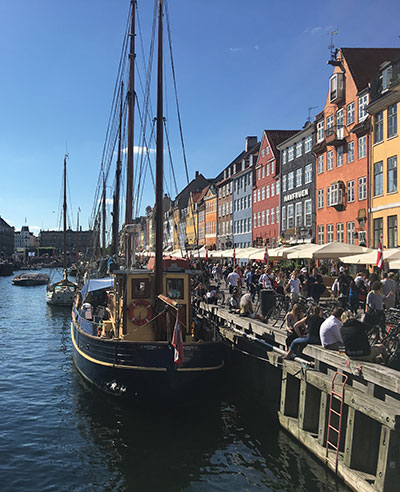 Summer in Denmark
Rising seniors in Chemical and Biomolecular Engineering are invited to participate in a specially designed, experimental course in chemical engineering and process technology. The course takes place in the university's cutting-edge pilot plant facilities and combines detailed theoretical and practical engineering experiences. The summer study program is designed specifically for international students from across North America and around the world.
Unit Ops Study Abroad
Schedule a Tour
The College of Engineering, Computing and Applied Sciences invites prospective undergraduate students to visit campus to learn about the programs and facilities. The tours are led by students currently enrolled in the College of Engineering, Computing and Applied Sciences. To register or learn more about our tours, visit the College's Tour Page. The Chemical and Biomolecular Engineering option is under the Academic Information on the tour request form.
For graduate program tours, please email the program contact. Allow 1-2 weeks' notice before visiting so that you may be able to meet faculty and current students, and attend some classes.
Undergrad Tour
Graduate Tour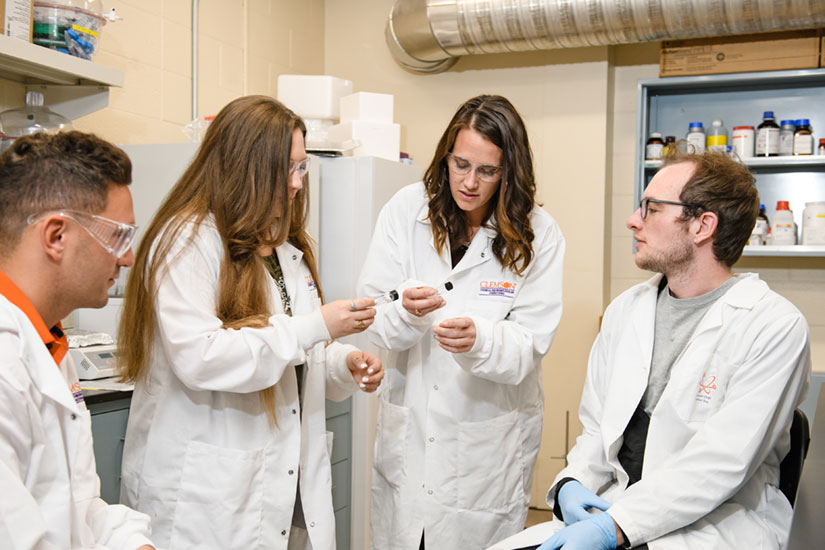 Brain disease targeted in research
Jessica Larsen has seen the toll that GM1 gangliosidosis takes on its young victims. A new research project aims to find new ways to diagnose the disease so that doctors can better determine its progression and offer the most effective treatment for the symptoms. The project gives several undergraduate and graduate students a chance to conduct research in a field where they can see their impact and the role chemical engineers can play in the medical field.
Impact of Research
Graduate sets out to help people who need it most
Anish Chaluvadi decided he wanted to become an engineer after visiting family in India and seeing them prepare for daily power outages, a dramatic difference from the life he knew in South Carolina, where electricity flowed into his home with rare interruption. "I realized if I ever wanted to work with others to fix this problem, I needed to be an engineer," Chaluvadi said. When he started looking for research experience, he was introduced to professor Rachel Getman, whom he credits as a great mentor and a support system.
Helping Others