Veteran and Military Financial Aid Resources
The Office of Student Financial Aid is thankful for the opportunity to support active-duty service members, reservists, National Guard members, veterans, ROTC cadets and the spouses and children of military members.
Your service to our nation creates unique opportunities, and we are dedicated to connecting you with the financial aid and resources you need.
Financial Aid Programs for U.S. Military Students and Families  
Reserve Officer Training Corps (ROTC) Programs  
Army ROTC and Air Force ROTC offers two-, three- and four-year academic scholarships that pay tuition and fees, book and laboratory expenses. In addition, ROTC scholarship recipients are paid a monthly stipend of $250-$400.  
For more information about Army ROTC, call 864-656-3107 or visit the Army ROTC website. 
For more information about Air Force ROTC, call 864-656-3254 or visit the Air Force ROTC website.  
Please be aware federal ROTC programs, e.g., Unlimited, will affect other scholarship funding, especially recruiting scholarships like the Nonresident Merit Scholarship or Grant. Please follow up with the financial aid office with questions regarding your scholarships. 
Clemson Corps Out-of-State Scholarship  
Students receiving first-year/sophomore recruiting funding (Clemson Corps) from the Army or Air Force at Clemson will receive that financial aid based on rosters sent to the Office of Student Financial Aid from the Army or Air Force departments. This additional aid is usually posted to students' accounts by mid-August or early January.  
Out-of-state students may receive only one out-of-state tuition-specific scholarship. If a student is offered an Army or Air Force Clemson Corps out-of-state tuition scholarship, then the highest offer is awarded to the student.  
Once the Clemson Corps out-of-state scholarship no longer applies, students may contact Student Financial Aid to regain the original out-of-state tuition recruiting scholarship if they meet all eligibility requirements for renewal.   
South Carolina National Guard College Assistance Programs              
The South Carolina National Guard College Assistance Program (SCNG CAP) is administered by the S.C. Commission on Higher Education, and it awards enlisted service members of the South Carolina National Guard on a first-come, first-served basis. 
Eligible undergraduate service members can be awarded up to $5,500 (Army and Air National Guard) each academic year. The maximum lifetime award is $22,000. 
Recipients of ROTC scholarships are not eligible for this award. Eligibility is determined by the date of enlistment.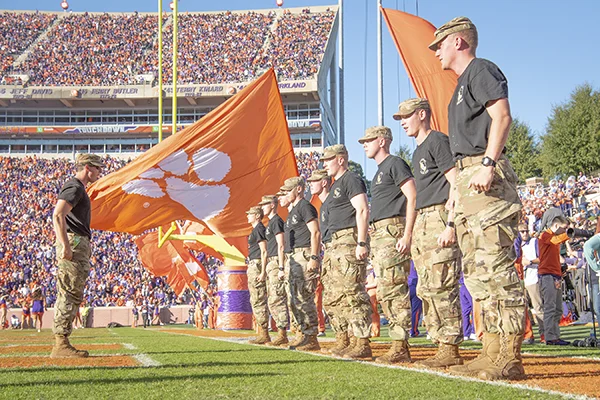 Financial Aid Resources for U.S. Military Students and Families 
Veterans Administration Assistance  
The Veterans Administration provides educational assistance for veterans and children of deceased or totally disabled veterans who meet requirements of applicable laws and regulations.  
Any veteran or child of a deceased or totally disabled veteran should communicate with the nearest Veterans Administration Office to determine whether they are entitled to any educational benefits. Free tuition is available to children of South Carolina law enforcement officers or firefighters who were totally disabled or killed in the line of duty. Certification is required from the agency of the parent's employment. Upon presentation of proof of eligibility, a student shall not become eligible for educational assistance until the beginning of the next academic term. 
Clemson University Resources
External Resources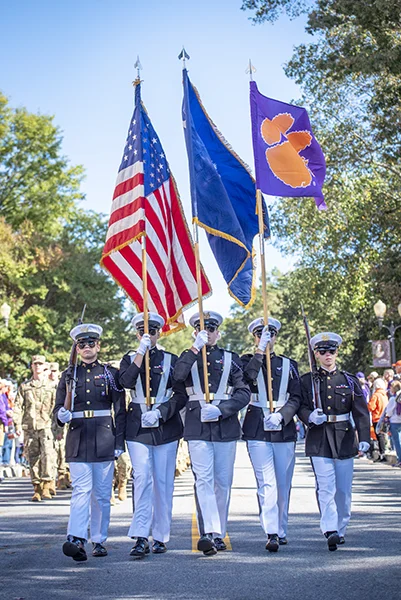 Veterans Affairs Financial Aid Contact