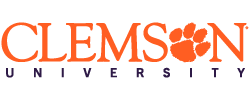 Student Employment
The Clemson University Office of Student Financial Aid and the Center for Career and Professional Development offer employment services to students. Immigration laws require all persons employed in the United States to verify their eligibility to work. Students desiring employment in any capacity, either on or off campus, should be prepared to provide proper identification and documentation, such as a valid U.S. passport or an official copy of a birth certificate and photo identification. An original Social Security Card will also be required.
For more information, visit Clemson University's Non-Discrimination Policy. 
---
Federal Work-Study (FWS) 
FWS Eligibility
The Federal Work-Study program provides jobs for undergraduate and graduate students who have established financial need through the submission of the FAFSA.
The FAFSA must be received by the federal processor by January 2 for first-year students and April 1 for upperclassmen and graduate students to receive priority consideration. Students who wish to continue as FWS employees must reapply annually.
Students must be enrolled full time and maintain satisfactory academic progress to receive Federal Work-Study financial assistance. See Course Program of Study (CPoS) information to ensure the courses you enroll in satisfy United States Department of Education requirements to receive all of your FWS aid.
When Demand Exceeds FWS Funds
Federal Work-Study assistance will be awarded first to those with the greatest amount of financial need if demand exceeds available funds.
FWS Payments
Students are paid semimonthly, and paychecks are automatically deposited into students' bank accounts. Since Work-Study earnings are paid directly to students, the money cannot be credited to student accounts for the satisfaction of University charges. Students can view their up-to-date earnings in their iROAR account in the Financial Aid tab under Federal Work-Study Earnings. 
Students who qualify for Federal Work-Study may be eligible to participate in America Reads, a federal literacy program. Federal Work-Study recipients who are interested in tutoring elementary-age children in local schools and community centers must apply to Teacher Education online through the FWS website. More information is available on the America Reads website.
Information about on- and off-campus job openings is located at the Center for Career and Professional Development in the Hendrix Student Center.The Job Location and Development Program, a federally funded service to assist students in obtaining part-time employment, maintains a listing of job opportunities. Students can also contact individual departments.