Graduate Studies Overview
The department offers separate programs in genetics or biochemistry and molecular biology leading to Master of Science and Doctor of Philosophy degrees. Enrollment is open to students with baccalaureate degrees in agricultural, biological, physical sciences or engineering. Entering students must have excellent academic records in biological, mathematical or physical sciences. Assistantships are available for Ph.D. students. M.S. students are self-paying.
Programs of Study
Graduate research in both genetics or biochemistry and molecular biology programs includes human, animal, plant and microbial biochemistry, and genetics, as well as molecular and biomedical genetics. Core courses for both programs include advanced discipline specific courses, as well as courses in methods, proteomics and genomics, and professional development. Additional courses are selected from the biochemistry/genetics curriculum, special offerings and supporting departments' course offerings to provide the academic and technical competencies needed to enhance the research focus of a student's program.
Master of Science
Students in the Department of Genetics and Biochemistry may work toward master's degrees in either genetics or biochemistry and molecular biology. Students can select a traditional two-year research-focused track or a one-year, non-thesis program that comprises three semesters, including one summer semester.
Doctoral Program
The Department of Genetics and Biochemistry offers programs leading to the Doctor of Philosophy degree in either of two subject areas: genetics or biochemistry and molecular biology. The primary focus is on the planning, performance and presentation of independent research, conducted under the supervision of a faculty member.
Resources for Graduate Students
Applicant Resources
If you are interested in applying to the graduate program in the Department of Genetics and Biochemistry, the following accordions offer information and resources that may be helpful.
Quick Links
The following resources may be helpful to applicants to — or current students in — the graduate programs in the Deoartment of Genetics and Biochemistry: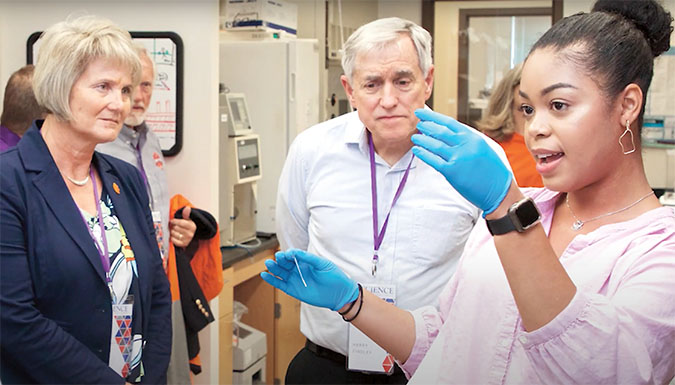 Tackling Challenges
Locally Relevant, Globally Impactful Research and Scientific Discovery
Find out why Clemson is the ideal place to pursue your graduate degree. Members of the College of Science leadership team highlight the graduate programs in the Clemson University College of Science, looking at the many programs and facilities available to students. We look forward to welcoming you to the Clemson family!
Watch the Video
Advising
The graduate academic advising team guides students through the curriculum and general education requirements to help ensure continued progress toward a degree and graduation. Together, you will devise an educational plan that meets the University and departmental requirements, but that is individualized to fit your interests and aspirations. In addition to our advising meetings before registration each semester, you may meet with your adviser at any time to discuss courses, academic issues, careers or other topics. For more information, contact a member of the team.
Cheryl Ingram-Smith, Ph.D.
Graduate Program Coordinator
257-A Life Sciences Facility
Phone: 864-656-2376
Email: cheryli@clemson.edu
---
Alison Starr-Moss, Ph.D.
M.S. Coordinator
Poole Agricultural Center 158
Phone: 864-656-6877
Email: astarr@clemson.edu
---
Kimberly Brown
Registration Coordinator
Poole Agricultural Center 151
Phone: 864-656-2426
Email: kfuhrma@clemson.edu
Financial Assistance
There are several types of financial support available for students in graduate programs. Each type of support is awarded to qualified students on a competitive basis. Continuation of all support is based upon satisfactory progress towards a degree.
The current stipend for assistantships ranges from $25,000–$30,000 for Ph.D. students.
These are also the minimal stipends for students admitted to the program on research assistantships. Students in the Master of Science program are self-supporting.
For current information on graduate tuition and fees, visit the Clemson University Tution & Fees webpage.
Department of Genetics and Biochemistry
Department of Genetics and Biochemistry | D153 Poole Agricultural Center, Clemson, SC 29634