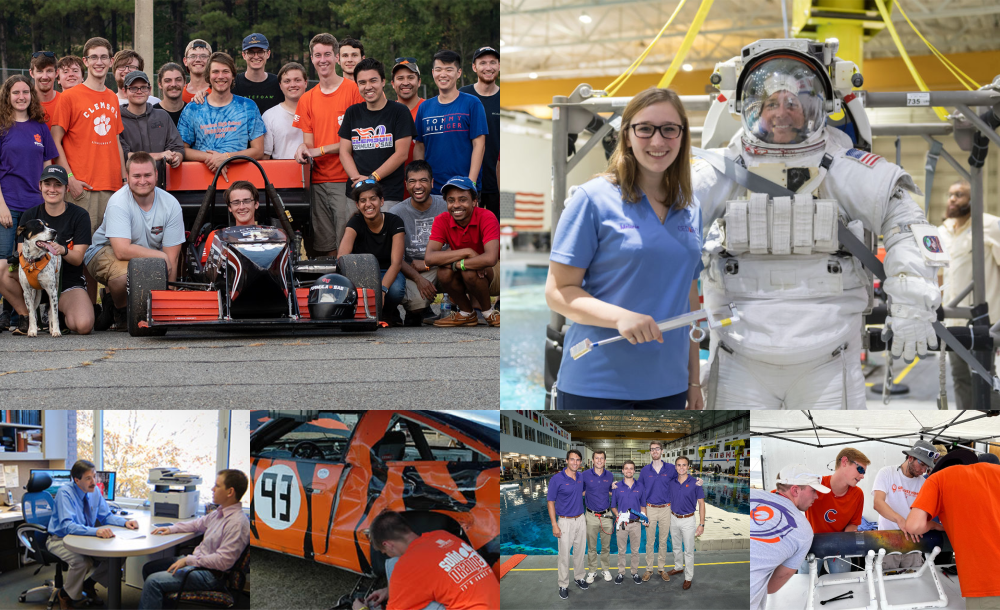 Getting involved in clubs and organizations allows you to participate in projects beyond the classroom. Collaborating on teams builds your network and skill set, making you more valuable to potential employers. Mechanical Engineering students can choose between several engineering-focused clubs and organizations to join to enrich their time at Clemson.
Engineering Organizations
Student chapters and professional societies hold regular meetings throughout the fall and spring semesters, providing students the opportunity to engage with one another, faculty and practicing professionals.
The Clemson Rocket Engineering team are dedicated to designing, building, and flying experimental sounding rockets. Subteams include Payload, Structures, Flight Dynamics, and Avionics.
Before competitions, it's not unheard of for the team to spend 12-hour days building the rockets in the Cook Engineering Laboratory. Afterwards, they travel to New Mexico to compete in the annual Intercollegiate Rocket Engineering Competition (IREC) with teams from all around the world.
"My first year here at Clemson, I came to the Rocketry Team, and they're all incredible people. So, they took me in and showed me what they were doing, and I was hooked on that then. We're in here for about a month, 12 hours a day, with a bunch of people working to get it working. And then we'll assemble it, build all the components, assemble everything, load it up in a trailer and then head out to the competition."

Charles Dove

Founder of Small Satellite Team
Designer Clubs & Projects
Society of Automotive Engineers Student Chapter (SAE)
The Society of Automotive Engineers at Clemson University offers its members the opportunity to apply their engineering skills to hands-on automotive projects. SAE is an international organization created to share knowledge between students and engineers. Clemson's chapter is dedicated to promoting advancement in designing and building automotive vehicles. These opportunities include monthly meetings, plant tours and two design projects — Formula SAE and Mini Baja.
Interested in joining the team?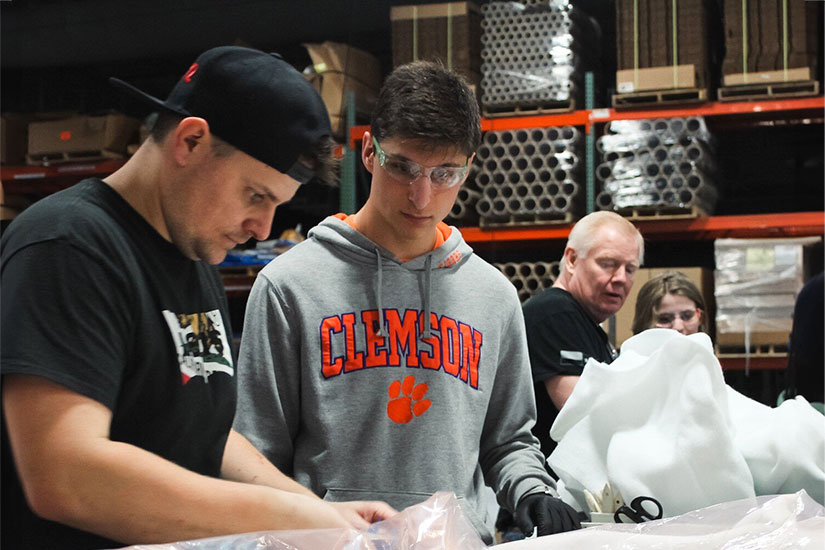 Formula SAE (CUFSAE)
Clemson University Formula SAE is an organization dedicated to enriching students by allowing them to apply what they have learned in class. From engineering to marketing, computer programming to graphic design, CUFSAE offers something for every student. The group aims to provide students with the tools to learn as much as possible while exploring employment possibilities in the automotive industry.
Formula SAE
Clemson Baja SAE
Clemson Baja SAE is a non-profit organization that allows students to apply knowledge acquired in the classroom to real-world settings. Baja SAE is a collegiate design competition sponsored by the Society of Automotive Engineers. University teams from around the world compete in an off-road challenge. Student members work to design, build, test, promote, and race a rugged, single-seat, off-road vehicle.
Baja SAE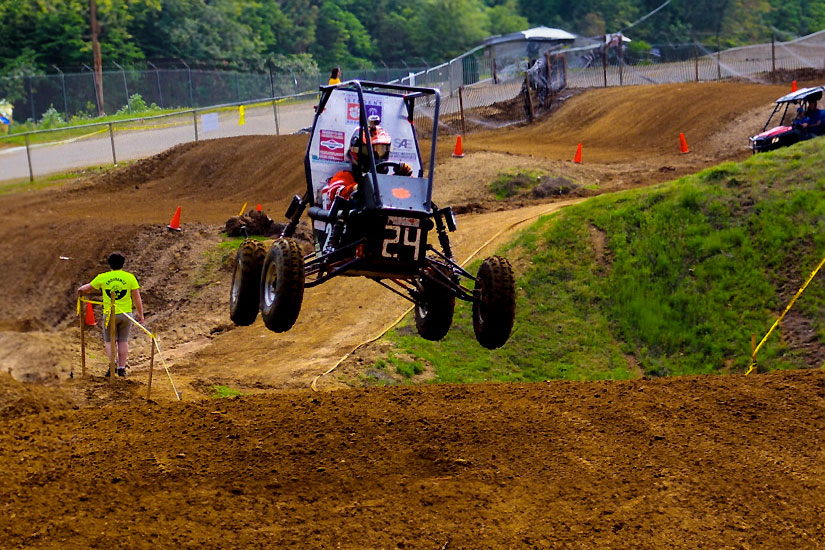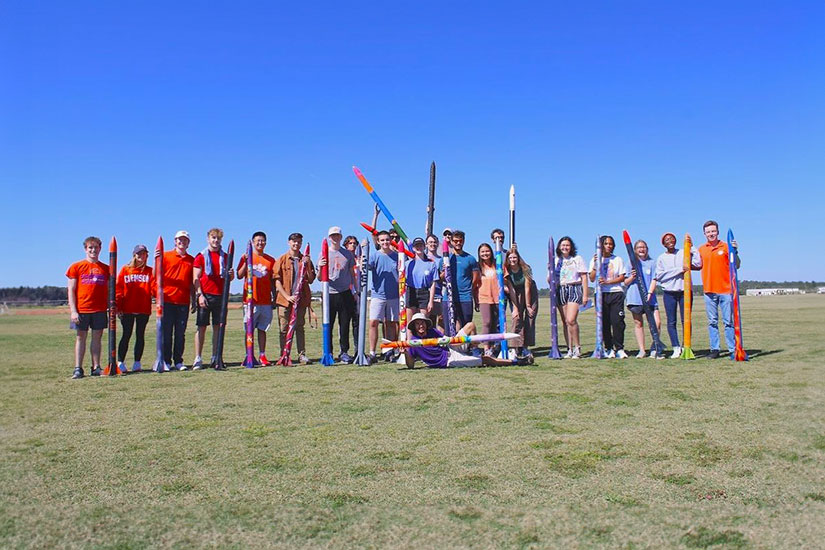 Clemson Rocket Engineering
Clemson Rocket Engineering is an entirely student-run organization dedicated to advancing extra-curricular aerospace research at Clemson. Our mission is to give students an outlet to experiment in hands-on ways to prepare them for future careers. Founded in 2016, the rocket club's projects range from orbital-class payloads to high-power rockets.
Rocket Club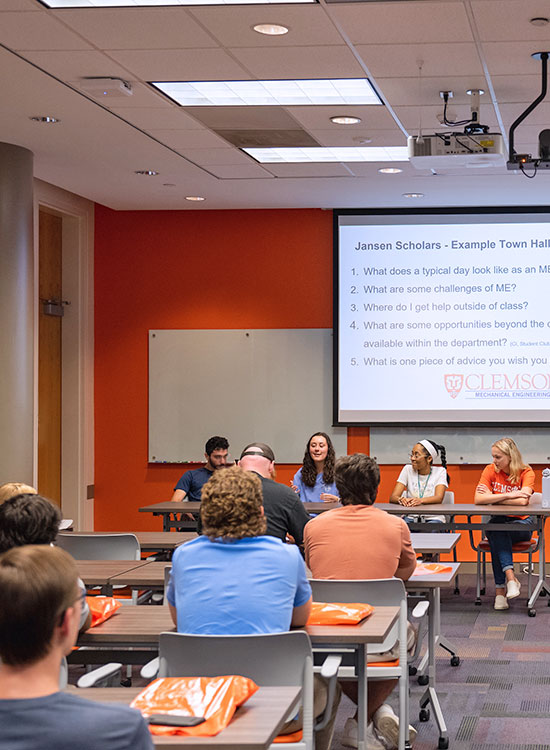 Department Organizations
ME Graduate Student Council
The graduate student council represents the views and recommendations of the ME graduate student body to the ME Department. ME GSC seeks to build this community to enhance students' experiences, meeting their needs as students and researchers. Most recently, ME GSC introduced a semester kick-off bowling tradition, with over 80 students in attendance, Trivia Night, and ME Poster Competition with more than 100 participants. Contact the ME Graduate Student Services Coordinator to learn more.
---
WIMAE
WIMAE (Women in Mechanical and Automotive Engineering). WIMAE is the School of Mechanical and Automotive Engineering student organization targeting to create and maintain an environment that fosters the growth and development of its female members through peer support and mentorship. This social club schedules regular lunches with guest speakers, outreach activities and engineering-related tours to allow community members to discuss topics for future success, support each other (mentally and academically), and establish a life-long relationships.
---
Jansen Emerging Scholars
The Jansen Family Emerging Scholar Program was initiated to develop stronger relationships between undergraduate students, establish a shared space in the department for students to study, network, and socialize, and provide increased opportunities for students to interact with faculty and staff outside the regular classroom setting. With the Jansen Scholar program, we strive to strengthen the ties within our "ME Family" so that, years from now, students can reflect on a great ME experience.