Clemson Family Advisory Board
The Clemson Family Advisory Board (CFAB) is a group of dedicated parents who significantly assist the University as it strives to meet the educational and developmental needs of our students while also addressing parents' needs for involvement, information and support. CFAB makes every effort to be a well-informed resource, assist in academic recruiting and offer the parents' perspective to the University.
Board membership applications are submitted each October, after parents of graduating students have rotated off. If you have questions about CFAB or the application process, please contact the Center for Student Leadership and Engagement at 864-656-0515 or by emailing cufamilies@clemson.edu.
Board Members

Parents from all over the country are members of the Clemson Family Advisory Board ("CFAB"). Check below to see who is from your region!

Clemson Family Advisory Boards Member

| Name(s) | Hometown |
| --- | --- |
| Nomi and John Russi (Co-Chairs) | North Charleston, South Carolina |
| Robin Stringer (Chair Elect) | Anderson, South Carolina |
| Lisa Treadwell (Secretary) | Castle Pines, Colorado |
| Lisa and Norris Brooks (Co-Chairs, Spring Family Weekend) | Midlothian, Virginia |
| Sherrie Gasque (Chair, Fall Family Weekend) | Marion, South Carolina |
| Shae Rozakos (Chair, Orientation) | Anderson, South Carolina |
| Rebecca Smith (Chair, Move-In/Student Life) | Lexington, South Carolina |
| Tanya Irby Tucker (Chair, Student Outreach) | Rock Hill, South Carolina |
| Kathryn Arcari | Pilesgrove, New Jersey |
| Mark Babin | Newport Beach, California |
| Karen Becker | Anderson, South Carolina |
| Audrey Bufkin | Anderson, South Carolina |
| Suzanne Chastain | Lexington, South Carolina |
| Kristin Cobb | Morehead City, North Carolina |
| Charles Cooper | Anderson, South Carolina |
| Barbara Corey | Canton, Georgia |
| Marty Cotton | Clover, South Carolina |
| Nicki Creech | Greenville, South Carolina |
| Barbara Cullum | Rock Hill, South Carolina |
| Tripp Davis | Columbia, South Carolina |
| Bill Douglass | Lemont, Illinois |
| Ayodele and Basil Dosunmu | Greenville, South Carolina |
| Kim and Jay Dowd | Bradley, South Carolina |
| Charles Dunn | Linville, North Carolina |
| Jennifer Ealey | Seneca, South Carolina |
| Kimberly Fly | Spartanburg, South Carolina |
| Kristi and Jimmy Gibbs | Columbia, South Carolina |
| Angela Hock | Fort Mill, South Carolina |
| Kevin Hood | Rock Hill, South Carolina |
| Kimberly Hudson | Anderson, South Carolina |
| Mattie and Naresh Jain | Pendleton, South Carolina |
| Lisa Kaplan | Royal Palm Beach, Florida |
| Carrie Knight | New Berlin, Wisconsin |
| Tania Liddy | Glen Ridge, New Jersey |
| Charles Lynch | Lafayette Hill, Pennsylvania |
| Emily Ahnert-McCauley and Brian McCauley | Stroudsburg, Pennsylvania |
| Elizabeth and Patrick McGlynn | Bethesda, Maryland |
| James McKinney | Chapin, South Carolina |
| Doug Meyer | Dacula, Georgia |
| Shawna and Troy Moore | Columbia, South Carolina |
| Bryan Payne | Columbia, South Carolina |
| Patricia Perez | Irmo, South Carolina |
| Marlo Poole | Seneca, South Carolina |
| John Rochford | Chesterton, Indiana |
| Nathalie Smith | Greenville, South Carolina |
| William Stephens | Pelzer, South Carolina |
| Chi Swift | Mount Pleasant, South Carolina |
| Brandon Templeton | Columbia, South Carolina |
| Monique Tuttle | Clifton, Virginia |
| Chris Wehrle | St. Louis, Missouri |
| Jared Wood | Dunlap, Tennessee |
| Kim Younghans | Camden, South Carolina |

CFAB Initiatives

Family Weekends — CFAB works with the Center for Student Leadership and Engagement in the planning and implementation of this annual family event occurring in both Fall and Spring on campus. The committee also coordinates all volunteers needed for the weekend.

 

New Student Orientation — The Orientation chair works with the Center for Student Leadership and Engagement to train, coordinate and solicit volunteers. These individuals distribute CFAB literature to parents, answer questions and welcome families to Clemson. All committee members are requested to volunteer in some capacity.


 

Move-In

 

— CFAB works with the Center for Student Leadership and Engagement to train, coordinate and solicit volunteers who welcome students and their families to campus each August.

 

Student Outreach — CFAB works with the Center for Student Leadership and Engagement and Undergraduate Admissions to solicit volunteers to engage accepted students.

Herb Coughlan Memorial Parent/Family of the Year Award

The Herb Coughlan Memorial Family of the Year award is a special recognition given to a parent or family who has demonstrated dynamic leadership and service to Clemson throughout their student's time at the University.

Nominees for the Family of the Year award should take additional effort and time in pursuit of the following:

Providing consistent service and positive morale to new students and families of Clemson University;

Remaining actively involved in promoting Clemson University in their local communities; and

Supporting both students and families in meaningful ways.

Nominations for the award are accepted in late spring throughout the summer. The recipient is recognized at the Fall Family Weekend football game each year.

Previous Winners

• 2022: Henry and Jeanie Fischer
• 2021: Ed and Kelly Rose
• 2020: Not awarded (due to COVID-19 modified operations)
• 2019: Roger and Kathy Troutman
• 2018: Tom and Kathy Reed
• 2017: Charles and Susan Barker
• 2016: Shep and Cynthia Haw
• 2015: Jeff and Susan Busch
• 2014: John and Kathy Beaty
• 2013: Eddie and Cynthia Robinson
• 2012: Wade and Melissa Allen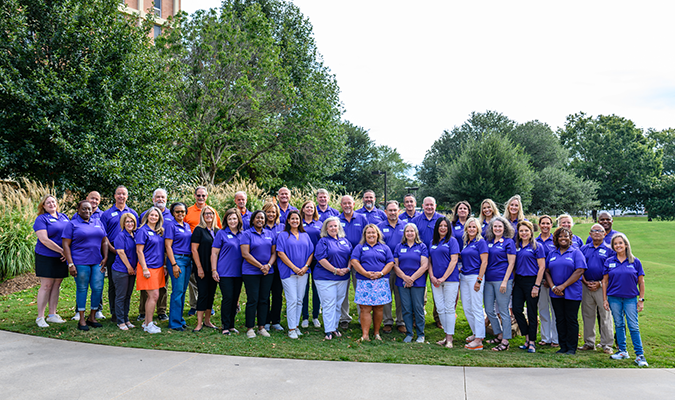 Center for Student Leadership and Engagement
Center for Student Leadership and Engagement | 300 Sirrine Hall, 515 Calhoun Dr, Clemson, SC 29634