Dr. Jennifer Ogle - Chair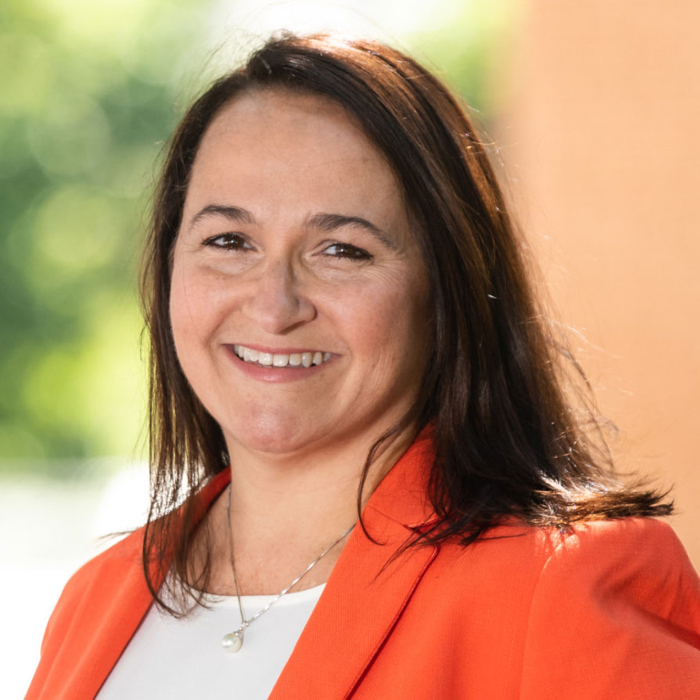 Jennifer Ogle joined Clemson University as an Assistant Professor in the Department of Civil Engineering in 2005. She has participated in research and education primarily in transportation safety, human factors, road design, student success/belongingness, and international service-learning. Prior to joining Clemson, Jennifer Ogle worked as a Research Associate at the Texas Transportation Institute for two years and as a Research Engineer with the School of Civil and Environmental Engineering at Georgia Tech for nearly eight years. She is now the Acting Chair and Professor in the Glenn Department of Civil Engineering at Clemson.
Member of the TRB ACS20 Safety Performance and Analysis Committee
Served on the President's Leadership Institute Advisory Board at Clemson
Past-Chair of the President's Commission on Women at Clemson
Chair of the Civil Engineering Diversity and Outreach Committee
Faculty Director of Clemson Engage
Recognized by President Obama as a Champion of Change for Women in STEM
Ogle Profile
Department Administrators and Staff
Please view the complete list of faculty and staff below in our department directory.
Department Directory
The Civil Engineering Department has about 500 undergraduate students (not including first-year students) and 140 graduate students. The department has 28 full-time faculty members and 14 administrative, technical, and research staff members. The Department's Advisory Board is composed of individuals who assist the department in its mission. The Board meets twice a year.
Faculty

CE Faculty
Name/Title
Email
Phone
Amer, Omar, Lecturer
oamer@clemson.edu
864.656.3317
Andrus, Ronald D., Professor
randrus@clemson.edu
864.656.0488
Beckner, Rachelle Leigh, Lecturer
rlbeckn@clemson.edu
Chalil Madathil, Kapil, Wilfred P. Tiencken Professor of Industrial and Civil Engineering
kmadath@clemson.edu
864.656.0856
Chen, Qiushi, Associate Professor
qiushi@clemson.edu
864.656.3330
Chowdhury, Mashur (Ronnie), Eugene Douglas Mays
Professor of Transportation
mac@clemson.edu
864.656.3313
Cousins, Thomas E., Professor
cousin5@clemson.edu
864.656.2291
de la Garza, Jesus M.,
Director, CEEES & Professor 
jdelaga@clemson.edu
864.656-3321
Fan, Chao, Assistant Professor
cfan@clemson.edu
864.656.3276

Forghanparast, Farhang

, Lecturer
farhanf@clemson.edu
864.656.2291
Kaye, Nigel B., Professor
nbkaye@clemson.edu
864.656.5941
Khan, Abdul A., Professor
abdkhan@clemson.edu
864.656.3327
Le, Tuyen (Robert), Assistant Professor
tuyenl@clemson.edu
844.656.3316
Leiva, Fabricio, Assistant Professor
fleivav@clemson.edu
844.656.3000
Mishra, Ashok, Professor
ashokm@clemson.edu
864.656.1209
Murray-Tuite, Pamela M, Professor, Graduate Coordinator
pmmurra@clemson.edu
864.656.3802
Naser, M.Z., Assistant Professor
mznaser@clemson.edu
864.656.3312
Ogle, Jennifer, Professor & Chair
ogle@clemson.edu
864.656.0883
Pang, Weichiang, Professor;
Professor of Intelligent Infrastructure
wpang@clemson.edu
864.656.0114
Piratla, Kalyan R., Professor;
Liles Distinguished Professor
kpiratl@clemson.edu
864.656.3324
Poursaee, Amir, Associate Professor
amire@clemson.edu
864.656.3323
Rangaraju, Prasad Rao, Professor
prangar@clemson.edu
864.656.1241
Ravichandran, N. (Ravi), Associate Professor
nravic@clemson.edu
864.656.2818
Redmond, Laura, Assistant Professor
lmredmo@clemson.edu
864.656.3361
Rockow, Zoraya, Lecturer
zrockow@clemson.edu

864.656.3000

Ross, Brandon, Associate Professor;
J. Richard Cottingham Distinguished Professor
bross2@clemson.edu
864.656.3401
Sarasua, Wayne, Professor
sarasua@clemson.edu
864.656.3318
Sternhagen, Melissa, Senior Lecturer
mstern@clemson.edu
864.656.6428
Stoner, Michael, Lecturer
mwstone@clemson.edu
864.656.5421

Associated Faculty/Postdocs

Adjunct Faculty

Affiliated Faculty

Post Docs

Emeritus Faculty

*Deceased

Staff

CE Staff

| Name/Title | Email | Phone |
| --- | --- | --- |
| Baker, Kristi Student Services Manager (Graduate) | kristi@clemson.edu | 864.656.3001 |
| Black, Scott Lab Technologist II | sblack2@clemson.edu | 864.656.3328 |
| Bolding, C J Student Services Manager (Undergraduate) | cwboldi@clemson.edu | 864.656.3030 |
| Chandler, Addison Program Manager, LTAP Program | achand2@clemson.edu | 864.656.6141 |
| Gaines, Shaun Director, SC LTAP Program (T3S) | jgaines@clemson.edu | 864.656.1456 |
| Gambrell, Tracy Grants Coordinator | tracyg@clemson.edu | 864.656.5518 |
| Kelley, Mackenzie Program Assistant | mbk@clemson.edu | 864.656.4383 |
| Nieves, Naomi Program Coordinator | nnieves@clemson.edu | 864.656.6546 |
| Shaw, Michelle Accountant | mshaw3@clemson.edu | 864.656.1273 |
| Tannery, Abbee  Office Manager | abbeec@clemson.edu | 864.656.3000 |
| Ward, Andrea Fiscal Tech/Payroll | jward5@clemson.edu | 864.656.3002 |
Academic Contacts
The Clemson University Civil Engineering Undergraduate degree program is an ABET-accredited Bachelor of Science degree designed to provide students with knowledge of engineering science and design. We offer Masters of Science degrees in Civil Engineering (thesis and non-thesis options) and a Civil Engineering Doctor of Philosophy (Ph.D.) degree, with seven areas of concentration.
Please visit our tour page for information on campus tours, virtual meetings, and department visits.
C.J. Bolding
Undergraduate Student Services Manager
cwboldi@clemson.edu
Kristi Baker
Graduate Student Services Manager
kristi@clemson.edu
Advisory Board
The Glenn Department of Civil Engineering's Advisory Board is represented by industry partners who advise on professional trends as they relate to civil engineering students.
Glenn Department of Civil Engineering
Glenn Department of Civil Engineering | Lowry Hall, Clemson, SC 29634