From the Director
Hello from the director!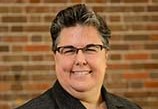 I am Karen High. I am a faculty member in the Department of Engineering and Science Education at Clemson. I have been involved with all forms of mentoring since the 80s.
I am pleased to introduce you to the Graduate Center for Transformational Mentorship (GCTM). This innovative center was formed by Marieke Van Puymbroeck, associate dean of the Graduate School and John Lopes, dean of the Graduate School. I am proud to serve as the inaugural director of the GCTM.
The center has five initiatives: 
Mentoring that Matters

(MTM), which focuses on transformative mentorship training. The MTM program presents transformative mentorship training for faculty, postdocs, and graduate students. Badges and recognition are awarded to all participants.

Networking opportunities for affinity groups (faculty and students) through

See Yourself in the Academy and Industr

y.

Resources for Responsible Conduct of Research

(RCR), training grants, and other research-integrity focused efforts that require best practices in mentoring.

Consulting services

to departments, colleges, and labs.

A

virtual library

.
Read more on this website to find about all of these exciting initiatives, which all members of the Clemson community can participate in. We want to create spaces to promote graduate student mentoring. These spaces will promote social justice, diversity, equity, and inclusion. 
Let us know how we can help you to provide amazing mentoring for graduate students. Please contact me at khigh@clemson.edu.
Let's mentor!
Karen High
About the director
Karen High, Ph.D., is a professor of engineering and science education (ESED) at Clemson University, the only department of its kind. ESED develops future faculty through its Ph.D. and certificate programs. Prior to Clemson, High pursued technical and educational research as a chemical engineering at Oklahoma State University for 24 years. Her technical research focused on sustainable chemical process design, computer aided design, and multicriteria decision making. She has been active in educational research and initiatives for over 32 years. High has garnered more than $9 million in research funding, has written more than 95 peer- reviewed publications, and delivered more than 240 presentations and workshops on both chemical engineering and STEM educational research. She has mentored more than 50 graduate students and 55 undergraduate students in chemical engineering and STEM education research. She has been engaged in two ADVANCE grants: one at Oklahoma State University, where she focused on faculty mentoring, and one at Clemson, where she was a co-director of the Trailblazer program and mentored faculty on leadership development. High has held a variety of administrative positions: director of STEM faculty development initiatives at Clemson; associate dean for undergraduate studies in Clemson's College of Engineering, Computing and Applied Sciences; and interim director of student services, coordinator of the women in engineering programs, and director of the Measurement and Control Engineering Center, all at Oklahoma State.
Dr. High currently conducts educational research and initiatives for STEM faculty and graduate student development, mentoring, critical thinking and communication skills, promoting women in STEM, and enhancing student success in calculus, program evaluation and assessment, and K-12 STEM education (read more at karenhighed.org and www.facebook.com/ClemsonSFASPD). She delivered an NSF-funded workshop to develop a research agenda on STEM faculty development. She is a co-editor of the recently published Handbook of STEM Faculty Development.
High is engaged with the M360 mentoring initiative. She has been a mentor for the APA-ENG and a coach for the KEEN THRIVE program. She has been involved in the Faculty Development Division (FDD) of the American Society of Engineering Education (ASEE) since its inception and is the incoming chair of the FDD. She has also been active in the American Institute of Chemical Engineers (AIChE). 
High has served as an ABET PEV (evaluator) for chemical and general engineering programs for over 12 years and has been highly engaged with faculty development and institutional implementation of the new ABET DEI criteria. She has delivered numerous faculty development workshops on promoting equity in STEM, critical thinking and communication, calculus success, graduate student and faculty mentoring, chemical engineering content, STEM in K12, transfer student success, research methods, equitable faculty evaluation (tenure and promotion) and others. She has led Faculty Learning Communities (FLCs) in STEM content delivery and Scholarship of Teaching and Learning (SoTL).  She teaches courses in action research, professional STEM communication, teaching STEM online, and practicum in STEM education.