Complete the Survey of Earned Doctorates (SED)
To complete the Survey of Earned Doctorates, go to the SED login page and follow the instructions to create an account. Over 90% of doctoral degree holders across the country participate in this important project. Participation is voluntary but highly valued. Read more about why this data is important and how it used below.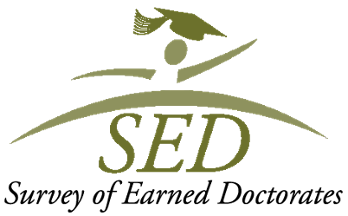 About the Survey of Earned Doctorates
The Survey of Earned Doctorates (SED) is an ongoing survey sponsored by the National Science Foundation, the National Institutes of Health, the U.S. Department of Education, the National Endowment for the Humanities, the U.S. Department of Agriculture and the National Aeronautics and Space Administration.
The survey helps these and many other agencies and entities assess the availability of highly-educated personnel. The survey gathers data from all research doctoral graduates each year on their educational history, sources of support and post-graduation plans. The completed survey responses become part of the Doctorate Records File (DRF), a comprehensive data bank on doctoral degree recipients from 1920 to the present and the major source of doctoral data at the national level. The profiles of doctorate recipients that emerge from these data assist policymakers at the federal, state, local and university levels.
The information provided on the survey questionnaire remains confidential and is safeguarded in accordance with the Privacy Act of 1974, as amended. The survey data are reported only in aggregate form or in a manner that does not identify information about any individual.
To learn more about the SED, visit the SED home page.