ETD Embargoes (delays of publication)
As part of the TigerPrints account setup, you'll be given the option to embargo — to delay the publication of your thesis or dissertation without impacting your graduation status. A variety of situations warrant an embargo, including:
You are pursuing a patent (or plan to pursue one).
Your research includes sensitive or proprietary content, e.g., collaborative work with a military or governmental entity or a public or private corporation.
You've signed an agreement with a research sponsor that requires an embargo for a specified period of time, or a research partner has reserved the right to review your manuscript in full before it is published, as a condition for funding.
You have submitted or intend to submit part or all of your graduate research to a peer-reviewed journal or other publication in your field whose editorial board requires first publication rights because they only accept previously unpublished content.
You intend eventually to publish your thesis or dissertation as a book with a commercial publisher or a university press.
The Graduate School permits the student to enact an embargo of one year with no approval required.
The student can select the embargo when they upload their document for Graduate School review (or afterward, by revising their submission). The embargo will expire one year from the last day of the month in which the student graduates (so May 31, August 31, or December 31). Any extension beyond the first year does require approval from the Graduate School. If the student needs to extend the embargo as the one-year anniversary approaches, they can email jillbb@clemson with a short explanation (patent still pending, publications in the works, etc.). The student will be notified whether the embargo is approved.
How to Request an Embargo
Secure a written (email) request sent from your advisor to the Graduate School's Director of Communications, representing the Dean of the Graduate School, per Graduate School policy.
Make your request when you submit your ETD, not afterward, so please discuss with your advisor beforehand.
Embargoes cannot be requested after your ETD has been published by the Clemson Libraries (TigerPrints). You may, however, contact the Institutional Repository Coordinator to request that the full text of your ETD be removed from public view and download access. Please note that we cannot control content from your ETD that may have been accessed or downloaded prior to your request for retraction.
Shown in the screenshot below, in your TigerPrints account, you will find
A checkbox (1) for requesting an embargo.
A date field (2) (showing today's date by default) for entering your embargo period — up to one year as outlined by current Graduate School policy. The embargo period is calculated according to the date of your submission, rather than the date of your graduation; for example, if you submit your ETD on July 1 of this year for your intended August graduation, and you request a 1-year embargo, your embargo period begins on July 1 and ends the following July 1. At the end of your embargo period, your manuscript will automatically be electronically published and entered into the TigerPrints repository.
As the last step (3), your advisor formalizes the embargo request with the Graduate School, per current policy.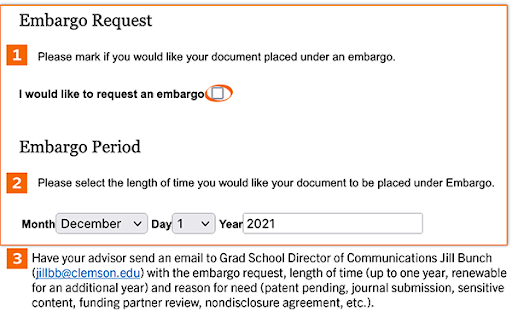 Under embargo, your ETD metadata will be published a few weeks after graduation, but the full text of your manuscript will not be available to view or download.
You are responsible for keeping track of your embargo end date, so please add it to your calendar. You will not receive a notification from the Graduate School or TigerPrints about an upcoming embargo expiration date. If you discover that you need to extend your embargo, please contact the TigerPrints Repository Coordinator before the original end date. Exceptions to current policy around embargo limits may be considered by the Graduate School dean. Please contact the Graduate School Director of Communications if you need a longer or open-ended embargo period.
Also, you are encouraged to request (by emailing the TigerPrints Repository Coordinator) that your embargo be lifted before its expiration date if it is no longer needed.
For complete details about what an embargo is, when you should request one and what a delay of publication can and cannot do, please read the Embargoes (delays of publication) topic in the Graduate School's PDF Reference, Step 4: Submit Your Manuscript for Format Review and Publishing (PDF).