PRTM Annual Honors and Awards Program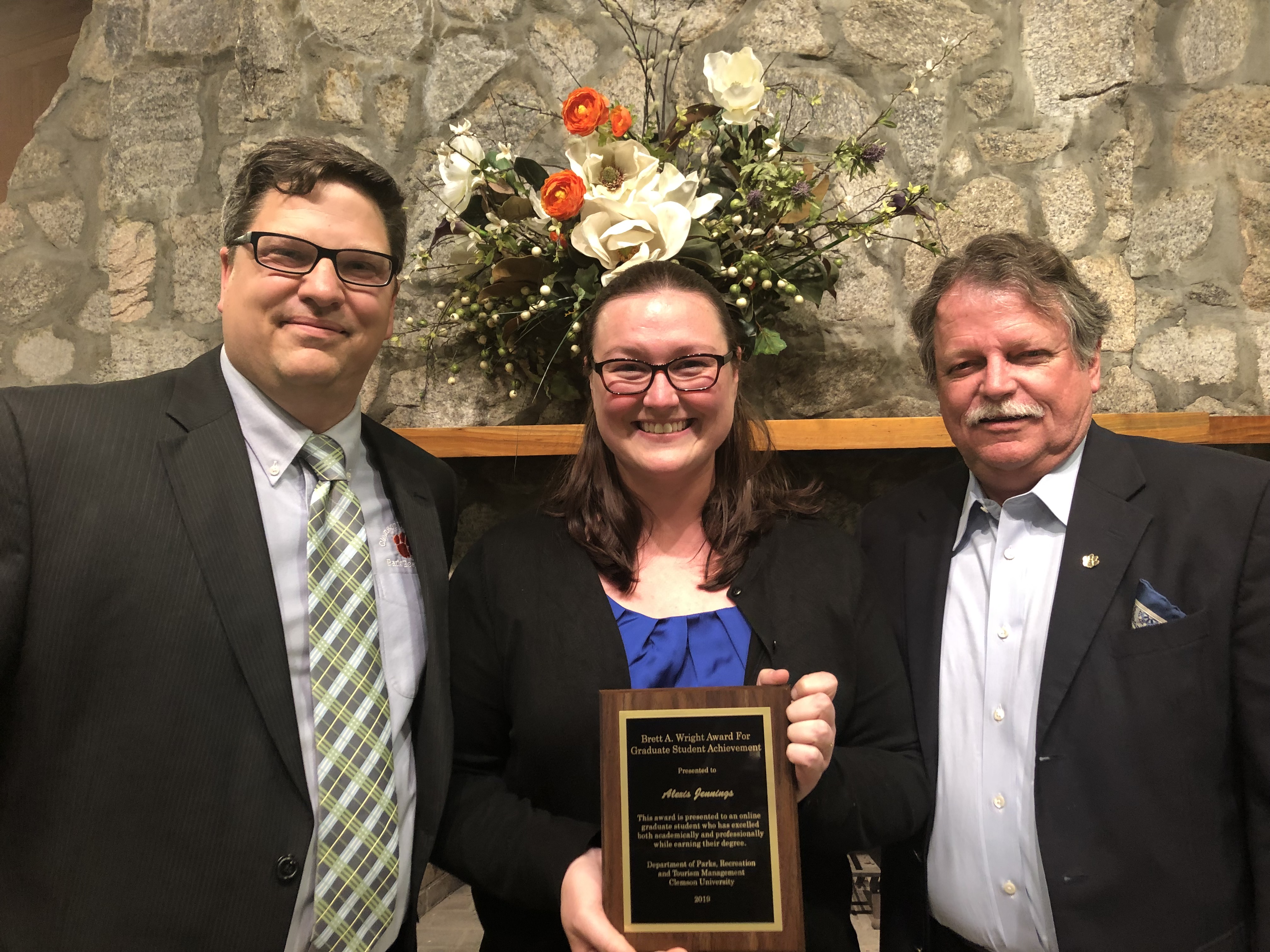 Every year, Clemson Parks, Recreation and Tourism Management (PRTM) recognizes students who excel in academic achievement and service, as well as alumni who have made outstanding contributions to the park and recreation field.
Meet the 2021 honor and award recipients.
Graduate Student Awards
Brett A. Wright Award for Graduate Student Achievement

This award is presented to an online graduate student who has excelled both academically and professionally while earning their degree.

The 2021 recipients are Sandy Heath and Patti Whitener.

Sandy Heath is a PhD Candidate in the online Recreation Therapy program at Clemson, while also managing the American's with Disabilities Act (ADA) Program for the State of Texas Parks and Wildlife Department (TPWD). Equity in the outdoors is both her career and academic focus. At TPWD, Sandy works with a highly motivated and mission driven team of CTRS' to unite the disability community with Texas facilities, programs, and services. At Clemson, Sandy keeps a steady pace to complete her dissertation titled Queering the Outdoors: LGBTQIA2S+ Identities in Outdoor Recreation. Sandy fell in love with the natural resources of Texas as a child growing up in San Antonio, which led to a fulfilling career in the outdoors that has led her to camp all over the world. She has slept over 2,000 nights in the wilderness leading therapeutic outdoor trips for military veterans, adults learning an adaptive sport, adults with intellectual disabilities, and youth receiving behavioral therapy services. Sandy believes that public lands are for all to enjoy and conserve. Working for the Texas Parks and Wildlife Department (TPWD) has proven to be a dream job that allows her to connect people to our awe-inspiring public lands and natural resources. When not working or at school, Sandy can be found "getting lost" on a river or on a rock with her wife Claire and her pup Willie Nelson.

Patti Whitener graduated from Indiana University with a Bachelor's degree in Therapeutic Recreation and completed her internship at the Roudebush VA Medical Center in Indianapolis, IN. She spent over eight years as a department manager at a non-profit, continuing care retirement community. During this time she became certified within the Dementia Practice Guidelines and developed a wheelchair bike program for residents living in long-term and memory care. While getting her Master's degree at Clemson University, Patricia transitioned to providing home and community-based recreational therapy services to individuals through the Medicaid Waiver. Currently, Patricia is serving her third term as the Secretary of Recreation Therapists of Indiana. Outside of the field, Patricia is a mom of two kids who enjoys archery, hiking, biking, yoga, and flow arts. Her research interests include leisure lifestyles of single parents, older adults, and trauma-informed care. In the future Patricia plans to pursue a Ph.D. and continue to advocate for Recreational Therapy.

 

Fran McGuire Excellence in Teaching Award

This award is presented to a graduate student who has shown excellence in teaching exemplified by the qualities of caring, passion and engagement with students.

The 2021 recipient is Kaitlin Mueller.

Kaitlin Mueller 

is a passionate recreational therapist who dreams of a day when all people will have access to recreational therapy services! She completed her undergrad in RT at Slippery Rock University and finished her master's studies at Indiana University in RT. After graduating from Slippery Rock University, Kaitlin worked as a recreational therapist in older adult, sub-acute rehabilitation for five years. It was here that her research interests bloomed to better support older adults transitioning into residential facilities like assisted living or long-term care. Kaitlin is now a third year doctoral candidate in RT with hopes of becoming a future academic. She is a proud Clevelander, 15-year competitive Irish dancer, and book lover. Her current leisure pursuits include spending time with her husband, son, and soon-to-be baby daughter outside at parks or Clemson baseball games. Go Tigers!

Outstanding PRTM Graduate Students

This award recognizes graduate students who are distinguished through academic achievement, scholarship, community service and perseverance.

The 2021 recipients are Anitra Alexander, Anup KC, Merry Armstrong, Thomas Clanton and Katie Thurson.

Anitra Alexander is a second year Master's student working with Momentum Bike Clubs on a program entitled Artistically Reshaping Trauma (A.R.T.)+ Circles, an intervention utilizing the Social Justice Youth Development framework to address emotional and mental needs specific to Black, Indigenous, and People of Color (BIPOC) students. Anitra's research aims to understand how BIPOC adolescents process and make meaning of racism and racial discrimination. After obtaining her Master's degree, Anitra plans to pursue a Ph.D. in Community Psychology to continue research that examines the lived experiences of Black youth and the psychological and sociological factors that impact healthy community engagement. Anitra was born and raised in College Station, Texas and loves traveling home to visit her parents, two older sisters, her niece, and nephew. In her free time, Anitra enjoys hiking, exercising, juicing, podcasting with her best friend, and writing.

Anup K C is conducting research on Homestays in Nepal in the Era of COVID-19 linking biodiversity conservation and health, hygiene, and safety issues. He is from Nepal and wants to support sustainable tourism development in his country. He is planning to continue his career in Academia focusing on teaching and research.

 

 

Merry Armstrong was born and raised with her three siblings in Knoxville, Tennessee. After graduating from the University of Tennessee with a degree in therapeutic recreation, Merry began working as a river guide on several different rivers in the southeast (including the Chattooga Wild & Scenic River) and has continued guiding throughout grad school while she's finishing her Master's in recreational therapy. Her passion for working with people of any ability in an outdoor setting has driven her research which is exploring the experiences individuals with developmental disabilities have participating in outdoor recreation. While Merry loves being surrounded by mountains, she is looking forward to getting a job in PRTM and exploring other outdoor opportunities the coast provides in Florida where she will be moving after graduating. Merry has a kitty named Sunny Beatrice and loves trail running, training for triathlons, being in any craft on the river, drinking cold brew, and cooking yummy food with people she loves.

Thomas Clanton is a fourth-year Ph.D. student in the Department of Parks, Recreation, and Tourism Management. Before joining the PRTM doctoral program full-time, Thomas worked as the director of youth and missions at Easley Presbyterian Church. This experience inspired him to pursue research in faith-based positive youth development. He is currently completing his dissertation that examines the impact of the transition to college on adolescent religious and spiritual commitment. As a graduate student, Thomas has taught classes in the EDGE program, acted as a teaching assistant for online courses, and participated in the human health, development, and resilience research cluster. Originally from Darlington, South Carolina, Thomas currently lives in Powdersville, South Carolina, with his wife, Kayla and Golden Retriever, Brady. After graduation, he plans to continue to research faith-based positive youth development in an academic or professional setting.

Katie Thurson is graduating with her M.S. this May, and returning as a Ph.D. student in the fall! Katie likes camp, computers, and volunteering (in that order) and couldn't be happier to be part of the Clemson community. Her research on diversity, equity, and inclusion in youth programs, and bridging social science with data science. She's originally from Jacksonville, FL and likes to visit the Sunshine State as much as possible.

 
Distinguished Service and Alumni Awards
Distinguished Service Award

This award is presented to a member of the PRTM community who has made outstanding contributions to the PRTM Department.

The 2021 recipient is Gwen Davenport.

A 1997 graduate of the Parks, Recreation and Tourism Management Department of Clemson University, Gwen Long Davenport has served her entire career of 23 years with the South Carolina Department of Parks, Recreation and Tourism promoting the state in which she lives and loves. Currently at SCPRT, she is the SC State Park Sales & Marketing Manager promoting and encouraging visitors to enjoy and experience South Carolina's 47 state parks. Her position covers everything from advertising, to managing creative and collateral development, to social media marketing and website development.In her spare time, Gwen is an active member of her church where she serves on various committees, is the director of Vacation Bible School and is a member of the church council. She is also employed by Mid-Carolina High School in Prosperity, SC, where she serves as the head coach for the Mid-Carolina JV Girls Basketball Team. Furthermore, Gwen is the President of the Mid-Carolina Athletic Booster Club and serves on that board. Her entire life has been dedicated to recreation, youth and serving others in her community.

Gwen is married to PRTM graduate Chris Davenport and they reside in her hometown of Little Mountain, SC with their 15 year-old son, Brady.

Outstanding Alumna Award - Academic

This award is presented to former PRTM students who have made outstanding contributions in the field of parks, recreation, and tourism.

The 2021 recipient is Tracy Maineri.

Tracy Mainieri is an Associate Professor in Illinois State University's Recreation and Park Administration program and the Graduate Sequence Coordinator for the Recreation Administration and Applied Community and Economic Development Master's sequences in the School of Kinesiology and Recreation. She received her B.A. in Anthropology from Furman University and both her M.S. and PhD in Parks, Recreation, and Tourism Management from Clemson University. Tracy joined the Redbird faculty in Fall 2013. Since then she has taught in both the undergraduate RPA program and the graduate Recreation Administration Master's program, teaching primarily leadership, management, and trends courses. Tracy's professional background and research is in summer camp so she strives to bring what she's learned at camp about fun, facilitation, and experiential learning into the classroom. She hopes that when students think about the learning experiences they had in her courses, they found those experiences to be collaborative, challenging, active, safe, and engaging. Beyond her assigned course load, Tracy also enjoys seeing students become excited about their own work in independent studies and supervised research projects. Tracy is honored to have been the recipient of the 2016 Innovation in Teaching Award from The Academy of Leisure Sciences, a 2016 ISU Teaching Initiative Award, the 2016-2017 CAST Outstanding Teacher Award (Pre-Tenure Category), and a 2015 Impact Award. Tracy's research interests focus on summer camp and youth programming evaluation and the scholarship of teaching and learning. In 2020, Tracy was named one of "20 under 40" in Bloomington-Normal by the Pantagraph's Limited Magazine, the region's premier lifestyle & business magazine. Also, she was the 2020 Impact Award Winner for Illinois State University because of the difference she's made in student's first-year experience on campus and ultimately their academic success as well as being recognized by her Provost for the "RISE to the COVID Challenge".  Tracy is a faculty senator and is active in faculty governance at her university. 

 

 

Outstanding Alumni Award - Practitioners

This award is presented to former PRTM students who have made outstanding contributions in the field of parks, recreation, and tourism.

The 2021 recipients are Kathryn Schofield and Darby Hinson.

 

 

 

Kathryn (Kathy) Schofield is an Atlanta Georgia native, who moved to Anderson, South Carolina eleven years ago by way of Orlando Florida. She spent time working with the recreation department at the US Naval Base in Yokosuka Japan and working for the Walt Disney World company. She received her Bachelors in Community Leisure Services from Georgia Southern University ('07) and her Masters in Recreation Management from Clemson University ('15).

Kathy has worked with Anderson County Special Population Recreation "The Rainbow Gang" for the past 5 and a half years as the Program Director and the Co-Area Director for Area 14 Anderson County South Carolina Special Olympics. Through her time working with the RBG, participant numbers have doubled, she has built positive community relations through programing for The Rainbow Gang, and hired Darby Hinson CTRS, who helped develop the Therapeutic Recreation internship for the Rainbow Gang as well as improve programming to include and provide therapeutic recreation interventions that help increase individuals' lifespans.

Kathy is consistently looking for new and innovative ways to extend programming services to the special needs community. Currently, she is working to expand The Rainbow Gang day program virtually. A permanent virtual day program would allow us to reach those who can't come to the Rainbow Gang due to medical and/or physical needs. This program would allow us to host additional members 100% virtually and at no cost. She looks forward to continuing the partnership with Clemson University through preceptorships, practicums, internships and volunteer opportunities to better assist our population.

Darby (Halliburton) Hinson was born and raised in Savannah, GA and moved to Clemson, SC in the fall of 2015 to begin her undergraduate journey. Although a Georgia native, Darby always knew she wanted to attend Clemson because both of her parents, Jeff Halliburton ('87) and Janet Halliburton ('89) are Clemson graduates and brought she and her twin sisters Kerry ('21) and Abby ('21) to Clemson every chance they got. During her time at Clemson, she loved to spend time hanging out on Bowman field with her roommates, going to football games, and being involved with Tri County Young Life.

Darby found her home in the College of Behavioral, Social, and Health Sciences as a PRTM major with her concentration being in Recreational Therapy. She is a proud graduate of the class of 2019 and since graduating has gotten married and has been certified as a Therapeutic Recreation Specialist (CTRS). She currently works as the program coordinator for Anderson County's Special Population Recreation "The Rainbow Gang", a program for adults with intellectual disabilities. Since starting in the summer of 2019, Darby has transformed Rainbow Gang from being a program that offers social activities to establishing a Recreational Therapy Program that strives to increase participant socialization skills, integrate members into their community, and increase their overall quality of life. Rainbow Gang Participants participate in 3 evidence-based RT interventions that strive to work on established goals for each participant. Darby has also established the RT internship that Rainbow Gang hosts and has successfully hosted 5 interns to date.

Outside of work, Darby enjoys hiking the foothill trails with her husband, Mark ('21) and Labrador dog, Levi, as well as being involved in her church's youth ministry. She still enjoys all things Clemson football and looks forward to continuing her career as a Recreational Therapist. 
Department of Parks, Recreation and Tourism Management
Department of Parks, Recreation and Tourism Management | 170 Sirrine Hall