Our Bachelor of Science (B.S.) Recreational Therapy program is accredited by the Committee on Accreditation of Recreational Therapy Education (CARTE), through the Commission on Accreditation of Allied Health Education Programs (CAAHEP).

Program curriculum was also designed to meet standards set by the National Council for Therapeutic Recreation Certification (NCTRC).

Focus your career on improving health, wellbeing and quality of life.
Clemson University recreational therapy (CURT) students learn to create recreation services that improve participants' health, leisure experiences, quality of life, and functional capabilities.
You will explore using active treatments such as leisure, sport, play, and community participation to increase the well-being and functional outcomes for individuals with varying disabilities or health conditions.
Are You a Program Graduate?
If you are a graduate of the Recreational Therapy program at Clemson University , please take 3-5 minutes to let us know how you're doing and ask your supervisor/manager/administrator to complete a survey as well. All of the information you provide is anonymous. We collect this data to improve our program and to maintain our CAAHEP/CARTE Accreditation.
RT Graduate Survey
RT Employer Survey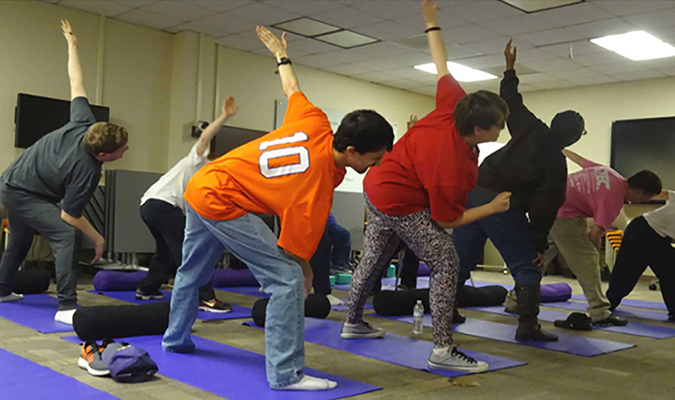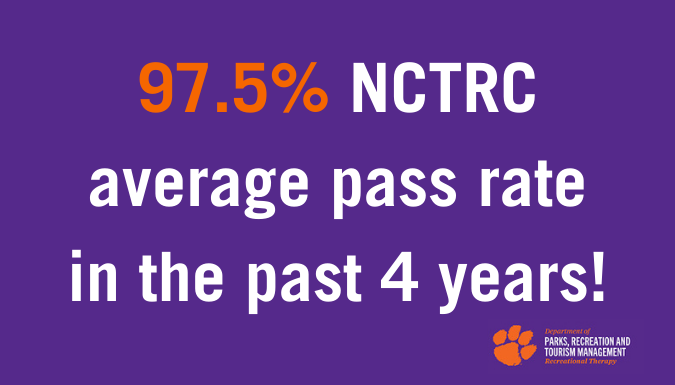 97.5% NCTRC average pass rate in the past 4 years!
We're excited to share that 72% of Clemson Recreational Therapy graduates are employed full-time or attending graduate school.
About the NCTRC Exam
Department of Parks, Recreation and Tourism Management
Department of Parks, Recreation and Tourism Management | 170 Sirrine Hall