Subscribe:
Home & Garden Information Center
Subscribe to weekly emails with research-based information for lay enthusiasts and homeowners on topics such as: landscaping, gardening, plant health, household pests, food safety, preservation, nutrition, physical activity and health.
Land-Grant Press Publications
Subscribe to science-based, peer-reviewed publications written by Extension personnel and university scientists for professional and academic audiences, as well as owners and managers of livestock, horses, timber and land.
How can we help?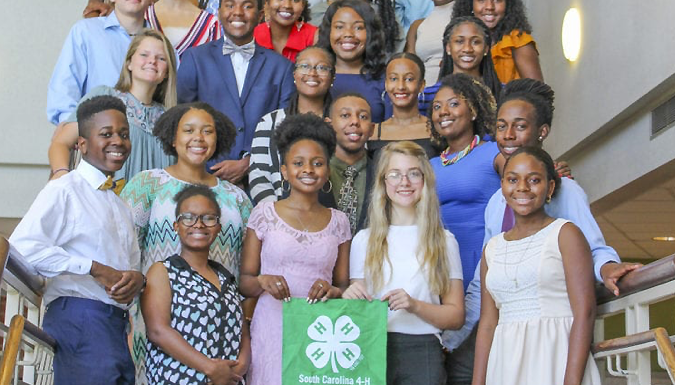 YOUR GIFTS ARE LIFE-CHANGING
Private giving helps ensure that Clemson Cooperative Extension Service can provide the highest standard of public outreach programs in youth development; agribusiness; agriculture; food, nutrition and health; and natural resources.
Make a Donation
Program Teams
| Program Team | FB | IG | Other | Other |
| --- | --- | --- | --- | --- |
| 4-H Youth Development | | | | |
| Agribusiness | | | | |
| Agricultural Education | | | | |
| Agronomic Crops | | | | |
| Expanded Food and Nutrition Program (EFNEP) | | | | |
| Food Systems & Safety | | | | |
| Forestry and Natural Resources | | | | |
| Horticulture | | | | |
| Livestock & Forages | | | | |
| Rural Health | | | | |
| Water Resources | | | | |
Destinations & Venues
| Name | FB | IG | Other | Other |
| --- | --- | --- | --- | --- |
| Clemson Experimental Forest | | | | |
| South Carolina Botanical Garden | | | | |
| Garrison Arena and Expo Center | | | | |
Programs
| Name | FB | IG | Other | Other |
| --- | --- | --- | --- | --- |
| 4-H, Chester County | | | | |
| 4-H, Darlington County | | | | |
| 4-H, Greenville County | | | | |
| 4-H, Lancaster County | | | | |
| 4-H, McCormick County | | | | |
| 4-H, Newberry County | | | | |
| 4-H, South Carolina Poultry Projects | | | | |
| 4-H, Richland County | | | | |
| 4-H, South Carolina Forestry | | | | |
| Abbeville Horticuture | | | | |
| Ag & Art Tour | | | | |
| Ashley Cooper Stormwater Education Consortium | | | | |
| Carolina Canning | | | | |
| Carolina Clear | | | | |
| Carolina Yards | | | | |
| Clemson Small Fruits | | | | |
| Clemson Stormwater | | | | |
| Florence Darlington Stormwater Partners | | | | |
| Lowcountry Stormwater Partners | | | | |
| Midlands Stormwater | | | | |
| New & Beginning Farmer | | | | |
| Pee Dee Region Agriculture Blog | | | | |
| Pee Dee Region Extension | | | | |
| Precision Agriculture | | | | |
| School & Community Gardening | | | | |
| South Carolina Crops blog | | | | |
| South Carolina Grower | | | | |
County Offices
| County Office | FB | IG | Other | Other |
| --- | --- | --- | --- | --- |
| Abbeville | | | | |
| Aiken | | | | |
| Allendale | | | | |
| Anderson | | | | |
| Bamberg | | | | |
| Barnwell | | | | |
| Beaufort | | | | |
| Berkeley | | | | |
| Calhoun | | | | |
| Charleston | | | | |
| Cherokee | | | | |
| Chester | | | | |
| Chesterfield | | | | |
| Clarendon | | | | |
| Colleton | | | | |
| Darlington | | | | |
| Dillon | | | | |
| Dorchester | | | | |
| Edgefield | | | | |
| Fairfield | | | | |
| Florence | | | | |
| Georgetown | | | | |
| Greenville | | | | |
| Greenwood | | | | |
| Hampton | | | | |
| Horry | | | | |
| Jasper | | | | |
| Kershaw | | | | |
| Lancaster | | | | |
| Laurens | | | | |
| Lee | | | | |
| Lexington | | | | |
| Marion | | | | |
| Marlboro | | | | |
| McCormick | | | | |
| Newberry | | | | |
| Oconee | | | | |
| Orangeburg | | | | |
| Pickens | | | | |
| Richland | | | | |
| Saluda | | | | |
| Spartanburg | | | | |
| Sumter | | | | |
| Union | | | | |
| Williamsburg | | | | |
| York | | | | |
Cooperative Extension
Cooperative Extension | 103 Barre Hall Clemson, SC 29634