Apply
Congratulations on taking the first steps toward entering Graduate School at Clemson. Once you've gathered all your important documents and checked all the deadlines, then you're ready to begin the application process.
Have a question for Graduate Admissions or need to drop off Transcripts?
Schedule an Appointment with the Graduate Admissions office so we can be prepared to give you the best service.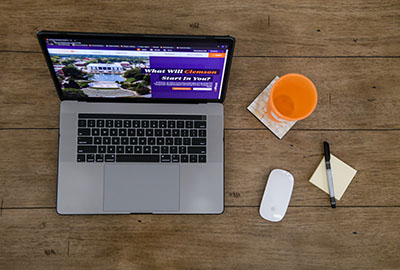 Preparing to Apply
Make sure you've got everything you'll need to apply.
Former and Current Graduate Students
Find out whether you need to re-apply.
Applying as a Non-Degree Student
For teaching certificates, re-certifications, and others looking to take classes without pursuing a degree.
Steps for New Applicants
You are considered a new applicant if you wish to apply as a degree-seeking or non-degree-seeking student, and have never previously attended the Graduate School at Clemson University.
1. Create Your Account:
Create your application account and start your application:
Start here.
2. Apply
Fill out your application. Remember you can stop and begin again at any time. When all information in your application is complete and correct, submit your application.
3. Ensure That Your Application is Forwarded
After you have completed the online application, clicked "submit," and validated your data, your application will be forwarded to Clemson.
Special Types of Admission
How to Submit Multiple Applications

Clemson University allows you to apply to more than one program.

Applications at Clemson are customized to meet the needs of each specific program and are not interchangeable between programs. After you have submitted your first application, you can return to the online application portal (using your same user ID and password) and pick your alternate major. 

Conditional Language Admission

Some programs can offer acceptance to international students who have limited English-speaking skills, with the understanding that they must successfully complete an approved English as a Second Language (ESL) program. Visit the Conditional Language Admission page for details on this application process.

Faculty/Staff (University Employee) Applicants

Current Clemson faculty, staff and employees who apply to the Clemson University Graduate School are subject to the same admissions requirements, approvals and academic regulations as all other applicants.

No member of the faculty or staff who has a rank higher than instructor or its equivalent may be considered as a candidate for an advanced degree in the academic department where employed. Find information on the Employee Tuition Assistance Program.