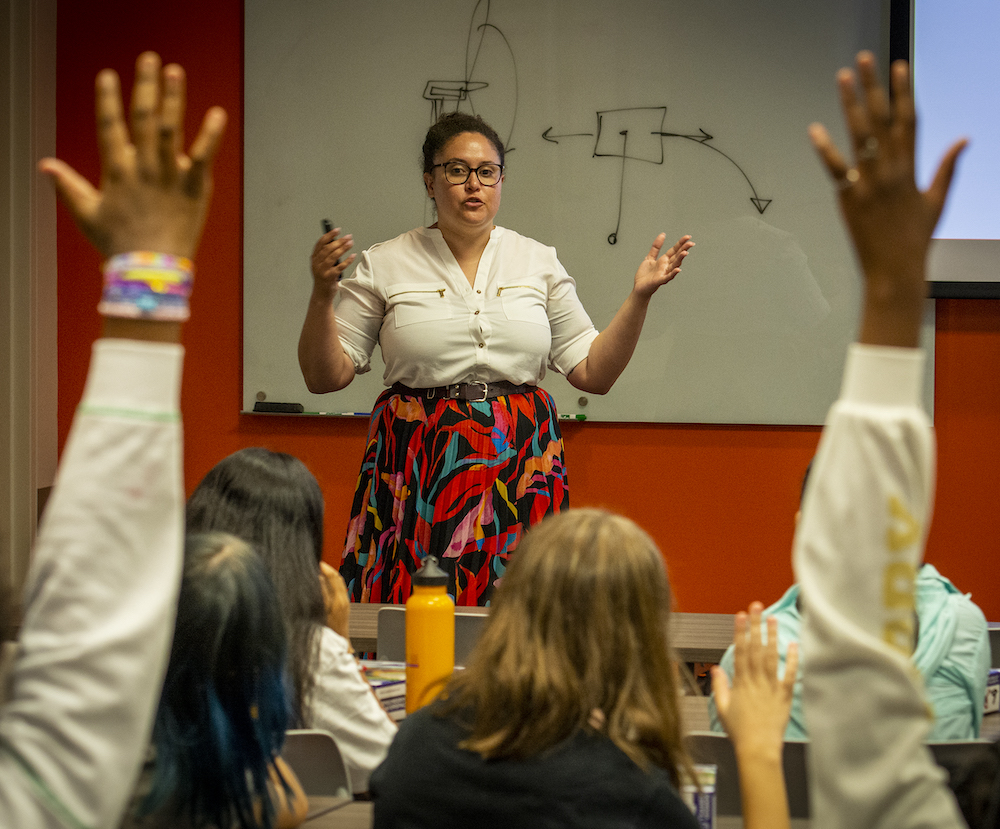 Teaching Effectiveness
Would you be interested in receiving helpful teaching observation feedback from a fellow CBSHS instructor outside of your own department? Would you benefit from feedback on your teaching strategies that is not required or linked to your TPR, but can be included, if desired by you, in your annual evaluation materials as additional evidence of teaching effectiveness?
We are inviting College of Behavioral, Social, and Health Sciences (CBSHS) instructors to take part in our collaborative peer observations conducted by the CBSHS Teaching Effectiveness Community. Our observations focus on effective teaching practices, not course material. Read below to find out more about our Teaching Effectiveness Community, our observation process, and how to request an observation.
Teaching Observation Steps
The Teaching Effectiveness Community of the College of Behavioral, Social, and Health Sciences has developed an evidence-based system to offer peer observations in a constructive process. With support from the Office of Teaching Effectiveness and Innovation, our community emphasizes peer support for effective teaching practices. We provide an in-depth teaching review, including an in-class observation and pre- and post-meetings to collaboratively develop teaching styles. This professional development opportunity provides instructors with feedback in desired teaching areas. Our community goal aligns with Clemson Elevate's priority objective to deliver the #1 student experience in the nation and amplify academic success.
Department of Public Health Sciences Senior Lecturer and OTEI Senior Faculty Fellow Becky Tugman, Ph.D., and a former colleague, initiated the Teaching Effectiveness Community. The proposal for a college group inclusive of all faculty ranks that supports peer review was championed by CBSHS Dean Leslie Hossfeld, Ph.D., and Associate Dean Denise Anderson, Ph.D. The group was established as a committee in 2021 and has grown into a community offering collegial support for teaching review. Tugman and Senior Lecturer Andrew Mannheimer, Ph.D., Department of Sociology, Anthropology and Criminal Justice, are co-chairs of the Teaching Effectiveness Community.
Questions or Concerns? Contact any Teaching Effectiveness Community member below. 
Teaching Effectiveness Community Members
College of Behavioral, Social and Health Sciences
College of Behavioral, Social and Health Sciences | 116 Edwards Hall