Community Engagement
Increasing community enrichment through outreach programs helps to foster the love of learning at any age. Here, at the College of Engineering, Computing and Applied Sciences, we hope to encourage the number of individuals interested in STEM.
Explore. Seek. Discover.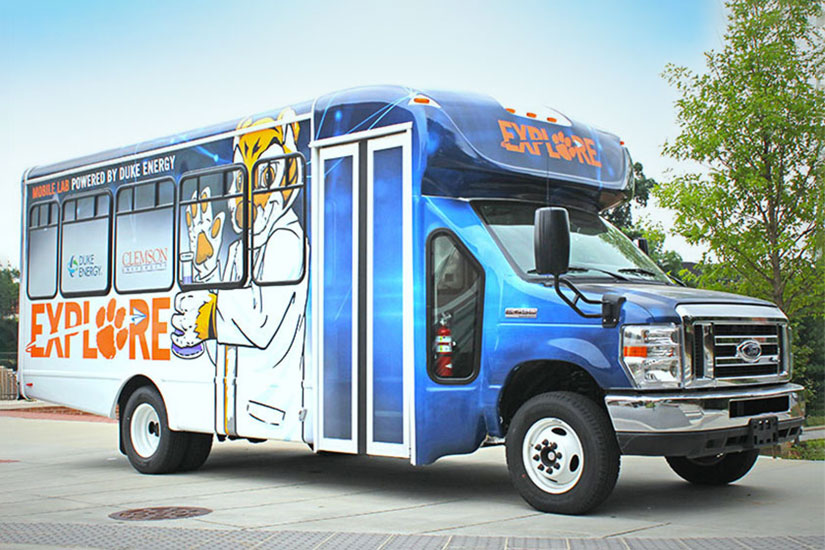 EXPLORE Mobile Lab
Spark Curiosity
The Explore Mobile Lab is an innovative project that brings engineering concepts to middle schools across the state. Through a partnership with Duke Energy, the EXPLORE Mobile Lab encourages children to view STEM-related activities as not only fun and exciting but also as windows to rewarding future careers.
EXPLORE Activities
Science As Art
A Visualization Challenge
Sometimes, science and art meet in the middle. Since its inception, "Science as Art" has challenged those at Clemson University as well as SC high school students to share the powerful and inspiring visual images produced in laboratories, workspaces, and learning environments. The resulting exhibits have drawn the attention of scientists, artists, members of the community and professional organizations.
View Gallery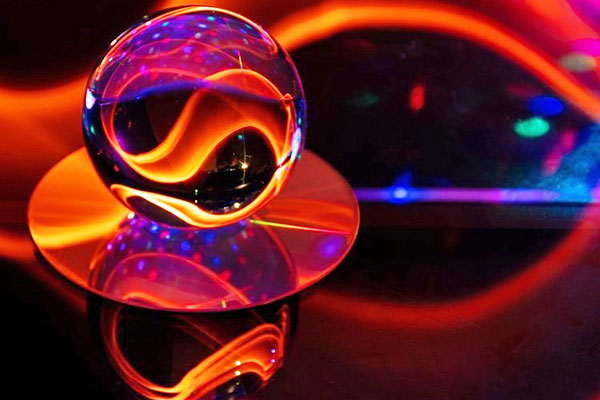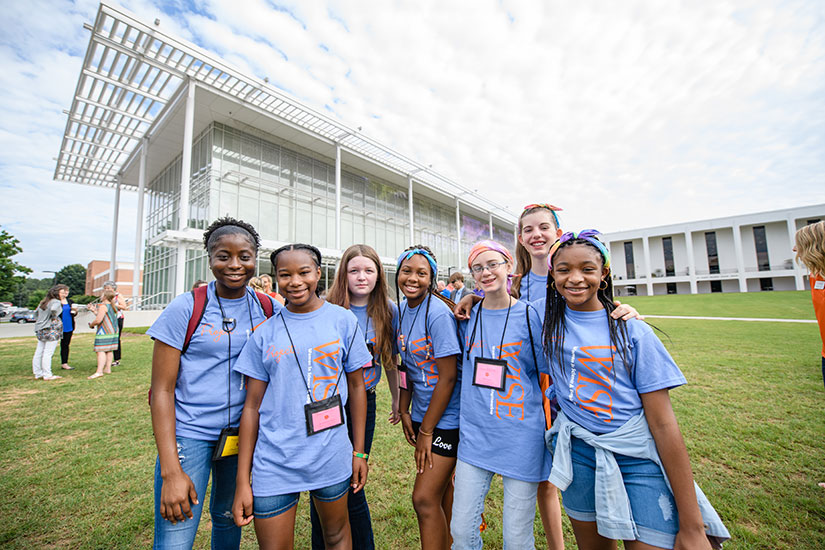 Project WISE
A WISE Adventure
PROJECT WISE is a one-week residential camp for rising 7th and 8th-grade students to introduce them to careers in STEM. This engineering-focused event allows students to see how technology and science affect their lives in interesting ways. This camp also includes movie nights, arts and crafts, and outdoor activities.
Play Project Videos
Girls Scouts & Friends
Exploration & Creativity
GIRL SCOUTS & FRIENDS program is an outreach day that Girl Scout troops attend. This annual event is a collaboration with the Girls Scouts of South Carolina Mountains to Midlands and the Women in Science and Engineering Program (WISE). This event allows attendees to engage in hands-on STEM activities with Clemson faculty and students.
View Previous Sessions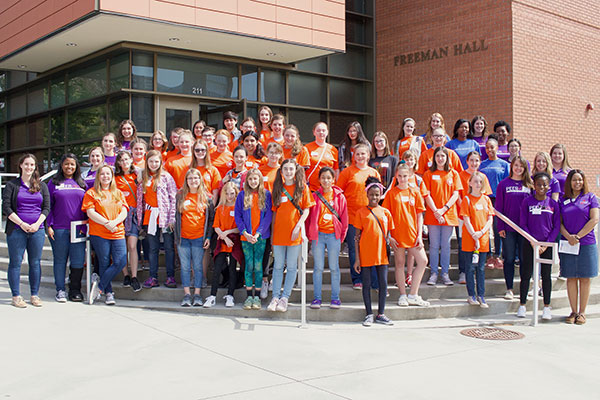 On-Campus Initiatives
PEER & WISE
The mission of PEER and WISE is to educate, recruit, and retain underrepresented populations in STEM fields through mentoring, academic coaching, counseling, and academic enrichment. Hands-on opportunities are fundamental to our goal of encouraging students to choose careers in STEM.
Please sign-up to volunteer if you would like to support the PEER/WISE programs with its mission to increase the number of women and underrepresented minorities in STEM (Science, Technology, Engineering, and Math).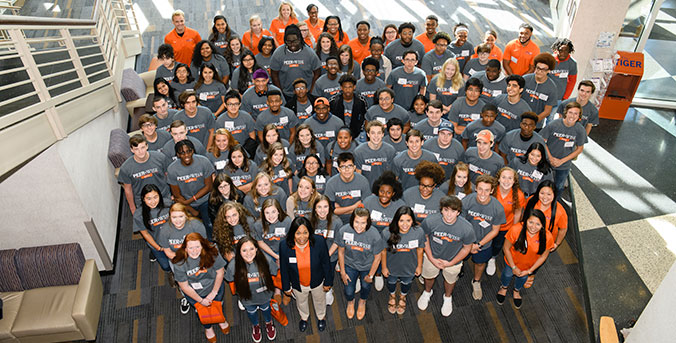 Sneak Preview
Sneak Preview brings top-performing students from around the state together to explore majors in engineering and computer science at Clemson University. Participants hear from campus representatives and attend informational sessions regarding their major of interest. Students also have a chance to meet current PEER & WISE mentors to hear their Clemson story.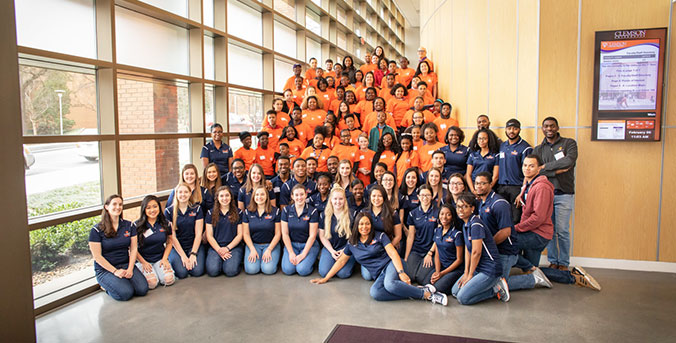 STEM DAY
STEM Day is a program partnering with schools and organizations in the Upstate of South Carolina to bring middle school students to campus. Participants engage in hands-on STEM activities with Clemson faculty and students. The goal of the day is to introduce the fields of science, technology, engineering, and mathematics (STEM), to underrepresented students in the area.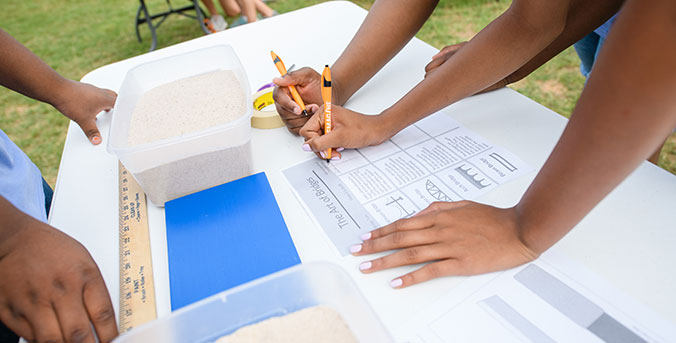 STEM Connections
STEM Connections represents an excellent opportunity for elementary, middle, and high school students to recognize the connection between engineering and science and their lives. Meetings and tours can be established to help individuals explore the importance and relevance of engineers and scientists in the modern world. This experience can assist children in exploring this connection.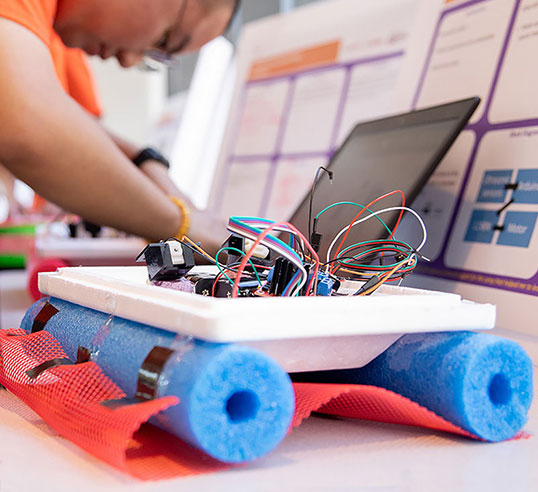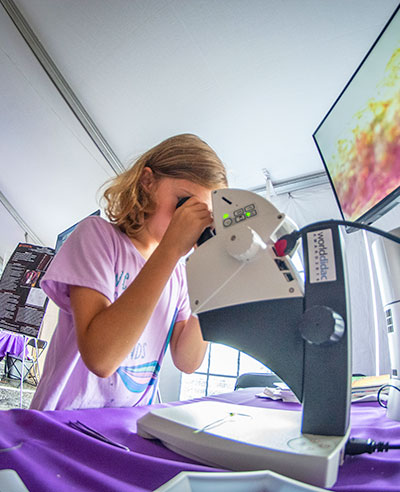 Outreach Opportunities
Additional opportunities are provided by individual departments and programs. Tours, school visits, and professional leadership webinars all extend community engagement and growth.
Upcoming Events
The College of Engineering, Computing and Applied Sciences and the University regularly hold outreach events throughout the year for K-12 and adults. These events include virtual and in-person, throughout the state.
College of Engineering, Computing and Applied Sciences
College of Engineering, Computing and Applied Sciences | Riggs Hall