IDEAS Monthly
"Inquiry and Discovery in Engineering and Applied Science (IDEAS) Monthly" is the college's roundup of recent news.
Current Issue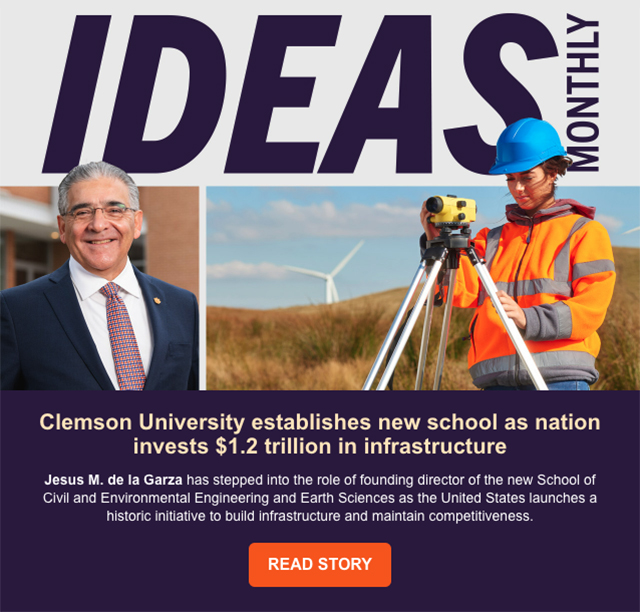 FEATURED CONTENT:
Clemson University establishes new school as nation invests $1.2 trillion in infrastructure
Jesus M. de la Garza has stepped into the role of founding director of the new School of Civil and Environmental Engineering and Earth Sciences as the United States launches a historic initiative to build infrastructure and maintain competitiveness.
Jennifer Ogle selected as chair of the Glenn Department of Civil Engineering
Ogle is leading a department with 498 students, 27 faculty members, and 12 staff members, making it one of South Carolina's most important sources of civil engineering talent.
Manufacturers could save time and money with new Clemson Composites Center research
A team led by Srikanth Pilla, Jenkins Endowed Professor of Automotive Engineering, is developing new ways of 3D-printing low-cost manufacturing tools and is funding the research with a $5.16 million grant.
Read September Issue
Receive the Monthly Newsletter
The College of Engineering, Computing and Applied Sciences monthly newsletter is filled with faculty spotlights, student achievements, and research highlights. To sign up to receive our emails, please fill out a short form with your name and email address.
IDEAS Magazine Archives
From 2008 to 2021, IDEAS Magazine served as the flagship publication of Clemson's College of Engineering, Computing and Applied Sciences. Each issue contained news and stories highlighting the achievements of students, faculty, staff and alumni in the college. Web versions of the magazine are available below.
College of Engineering, Computing and Applied Sciences
College of Engineering, Computing and Applied Sciences | Riggs Hall