Current Issue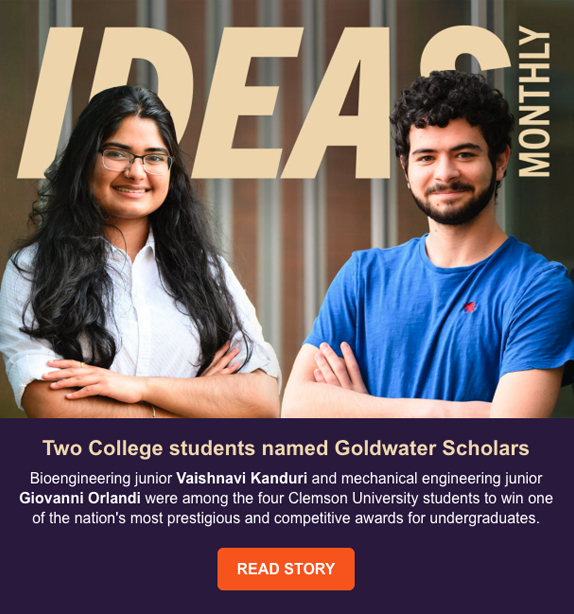 FEATURED CONTENT:
Two College students named Goldwater Scholars
Bioengineering junior Vaishnavi Kanduri and mechanical engineering junior Giovanni Orlandi were among the four Clemson University students to win one of the nation's most prestigious and competitive awards for undergraduates.
National Academies taps Jesus M. de la Garza to serve as board chair
de la Garza's three-year term as chair of the Board on Infrastructure and the Constructed Environment is expected to help raise Clemson University's reputation and could lead to more collaboration with the National Academies.
Top transportation officials visit Clemson University
U.S. Department of Transportation Chief Scientist Robert C. Hampshire and the South Carolina Department of Transportation Secretary Christy A. Hall met with Mashrur "Ronnie" Chowdhury, who is the principal investigator on a new national University Transportation Center.
Read April Issue
Receive the Monthly Newsletter
The College of Engineering, Computing and Applied Sciences monthly newsletter is filled with faculty spotlights, student achievements, and research highlights. To sign up to receive our emails, please fill out a short form with your name and email address.
IDEAS Magazine Archives
From 2008 to 2021, IDEAS Magazine served as the flagship publication of Clemson's College of Engineering, Computing and Applied Sciences. Each issue contained news and stories highlighting the achievements of students, faculty, staff and alumni in the college. Web versions of the magazine are available below.
College of Engineering, Computing and Applied Sciences
College of Engineering, Computing and Applied Sciences | Riggs Hall