Current Issue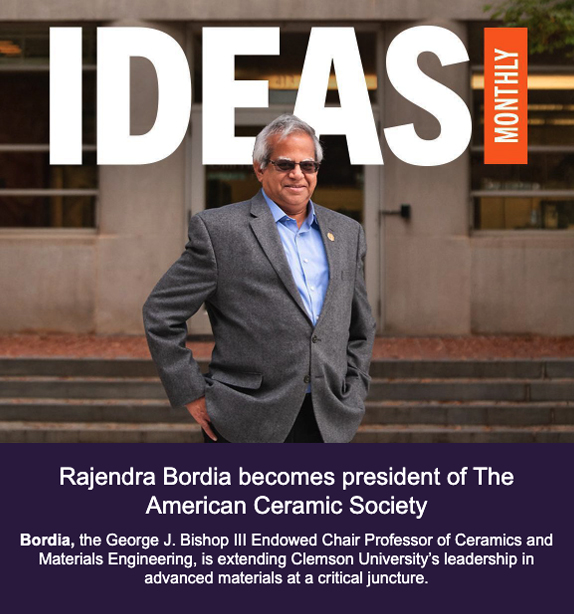 FEATURED CONTENT:
Rajendra Bordia becomes president of The American Ceramic Society
Bordia, the George J. Bishop III Endowed Chair Professor of Ceramics and Materials Engineering, is extending Clemson University's leadership in advanced materials at a critical juncture.
Michael Posillico's visionary leadership helps transform his alma mater
A group of dignitaries cut a purple ribbon to mark the opening of Posillico Inc. Laboratory, but the ceremony was about more than the physical transformation of a room in Lowry Hall.
GE Vernova helps ignite STEM dreams with $710,000 commitment to Clemson University
We thank GE Vernova for solidifying its commitment to nurturing STEM talent, with a new pledge of $710,000 over the next two academic years to fund three initiatives aimed at widening the talent pipeline and fostering inclusive excellence.
Read November Issue
Receive the Monthly Newsletter
The College of Engineering, Computing and Applied Sciences monthly newsletter is filled with faculty spotlights, student achievements, and research highlights. To sign up to receive our emails, please fill out a short form with your name and email address.
IDEAS Magazine Archives
From 2008 to 2021, IDEAS Magazine served as the flagship publication of Clemson's College of Engineering, Computing and Applied Sciences. Each issue contained news and stories highlighting the achievements of students, faculty, staff and alumni in the college. Web versions of the magazine are available below.
College of Engineering, Computing and Applied Sciences
College of Engineering, Computing and Applied Sciences | Riggs Hall