IDEAS Monthly
"Inquiry and Discovery in Engineering and Applied Science (IDEAS) Monthly" is the college's roundup of recent news.
Current Issue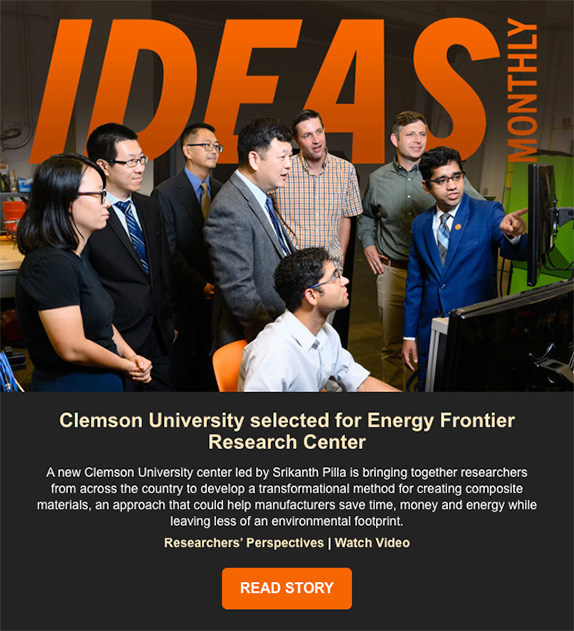 FEATURED CONTENT:
Clemson University selected for Energy Frontier Research Center
A new Clemson University center led by Srikanth Pilla is bringing together researchers from across the country to develop a transformational method for creating composite materials, an approach that could help manufacturers save time, money and energy while leaving less of an environmental footprint.
National Science Foundation director looks to Clemson University as a national model
The director, Sethuraman Panchanathan, called Clemson University "a vanguard of global competitiveness" when he and U.S. Sen. Lindsey Graham visited CU-ICAR to discuss the agency's vision.
Closing the skills gap in the manufacturing workforce
Manufacturers nationwide could soon have an easier time finding highly qualified engineers and technicians and the leaders to guide them if a program based at Clemson University can expand to reach a larger group of students, organizers said.
Read December Issue
Receive the Monthly Newsletter
The College of Engineering, Computing and Applied Sciences monthly newsletter is filled with faculty spotlights, student achievements, and research highlights. To sign up to receive our emails, please fill out a short form with your name and email address.
IDEAS Magazine Archives
From 2008 to 2021, IDEAS Magazine served as the flagship publication of Clemson's College of Engineering, Computing and Applied Sciences. Each issue contained news and stories highlighting the achievements of students, faculty, staff and alumni in the college. Web versions of the magazine are available below.
College of Engineering, Computing and Applied Sciences
College of Engineering, Computing and Applied Sciences | Riggs Hall