Wheelchair Basketball Camp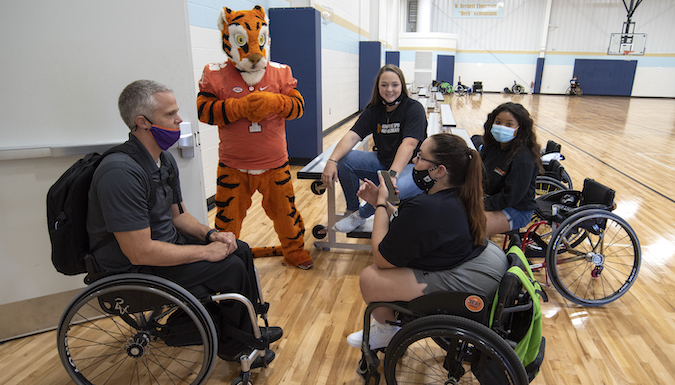 Clemson Adaptive Sports and Recreation is excited to announce our first annual wheelchair basketball camp being held June 11-14th on Clemson University's beautiful campus. Athletes planning to attend this camp should have an interest in improving their game through individual fundamental skills and drills and be ready to participate in multiple strenuous practice sessions throughout each day (up to 6 hours a day). Skill development will be taught through both individual and team drills, mental and physical conditioning, and controlled scrimmages.
Clemson Wheelchair Basketball Summer camp is open to males and females, ages 12-19 with a permanent, lower limb disability. All athletes must be independent in activities of daily living. No attendant care will be provided. We strongly encourage athletes to bring their own basketball chairs. We have a limited number of loaner chairs available.
Please note: Camp is limited to the first 30 registrants, although we will have a waitlist in case of cancellations. Athletes will be pulled off the waitlist on a first come, first serve basis.
For more information or questions please contact our Camp Director, Jeff Townsend.
Camp Information

Who: Athletes ages 12-19
What: Clemson Wheelchair Basketball Camp
When: June 11-14, 2023, registration opens March 7th, 2023
Where: Clemson University
Why: Athletes who want to step up their game and improve over the summer. Athletes must be independent in all activities of daily living.

Registration fee 
The registration fee is $350.00 per athlete (cost includes Clemson reversible jersey, t-shirt, meals, lodging, and instructional costs.

Facilities
Housing: Athletes will reside in one of two dorms, either Simpson Hall North or Simpson Hall South. The dorms on Clemson's campus meet minimum accessibility guidelines. Designated ADA accessible rooms are not guaranteed. Shower chairs will be provided by the camp staff for use in all bathrooms in the dorms. Roll-in showers are not available in every bathroom, and availability cannot be guaranteed. Housing accommodations will be made once all applications are received. Once on-site, if adjustments need to be made, it will be at the discretion of the Camp Director. Sheets, pillows, and blankets are not provided by Clemson Housing and Dining Services.

Meals
Campers will have various meal options for breakfast, lunch, and dinner at the Core Campus dining hall. Please indicate any food restrictions or allergies when asked in the registration form.

Gym
Clemson Wheelchair Basketball Camp will take place in Fike Recreation Center, 110 Heisman St., Clemson, SC

Camp Schedule (final schedule will be available June 1)

Check in: June 11, 2023 from 3-5 pm
Check out: June 14, 2023 from 12-2 pm

Registration

Registration
Registration begins March 7th, 2023. Early registration is encouraged because this year's camp is limited to the first 30 registrants. The registration deadline is May 28, 2023. Walk-up registrations at event check-in will not be accepted.

REGISTER HERE

Travel
All campers are responsible for their transportation to and from Clemson. No early or late check-ins are allowed. Campers are responsible for their own accommodations outside of the published camp dates.

Camp Fees are $350 and include the following items:

On-campus housing and dining
Program instruction, materials, and equipment (jerseys, shirts, etc.)

Cancellation Procedure
All cancellation requests must be submitted via email. Please send your request to townse7@clemson.edu

Cancellation request received at least 4 weeks prior to the start date of the program: Full refund, less $50.
Cancellation request received less than 4 weeks prior but at least 2 weeks prior to the program start date: Refund of 50%
Cancellation request received less than 2 weeks prior to the program start date or "no show": No refund.

Note: Refunds will be issued to the individual/organization who made the original payment.

Confirmation emails
Once you register to attend an event a confirmation email will be sent to your account.

Contact townse7@clemson.edu if you do not receive this confirmation email. You must have a working email address on file with us to be able to receive important information/announcements and updates about this event.

Frequently Asked Questions

If you cannot find an answer to your questions, email Camp Director, Jeff Townsend.

What if I get sick or hurt at camp?
Clemson University has a health center on campus (Redfern) and is the primary location where sickness or injuries will be handled. Parents will be notified of any instance of their child needing to go to Redfern.

Do I need health insurance to participate?
You are covered by our program insurance if you need to go to the health center during camp, but having your own health insurance information available is helpful in case of emergencies that require care beyond the Redfern health center.

What if I have a medical condition that requires medication or treatment beyond the basics of daily pills (i.e., injections, etc.)?
We ask that athletes are fully independent in the management of their medication and other activities of daily living (i.e., showering, clothing, etc.). Please provide all medication and/or treatment information in the registration form so that camp staff can be aware of needs, but counselors generally will not administer medication on a regular basis.

Will my dietary needs be met?
Core Campus dining hall has a selection of gluten free, vegetarian, and vegan options, but these may not suit all dietary needs. Please provide detailed information on dietary needs in your registration form. We will do our best to accommodate needs, but if you are unsure about dining hall food, you can bring your own food to supplement. A small kitchenette is available in the dorms but are likely inadequate to make full meals. Additionally, camp counselors will not make meals for athletes.

Can I bring snacks to eat in the dorm?
Yes! Due to dietary needs and restrictions for some athletes, we ask that you do not share your personal food with others.

Can my parents stay to watch?
No, they can stay for a short time after check-in, but once camp activities begin, we ask that parents head home. This is an opportunity for athletes to enjoy some independence and autonomy, and for parents to get a break!!

Is Clemson University starting a wheelchair basketball team?
Clemson University has plans to start a wheelchair basketball team in the near future. Go Tigers!

What happens if my sport wheelchair breaks while I'm at camp?
We will do our best to address minor repairs, but we do not have a mechanic on staff. Please consider bringing an extra tube or strap. We have a limited number of loaner chairs available. A limited number of tubes and tires will be available for purchase. Tubes are approximately $6 each, and a set of tires is $45.

Should I bring spending money?
There will be some time to explore Clemson's campus and surrounding area and you may want to purchase items (i.e., ice cream and t-shirts). Having a small amount of money on hand would help with this. Please do not bring a ton of money. There are no safes in the dorms to lock your money in. Camp counselors are not responsible for keeping your money safe.

What clothes should I pack?
Athletic clothes are the majority of what you will need during camp. There may be an opportunity for recreational activities. Don't forget personal toiletries and other care items! There is no store on campus and camp counselors cannot run to Walmart to pick up items. Laundry services are generally not available, so pack extra clothes.

Will I have free time?
There will be a limited amount of free time each day, typically in the evenings. Athletes cannot go off-campus during this time.

Is there wifi?
Yes, Clemson University has free guest wifi.

How close is the dining hall and gym to the dorms?
The Simpson dorms are located within a 5-minute push of both the gym and the dining hall. Clemson University has a hilly campus, and you will be pushing up hill at some point multiple times a day. If you have assistive devices (like a smart-drive), you are welcome to bring them, but know that you are missing out on strength and conditioning opportunities when you use these assistive devices. No worries though, we'll add them back in during practice. 

Can I choose my own roommate?
You can express a preference; however, room assignments are up to the Camp Director.

How many roommates will I have?
You will have only 1 roommate.

Can I have a private room?
It is not likely that you will get a private room. Having a roommate makes camp fun and memorable (unless your roommate snores.....)!!

Are the dorms safe?
Yes! All dorms on Clemson's campus are accessed by digital card scanners only. No card, no entry. Camp counselors will be the keepers of the cards. Each individual room is locked with a key given to each athlete at check-in.

Will there be adult supervision in the dorms?
Yes, Clemson University requires adult supervision at all times at youth summer camps, therefore, camp counselors will be present at sports camps 24/7. They will be staying in the dorms as well, and will do periodic checks on athletes during waking hours when not at practice. If an athlete needs to leave practice to go back to the dorms (i.e, to change...), a camp counselor will go with them. At no time are camp counselors allowed in individual dorm rooms with athletes.

Do girls and boys stay in the same dorms?
No, girls and boys (athletes and counselors) will stay in separate dorms. At no time can girls and boys (athletes or counselors) be alone in individual dorm rooms.

What are the expectations of me as an athlete at camp?
An athlete information packet will be sent to you after registration, about a month before camp begins. Athletes and their parents will be asked to sign an athlete behavior agreement and turn it in at check-in. But in general, be positive, work hard, and most importantly, HAVE FUN!

Can I drive myself to camp and have my car on campus?
If you are 18 or older and you want to bring a car to camp, you can. However, you will need to purchase a campus parking pass from Clemson Parking Services (can be done online). These are approximately $7 a day. Additionally, no athlete can drive another athlete anywhere. Please note: parking on Clemson's campus is very limited and purchasing a daily parking pass does not guarantee you a parking spot.

What if I get homesick and want to leave?
Being away from home, maybe for the first time, can be a difficult thing. We encourage you to enjoy the friendships you are making and experiences you are having with other athletes. Camp counselors are always available to talk and have likely had these same feelings in their younger years. You are welcome to call parents or other family members if you are homesick, but we ask you to do this during non-practice times. We prefer that no athletes go home early, but if this must happen, we can accommodate it. However, refunds will not be given for campers that leave early.

How are coaches and counselors selected to work sports camps?
Coaches and staff are selected by the camp director who has more than 25 years of experience competing and coaching in the adaptive sport world. Coaches and staff will undergo an initial screening and interview, in addition to having a background check performed and receiving SafeSport training. Most of our staff and counselors are Clemson University students and/or employees, many of whom are sport and/or recreation majors.
Department of Parks, Recreation and Tourism Management
Department of Parks, Recreation and Tourism Management | 170 Sirrine Hall