A Colorful Showcase
Visual representations of science and technology provide a valuable connection between scientists, artists, and the general public. This annual event showcases how beautiful and unique everyday things truly are when we take a new perspective.
Submission Deadline: Friday, March 17
Showcase: Thursday, April 6
Submit Entry
View Guidelines
Science As Art: A Visualization Challenge
SINCE ITS INCEPTION IN 2006, "Science as Art" has challenged those at Clemson University as well as South Carolina high school students to share the powerful and inspiring visual images produced in laboratories, workspaces, and learning environments. The resulting exhibits have drawn the attention of scientists, artists, members of the community, and professional organizations. By describing STEM concepts, research, and impact with simple terms and visually captivating images, Science as Art aims to attract a broad audience of all ages and encourage interest in these fields.
Interested in Participating?
Clemson University researchers, students, employees, and South Carolina K-12 students are invited to create artwork based on their work in the Science, Technology, Engineering, and Math (STEM) fields.
Guidelines

Science as Art is an outreach event to non-scientists, potential scientists, and the science-curious. Through the visual arts, we hope to draw interest to the STEM fields through visually captivating artwork. Entries should be accompanied by a short descriptive text explaining the science behind the art in terms of a non-scientific audience.

Entries will be judged by a team of local artists and scientists, who consider both the art and the text description. The criteria for judging include:

Visual Impact
Effective Communication
Innovation

Preparing for Submission

Entrants must ensure that interactive media is Windows 7 compatible and is packaged so as to be viewed directly from the medium it is saved to, without special provisions, controllers, scripts, installations, or downloads. No proprietary programs can be used. Entrants must be ready to provide entries in a different medium or format if requested for judging or promotional purposes. Entries not submitted in the formats outlined above will be disqualified. All submission materials must be in English. Text descriptions should be no longer than 100 words total.

Entry Formats

Photographs/Pictures—Film or digital photographs and photomicrographs, as well as images obtained from electron microscopes, STMs, AFMs, telescopes, sensors, and similar instruments.
Illustrations/Drawings/Paintings—Traditional or computer-assisted illustrations and drawings produced to conceptualize the unseen or recreate an object, process, or phenomenon (technique). Illustrations and drawings rely primarily on the created image to convey meaning. Illustrations do not have text.
Informational/Explanatory Graphics—Computer-assisted illustrations or graphics produced to instruct/interpret highly technical information into art that teaches. An informational graphic is more explanatory by nature and relies heavily on data and often text to convey a message. An informational graphic may incorporate a photographic image or an illustration into the overall presentation to convey the intended message. Typically incorporates text as an integral part of the illustration or graphic.
Three-Dimensional—Sculpture, origami, or other non-2D formats with scientific, mathematical, or technical relevance.
Interactive Media—Multimedia designed for interaction. Entry must be able to be manipulated by the judges. The DVD selection menu does not make it interactive media (NOT a movie demonstrating interactive media). This differs from non-interactive media because it is self-guided.
Non-Interactive Media—Multimedia not designed for interaction. Do not exceed 5 minutes total running time.
Other—We are always open to new formats, for example, poetry or a combination of media formats. Propose your own new category!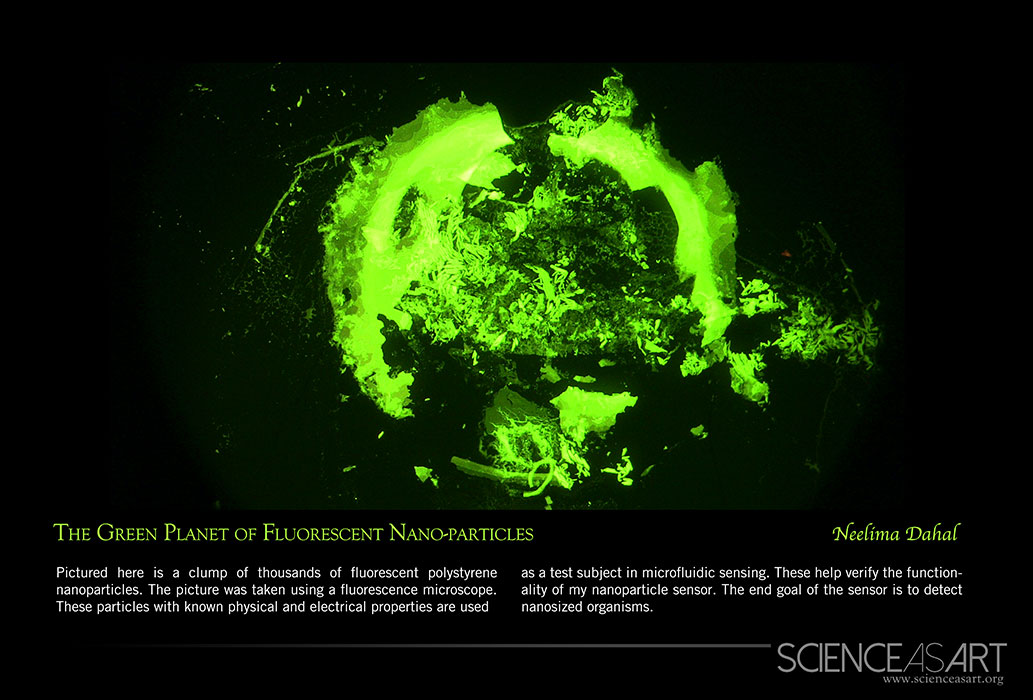 Galleries By Year
Beauty is everywhere. The yearly entries are a testament to taking a second look, a different perspective, at the world. We hope you enjoy each Science As Art submission as much as we do.
View Full Gallery
College of Engineering, Computing and Applied Sciences
College of Engineering, Computing and Applied Sciences | Riggs Hall