Staff Performance Management Process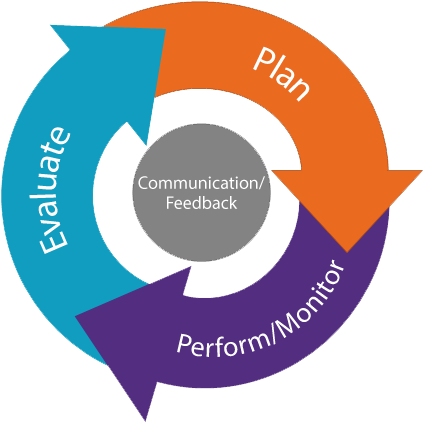 The goal of Clemson's performance management process is to help employees maximize their performance potential.
The process comprises three major phases: Planning, Performing and Monitoring, and Evaluation with continual communication and feedback throughout the process. Please familiarize yourself with the phases and your supervisory responsibilities as outlined below.
Staff Performance Management is required to be completed using OnBase-Performance for all full-time equivalent (FTE), new hire/probationary and 6-month trial status employees. Time-limited positions (TLP), Temporary Grant positions (TGP) and Temporary positions will not use OnBase Performance.
Performance Management Stages
Planning Stage
The PLANNING STAGE should be completed within the first 45 days of the Performance Period (PDF). You should work with your supervisor to create your planning stage, including your job functions (job duties and success criteria), objectives for the review period and competencies.
Employee Responsibilities:
Meet with supervisor to review the position description and discuss goals for the department
Collaborate with supervisor to define goals for job functions, objectives and competencies for the performance period
Meet with supervisor to build the planning stage using SMART criteria
Resources:
Performing and Monitoring Stage
The PERFORMING AND MONITORING STAGE occurs throughout the performance period.
Employee Responsibilities:
Monitor your progress against the expectations set in the planning phase to ensure you stay on track
Take action on duties, goals and competencies
Meet regularly with your supervisor and seek their feedback and advice
An unofficial mid-year review is encouraged to facilitate ongoing communication between you and your supervisor
Resources:
Evaluation Stage
The EVALUATION STAGE occurs within the last 90 days of Performance Period (PDF). You will complete a self-evaluation and the supervisor will formally evaluate your performance for the year. Communication and feedback should have been given by the supervisor throughout the review period; the employee should know how actual performance compares to the expectations set in the planning stage.
Employee Responsibilities
Complete self-evaluation
Meet with supervisor to discuss performance and evaluation
Resources:
Frequently Asked Questions
Office of Human Resources
Office of Human Resources | 108 Perimeter Rd, Clemson, SC 29634