Clemson Honors Student Ambassadors
Looking for a Student Perspective on Clemson Honors?
Clemson Honors Student Ambassadors are Honors student volunteers who are official ambassadors for the Honors College and who are passionate about Honors at Clemson University.
Ambassadors meet with prospective students and their families to provide a student perspective on their various Honors experiences.
They are a diverse group of students, representing each of Clemson's academic colleges listed below, and they are involved in all aspects of campus life. They are developing communication, teamwork, and leadership skills as they interact with prospective students and their families.
You can read more about each ambassador within their major's college.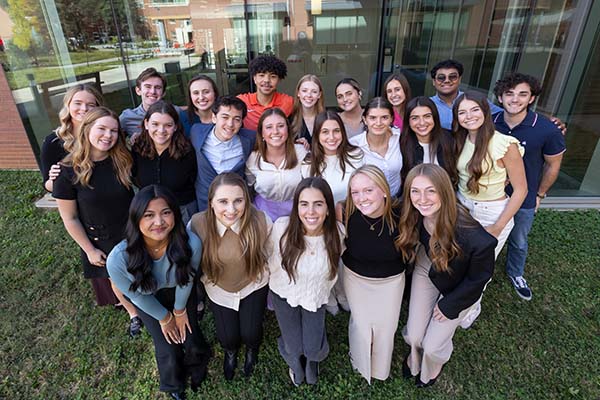 Name: Emma Kate Banks
Hometown: Cayce
Major: Biochemistry
Class: Class of 2022
Email: ekbanksjr@gmail.com
Introduction: Hey, I'm Emma Kate! I'm from Cayce, SC, and I'm a junior biochemistry major and an animal science minor just for fun. I'm hoping to be a doctor or a PA one day- haven't quite made my mind up about that yet though. I love painting, hiking, reading, watching movies, and playing games!
Ask me about...: Hiking spots around Clemson, good eats nearby, sororities on campus, the Clemson Bucket list, Netflix shows to watch
My advice for prospective students: My advice to prospective students is to get involved on campus early, even if its just one or two things. I came in so overwhelmed by the sheer number of clubs that Clemson has to offer and failed to do this. Its something I wish I could go back and do differently now because organizations are where you meet people and feel like a part of what Clemson has to offer!
My advice for current students: My advice to current students is to take advantage of the fact that you are not alone in your major! Be willing to help others and they will be willing to help you when you don't understand something. You don't have to do it all alone.
Why I chose Clemson and the Honors College: I was raised on Clemson football by my Dad, so Clemson quickly became my home away from home and there was never any competition for my future college. Nothing makes me happier than calling it my actual home now! As far as the Honors College, I was sold immediately by the Honors Harry Potter class, but mostly by the people I met. As a senior, my dad and I were exploring the new Honors Residential College right before a football game, and a girl inside happened to be an Honors Ambassador and immediately offered to show us around. The fact that she took this time out of her day, even while rushing to a football game, really showed me how selfless the people are here and made me want to be a part of this community.
My involvement in the Honors College: Honors Ambassador
My involvement in Clemson University: Alpha Chi Omega Sorority, Clemson LIFE, Mammary Development and Cancer Biology Creative Inquiry, Panhellenic Recruitment Counselor, Fellowship of Christian Athletes, Reformed University Fellowship, CUSG Activities Committee
Orange or purple?: Purple
If I could travel anywhere: New Zealand! I have wanted to go here basically as long as I can remember because of the Lord of the Rings, but also because of the unique animals they have there and all of the beautiful scenery.
What is on my Spotify/iTunes playlist?: Hamilton Mt Joy Billie Eilish The Backseat Lovers
Three things I cannot live without: Candy Dogs Clemson football
What makes me happy to be alive: Reaching the end of a hike and watching the sun rise or set.
Three interesting facts about me: I used to have two sugar gliders and a bearded dragon. I've been to over 30 countries. This is super weird, but I have a really rare thing called ear pits on both ears.
My future goals: I am currently applying to medical school this cycle! I am still figuring out the specialty I want to practice, but I am really looking forward to my career as a physician.
How has the Honors College made a difference in your life?: The Honors College has provided me with so many like-minded friends who have pushed me to work hard in all I do in order to achieve my goals. I think this is such a rare thing in college to find people you know will be alongside you and supporting you for the rest of your life from the very first week of college. In addition, the classes and seminars have engaged me and helped me understand the importance of learning continuously in all aspects of life.