Resources for School Counselors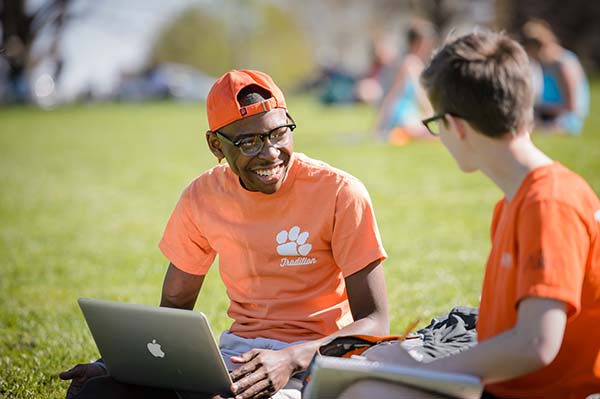 Information Your Students Need
We appreciate the work school counselors do to advance the growth of their students, including ensuring they have the information they need to make informed choices about their university education. 
We've provided answers to commonly asked questions from school counselors below.
If you don't see what you're looking for, please feel free to contact us at HonorsAdmissions@clemson.edu. We're here to help!
Campus Visits
If your students would like more information about Clemson University and the Honors College, they can schedule an online visit.
There are several different ways to tour University campus: 
Clemson University is also offering in-person campus visit opportunities on a limited capacity. 
Applying to Clemson Honors
Clemson University Application Portal
The Honors College application is separate from, and in addition to, the Clemson University undergraduate application, though both can be accessed via the student access portal.
Students can also use the portal to track receipt of their Honors application materials (including recommendation letters). It's important for students to keep track of their username and password!
If you are asked to provide a recommendation on a student's behalf, you will also use the portal to complete the required form and upload your letter. 
Application Tips
We encourage students to consider the following when building their application: 
Submit the Undergraduate application early so they have an ample amount of time to complete their Honors application.

Before the end of the Clemson undergraduate application, there will be a question asking if the applicant is interested in applying to the Honors College. If interested, they should select "Yes" to get access to the Honors application after they submit their undergraduate application.

Please encourage your students to ask for recommendations early! We recommend they submit their recommenders' contact information as soon as they access the Honors College application.

We recommend using a word processing software to compose the written works for the application (essays and involvement and awards sections). Students should proofread their essays many times and have others review them as well.

Applicants should take great care in reviewing their application

before

submitting it. Neither they nor Honors College staff can

make changes to an application once it is submitted. The only change that can be made is to upload additional, optional supporting materials.
Recommendation Forms and Letters for Honors Applications
The Clemson Honors application requires two recommenders:
Teacher recommendation form and letter via the Honors Recommendation Request Form
Counselor recommendation form and letter via the Honors Recommendation Request Form
If you are asked to submit a recommendation, it's important that you submit both the form and the letter requested via the link you receive from us by email. 
Accepted AP/IB Courses
Review the list of AP courses (PDF) and IB classes (PDF) accepted by Clemson University.
AP and IB credits can count toward a student's degree requirements, but not toward an Honors course requirement.
Honors Admitted Student Events
Every year, we offer a variety of events to welcome our new students to Clemson University campus, create opportunities to meet Honors staff, and share information about opportunities available to them. 
Honors-focused events are posted on our Newly Admitted Students page, which is updated regularly over the spring and summer months, as new events become available.
Clemson Student Affairs also shares welcome week information on their website, with information about university-wide welcome events.