First-Year Clemson Honors Students
Important Dates for Fall 2023 Admission Cycle
Priority vs. Non-Priority Deadlines
Honors First-year Student Application Deadlines (2023)

| Category | Clemson Undergraduate Application Deadline | Honors College Application Deadline (including 2 letters of recommendation received) | For Honors Notification By |
| --- | --- | --- | --- |
| Priority | October 15 (Early Action) | November 1 (11:59 p.m. EST) | February 1 |
| Non-Priority | January 2 | February 1 (11:59 p.m. EST) | March 15 |
Visit Your Student Portal
Schedule a Visit
Talk to a Student Ambassador
The Honors College offers priority and non-priority deadlines for potential students.
Applicants who choose Early Action on their Clemson undergraduate application and who meet Honors priority deadlines will be considered priority applicants to the Honors College. Students who meet priority deadlines receive their decision sooner and are eligible for consideration for the National Scholars Program and Breakthrough Scholars Program. 
Honors decisions will be released only to students who have received an admission decision from Clemson Undergraduate Admissions. Honors College priority applicants who receive a deferred early action decision from Undergraduate Admissions will not receive an Honors decision until March 15.
Applications completed between February 2 and April 1 are late and may be considered on a space available basis. However, we cannot guarantee that such applications will receive consideration.
Late applicants will be notified of their Honors status on or before April 15. Applications completed after April 1 will not receive consideration.
2023 First-Year Admission Process
Why Clemson Honors?
The Honors College provides many opportunities and experiences to help you thrive during and beyond your time at Clemson – enhancing your undergraduate experience and strengthening your academic, personal, and professional development.
As an Honors student, you have exclusive access to Honors courses and seminars, as well as expanded research and program opportunities that aren't necessarily related to your major – broadening your perspectives in ways that many of our students say create their most valuable Honors experiences. 
In addition to individualized access to Honors facilities, faculty, and courses, you become part of a community that intentionally nurtures friendship, support, and success through options that range from mentorship by peers and leading Clemson faculty to incredible experiential learning opportunities.
How to Apply
Admission to the Honors College is highly selective. Through their high school activities, application essays, and other application materials, successful applicants will show clear evidence of intellectual engagement and vision as well as community engagement and leadership. The Clemson University Honors College selects the best candidates through a holistic review of Honors applications.
Your application to the Clemson University Honors College is separate from (and in addition to) your undergraduate application.
After you submit your first-year undergraduate application, you will receive access to the Honors College application in your student portal if you selected "Honors Interest" while completing your undergraduate application.
You can also scroll to the bottom of your Clemson applicant portal to find the section that asks if you have interest in applying to the Honors College.
Before you apply, you are welcome (but not required) to sign up for a visit to the Honors Center, where you will meet Honors staff, tour our facility, and meet current Honors students.
Review Before You Submit
PLEASE take great care in reviewing your Honors application BEFORE SUBMITTING.
We are NOT able to edit your application after submission. The only changes you can make after submission are to upload additional, optional supplemental materials or to withdraw your application.
We're Here to Help!
If you have any questions after reading this guide to the application process, please email HonorsAdmissions@clemson.edu.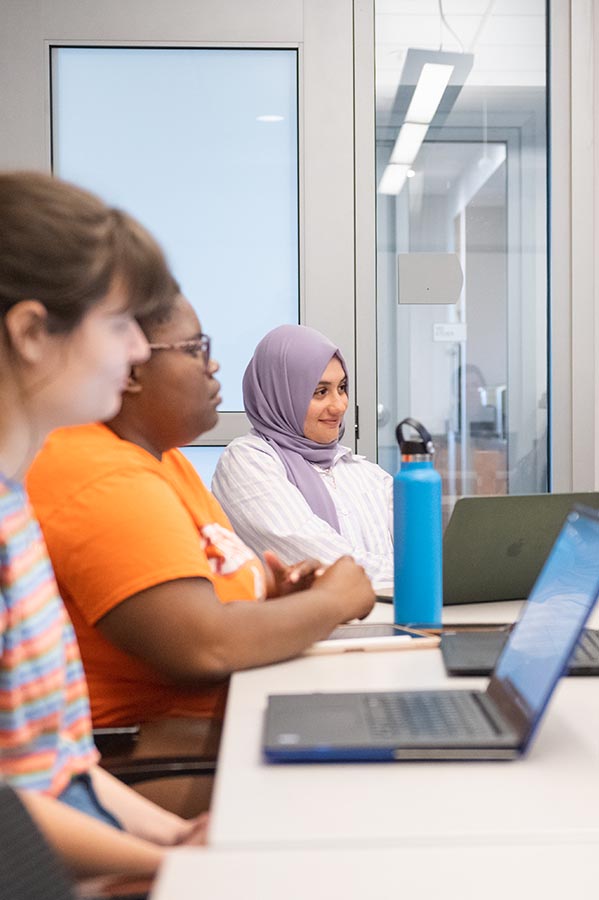 "Clemson's culture, especially in the Honors College, promotes a well-rounded environment of research and socialization. Both of those were important to me from the beginning, so when I learned I could get them here, it was an easy decision for me."

Terryn Witherspoon

Biological Sciences Major ('23)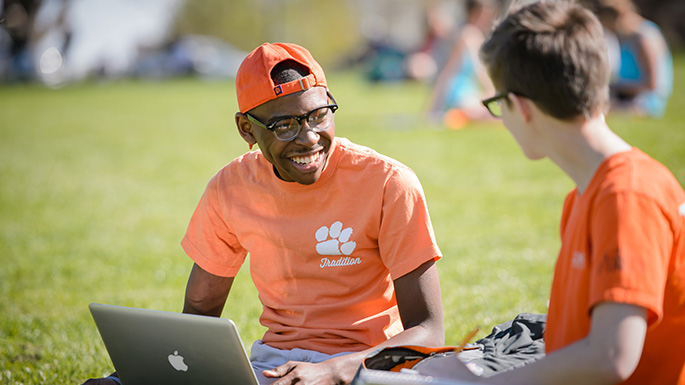 Schedule a Visit
Talk to one of our advisors about the Clemson Honors experience! Learn about program and class options, opportunities to work with world-class faculty, how we build an Honors community, living on Clemson campus – and most importantly, how our faculty and staff encourage our students to excel and reach their fullest potential.
Request a Visit
National Scholars Program
Clemson's Merit Based Scholarship Program
The National Scholars Program (NSP) is Clemson's premier undergraduate, merit-based scholarship program. The NSP provides a competitive scholarship for eight semesters of undergraduate study. While not a part of the Clemson University Honors College, the NSP bases finalist selection on rigorous reviews of the Honors application (following a review of applications that meet the earlier Honors priority deadlines).
Explore NSP