Clemson Honors Student Ambassadors
Looking for a Student Perspective on Clemson Honors?
Clemson Honors Student Ambassadors are Honors student volunteers who are official ambassadors for the Honors College and who are passionate about Honors at Clemson University.
Ambassadors meet with prospective students and their families to provide a student perspective on their various Honors experiences.
They are a diverse group of students, representing each of Clemson's academic colleges listed below, and they are involved in all aspects of campus life. They are developing communication, teamwork, and leadership skills as they interact with prospective students and their families.
You can read more about each ambassador within their major's college.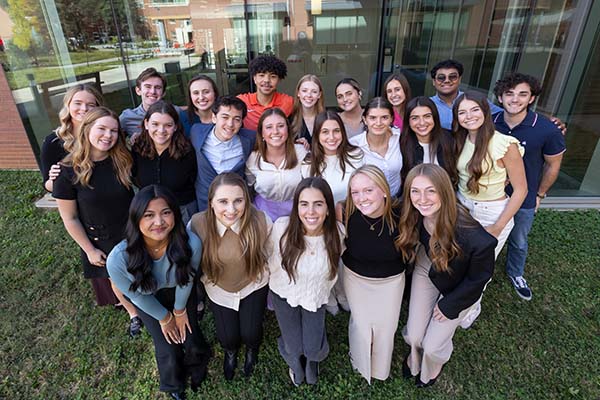 Name: Jenna Perry
Hometown: Rockville
Major: Biochemistry
Class: May 2023
Email: jmperry@clemson.edu
My involvement in the Honors College: I have recently been hired as the new Honors Ambassador Coordinator in which I have the pleasure of working alongside Megan Wong, honors advisor and recruitment coordinator, to ensure that prospective students have a enriching and informative experience while visiting. I also have the pleasure of working alongside Dr. Cao, my biochemistry professor, and his team of PhD students to pursue departmental research in studying DNA repair and mutations.
My involvement in Clemson University: Since freshman year, I have expanded my circle through numerous organizations and programs, and I have met some amazing people! I am part of the sorority, Chi Omega, a national honors frat, Phi Sigma Pi, CU investors, a class/club that travels to local middle schools to teach kids about cell biology. In addition, I coach soccer for an organization that provides children with intellectual and physical disabilities to work on skill-building and cohesion among teammates.
Why I chose Clemson and the Honors College: Clemson has always felt the most comfortable for me out of any other place, it's home to me! The Honors College has given me so many opportunities, specifically departmental research in which I am allowed to work alongside renowned professor Dr. Cao and his team of PhD students!
My future goals: My future hopefully includes medical school and a good MCAT score!