Clemson Honors Student Ambassadors
Looking for a Student Perspective on Clemson Honors?
Clemson Honors Student Ambassadors are Honors student volunteers who are official ambassadors for the Honors College and who are passionate about Honors at Clemson University.
Ambassadors meet with prospective students and their families to provide a student perspective on their various Honors experiences.
They are a diverse group of students, representing each of Clemson's academic colleges listed below, and they are involved in all aspects of campus life. They are developing communication, teamwork, and leadership skills as they interact with prospective students and their families.
You can read more about each ambassador within their major's college.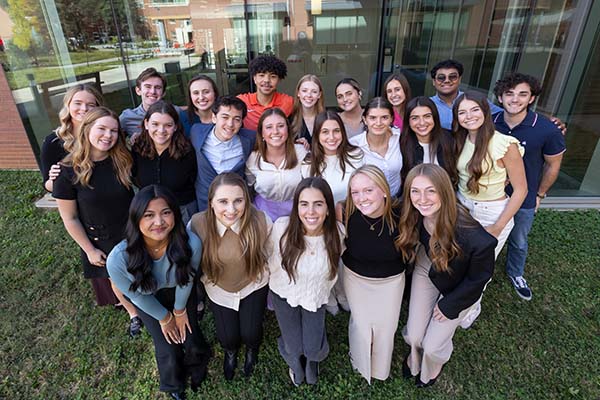 Name: Sydney Keffer
Hometown: Greenville
Major: Health Science
Class: Freshman, Class of 2024
Email: snkeffe@clemson.edu
Introduction: My name is Sydney Keffer, and I am a freshman from Greenville, SC. I am a Health Science major and am planning on adding a Spanish double major. I love hiking, watching sitcoms, working out, and building relationships with people. I plan on going into the medical field and hope to work abroad in a Spanish-speaking country treating underserved areas.
Ask me about...: Ask me about my job and research with the football team!
My advice for prospective students: My advice for prospective students is to make the most out of your visits to colleges. Email professors and ask to shadow classes, eat at the dining halls, try to tour/stay with a student in a dorm. Treat your visits as if you are attending this school because the culture of a school is just as important to your success and happiness as the resources and opportunities the school provides. This will give you confidence that you are truly making the best college decision for yourself.
My advice for current students: Get involved as soon as you can. Go to TigerProwl and talk to members of prospective clubs that you could see yourself joining. While you don't want to join too many and feel overwhelmed, if you join a few organizations, you will quickly build so much community around you. These organizations help you to feel connected to Clemson and will provide you with the best friendships.
Why I chose Clemson and the Honors College: I had toured and applied to many schools; however, I believed that Clemson had the small school feel with the big school resources. I can walk through the dining hall and run into multiple people I know all from different organizations, but Clemson also has a plethora of grants and departments readily available. I chose Clemson Honors specifically because I wanted to be challenged and knew that the Honors College could do just that. I was also very interested in undergraduate research and knew that the EUREKA! 2.0 program would get me involved in a lab before I even stepped foot in a classroom compared to other schools where I would normally have to be an upperclassmen.
My favorite thing about the Honors College: My favorite thing about the Honors College is all of the resources available set up to help us succeed. I have an additional advisor, a mentor, additional career fairs, and access to so many programs and resources that immediately set my resume apart. Your success is their success and the Honors College truly invests in you.
My involvement in the Honors College: I participated in the 2020 EUREKA! 2.0 research program, where I conducted research on the role of mutations on certain genes on cancer formation. I also am involved in the Dixon Fellows program, where I have developed a personal relationship with a professor and engage in socratic seminars on topics I'm interested in. I am also in an Honors Peer Mentoring group where an older Honors student with a similar major helps you adjust and advises you on how to succeed in college.
My involvement in Clemson University: I conduct research and recovery with the Clemson football team. I am also involved in a service fraternity, Alpha Phi Omega, on campus. I am also a member of CHAARG, which is a female workout group where you try new types of workouts weekly along with building community in a small group. I am also in a small group for and regularly attend FCA, where I have deepened my faith.
Orange or purple?: Purple
If I could travel anywhere: I would travel to Chile where I would see Incan ruins, go to the Rapa Nui Festival on Easter Island, see the penguins by one of the three growing glaciers in the world, and hike the Andes Mountains. I am also obsessed with Spanish culture and would love t
Three things I cannot live without: I cannot live without my dog (dorm life has been a struggle without him), ramen, and a good hug. This answer was provided to you by my roommates who have seen me without all of these which is how you know it's true.
What am I most thankful for this year?: I am thankful for the family I was able to build this year at Clemson even though it was more limiting to meet people this semester due to COVID-19.
Favorite place on campus: My favorite place on campus is honestly the Honors Residential Community. The majority of my friends live here and our rooms are spacious enough and set up efficiently to where we can easily host people. There are also the individual study rooms and the Honors classrooms downstairs that are perfect to do work in and are so convenient. The building also has easy access to the dining hall and my bed so what else can a girl want?
Three interesting facts about me: I flew a plane before I drove a car. I work and do research with the Clemson Football team. I'm a certified Squirrel rehabber (long story).
My future goals: My future goals are to become either an OB-GYN or a pediatric neurologist, work abroad in a Spanish speaking country, stay strong in my religion, adopt a dog, and to eventually start a family.
What are your plans after graduation?: After graduation, I plan to go to medical school and hopefully work abroad as a doctor in an underserved Spanish speaking country for a few years. I then want to return to the States and treat traditionally Spanish areas to decrease health care disparities. I grew up learning Spanish and would love to use that background to help others.