Clemson Honors Student Ambassadors
Looking for a Student Perspective on Clemson Honors?
Clemson Honors Student Ambassadors are Honors student volunteers who are official ambassadors for the Honors College and who are passionate about Honors at Clemson University.
Ambassadors meet with prospective students and their families to provide a student perspective on their various Honors experiences.
They are a diverse group of students, representing each of Clemson's academic colleges listed below, and they are involved in all aspects of campus life. They are developing communication, teamwork, and leadership skills as they interact with prospective students and their families.
You can read more about each ambassador within their major's college.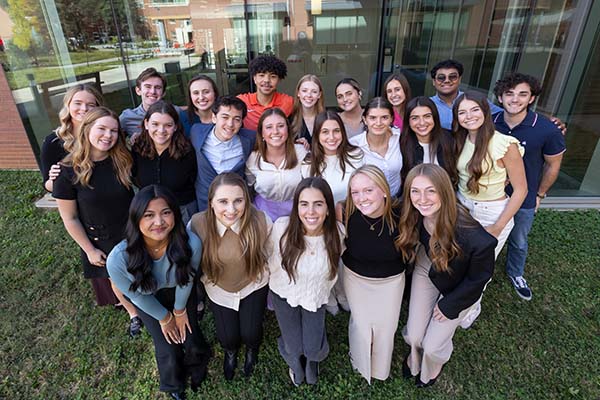 Name: Annalise Enger
Hometown: Fort Mill
Major: General Engineering
Class: Freshman
Email: aenger@clemson.edu
Introduction: Hi! My name is Annalise, and I'm a freshman from Fort Mill, SC. I'm a general engineering major, and I hope to end up in chemical or materials science engineering. I used to play soccer and I like to watch Arsenal and the Premier League. I love ice cream and really anything sweet, too. In the future, I want to work as a chemical engineer and have a St. Bernard.
Ask me about...: Women in Science and Engineering (WISE) resources (test banks!!), the best study rooms, and what time to get Raising Canes if you don't want to wait in line
My advice for prospective students: Start a conversation with people sitting next to you in class, someone folding clothes in the laundry room with you, whoever is in front of you in the dining hall lines, anyone! You'll meet some of your favorite people in college and you can meet them in the most random ways.
My advice for current students: Utilize the academic resources like Peer-Assisted Learning (PAL) sessions and test banks when you're struggling in classes. There are so many opportunities and the tutors and leaders are so helpful!
Why I chose Clemson and the Honors College: I chose Clemson because it has the best college campus community of any colleges I had visited. You can say hi to anyone passing on the sidewalk and they'll always smile and say hi back. I chose the Honors College so I could do EUREKA!, a research program, over the summer and start meeting people before I even got to campus, and I knew I would be surrounded by people who had similar values as me.
My involvement in the Honors College: I am an Honors College Ambassador and I participated in EUREKA!, a summer research program, over the summer.
My involvement in Clemson University: I am a member of Women in Science and Engineering (WISE), Society of Women Engineers (SWE), and (AIChE). They have great resources for academic help, career planning, and fun events like yoga and trivia nights!
If I could travel anywhere: I would want to travel to Antarctica because it seems so quiet and peaceful without a lot of people, and I would want to experience that kind of serene environment.
Three things I cannot live without: I could never live without Snapchat, candy, and sweatpants.
My spirit animal: My spirit animal is a koala because they like hugs and salads.
My favorite Clemson class: My favorite Clemson class was my Honors seminar called Worlds of Inequity. It was very interesting to see a new outlook on social structure and it opened my view to many other perspectives I had not thought about before.
What makes me happy to be alive: Eating makes me very happy to be alive. I am never more excited than when I am standing in line waiting for food.
Three interesting facts about me: 1. I used to play French horn 2. I have two pet birds (Rusty and Howie) 3. I visited the Dominican Republic for a wedding
What are your plans after graduation?: After graduation, I want to get a job with the chemical company I co-op with during undergraduate years so I can work on reducing chemical damage output to the environment.
How has the Honors College made a difference in your life?: The Honors College has given me the opportunities to meet my best friends and was able to start undergraduate research before even getting to campus. I am so glad to be a member of the Clemson Honors College!