Clemson Honors Student Ambassadors
Looking for a Student Perspective on Clemson Honors?
Clemson Honors Student Ambassadors are Honors student volunteers who are official ambassadors for the Honors College and who are passionate about Honors at Clemson University.
Ambassadors meet with prospective students and their families to provide a student perspective on their various Honors experiences.
They are a diverse group of students, representing each of Clemson's academic colleges listed below, and they are involved in all aspects of campus life. They are developing communication, teamwork, and leadership skills as they interact with prospective students and their families.
You can read more about each ambassador within their major's college.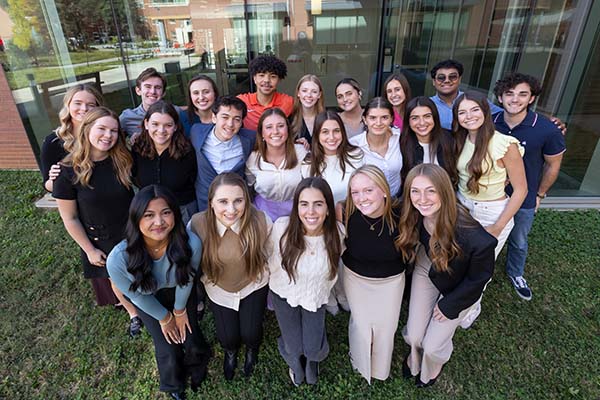 Name: Brennan Dougherty
Hometown: Glen Ellyn
Major: Mechanical Engineering
Class: Class of 2023
Email: bdoughe@clemson.edu
Introduction: Hello! My name is Brennan Dougherty and I am a sophomore at Clemson studying Mechanical Engineering. I am from Glen Ellyn, IL but love the weather in South Carolina! I always spend afternoons at Y-Beach kayaking or laying out. I also really enjoy listening to and playing music.
Ask me about...: Ask me about the bell tower class I took at Clemson! It was the most unique class I have taken so far.
My advice for prospective students: My biggest advice for prospective students is to look for a school where you feel like you will have the most well-rounded college experience. Look for a place where you can not only get a good education, but also enjoy doing it!
My advice for current students: My advice for current students is that it is never too late to get involved with something new! Whether that be within the Honors College, an extracurricular activity, or academic, Clemson has so many opportunities to offer and you only have so many years left to take advantage of it!
Why I chose Clemson and the Honors College: The Honors College at Clemson seemed to be the perfect balance between going to a big school and also having a small school feel. The community of the Honor Residential College is amazing and was one of the reasons Clemson became one of my top choices. All of the students are very involved at Clemson because there are opportunities that interest everyone outside of the classroom.
My favorite thing about the Honors College: The EUREKA! Program offered through the Honors College was one of the biggest highlights of my time at Clemson and where I met some of my closest friends. However, I also really love the honors seminars that the Honors College offers. My two favorites have been my seminar on Autonomous Vehicles as well as my class on Tiny Homes!!
My involvement in the Honors College: My involvement in the Honors College started before my freshman year as a member of the EUREKA! Program. Beyond that, I lived in the Honors Residential College as a freshman (DesChamps floor 3!!) and always took advantage of the fun events put on by the Lassers, the previous faculty-in-residence. Now, I am excited to be an Honors Ambassador to share my experiences with prospective students.
My involvement in Clemson University: In addition to my involvement with the Honors College and Honors Ambassadors, I am involved in various other student organizations on campus. I am a member of the Student Alumni Council which consists of a group of students who plan and oversee various events for members of the Student Alumni Association and the entire student body such as The Ring Ceremony, The Welcome Back Festival, Cocky's Funeral, and many more. I am also a part of Clemson University Students Government (CUSG) as a member of the Activities Committee. I was also on Freshman Council my freshman year through CUSG which I highly recommend looking into. I am also a Clemson University Tour Guide, so if you need someone to show you around, I'm your guy. Finally, I do research as part of a Creative Inquiry on Autonomous Drones.
Orange or purple?: Purple
If I could travel anywhere: I would love to travel to Greece! The main reason I would like to go there would be the beaches, but I would also be excited to try the food.
What is on my Spotify/iTunes playlist?: Saint Motel, Rex Orange County, and Weezer just to name a few!
Three things I cannot live without: I could not live without my iPad, contacts, and scooter to get to and from campus
My spirit animal: My spirit animal is most definitely a monkey. They have always been my favorite animal and feel like we have the same energy.
My favorite Clemson class: My favorite Clemson class is the CU Carillioners Class I took freshman year. I especially enjoyed it because it is so different from my other coursework. Although it was challenging to take on a new instrument at first, I looked forward to Tuesday afterno
What makes me happy to be alive: Music always makes me happy. I enjoy playing guitar and piano, singing with my friends, or just listening to music to relax.
Three interesting facts about me: I do not like chocolate Coco is my favorite movie My most recent hobby has been making charcuterie boards with my friends
My future goals: I hope to find an interesting job in mechanical engineering working for a technology company. I also look forward to moving into my first house!
How has the Honors College made a difference in your life?: The biggest impact of the Honors College has been the people I have met. Beyond all of the incredible opportunities the Honors College has to offer, the relationships I have formed is what I will carry with me longest.