Clemson Honors Student Ambassadors
Looking for a Student Perspective on Clemson Honors?
Clemson Honors Student Ambassadors are Honors student volunteers who are official ambassadors for the Honors College and who are passionate about Honors at Clemson University.
Ambassadors meet with prospective students and their families to provide a student perspective on their various Honors experiences.
They are a diverse group of students, representing each of Clemson's academic colleges listed below, and they are involved in all aspects of campus life. They are developing communication, teamwork, and leadership skills as they interact with prospective students and their families.
You can read more about each ambassador within their major's college.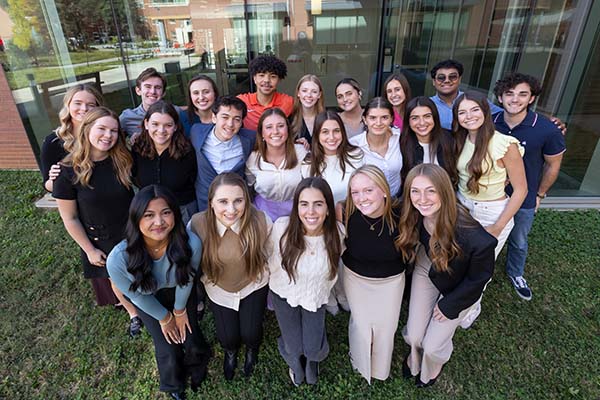 Name: Caroline Barrows
Hometown: Fuquay-Varina
Major: Biochemistry and Psychology
Class: 2023
Email: cbarrow@clemson.edu
Introduction: Hey, everyone! My name is Caroline and I am a Biochemistry and Psychology major from Fuquay-Varina, NC. I love to go to sporting events, hang out at Lake Hartwell, and spend time with my friends. In the future, I hope to attend medical school and become a pediatrician.
My advice for prospective students: Work hard in high school but don't forget to get involved with extracurricular activities that you'll actually enjoy and spend time with your friends.
Why I chose Clemson and the Honors College: Clemson students are incredibly friendly and campus feels like home.
My involvement in the Honors College: I am an Honors Ambassador, Honors Peer Mentor, and I served as a representative of the Honors Residential College Community Council during my freshman year.
My involvement in Clemson University: I am involved in Alpha Epsilon Delta Pre-Professional Health Honor Society, Fellowship of Christian Athletes, Kappa Delta Sorority, and the Judicial Branch of CUSG. I also am a member of Dr. Britt's Meaningful Work in Medicine research team, in which I am currently working on completing my Departmental Honors in Psychology. I have previously been involved with the Biochemistry and Genetics Club and served as the Vice President of the Residence Hall Association. I was a member for the Fall 2021 cohort of students for Clinical Applications and Medical Practices.
Orange or purple?: Purple
Three things I cannot live without: My dog, my friends, and my family.
What makes me happy to be alive: I love paddleboarding and spending time at the lake.
Three interesting facts about me: My favorite color is blue, I have lived in the same small town for all of my life, and I once drove to Canada for lunch.
My future goals: To become a physician.