Clemson Honors Student Ambassadors
Looking for a Student Perspective on Clemson Honors?
Clemson Honors Student Ambassadors are Honors student volunteers who are official ambassadors for the Honors College and who are passionate about Honors at Clemson University.
Ambassadors meet with prospective students and their families to provide a student perspective on their various Honors experiences.
They are a diverse group of students, representing each of Clemson's academic colleges listed below, and they are involved in all aspects of campus life. They are developing communication, teamwork, and leadership skills as they interact with prospective students and their families.
You can read more about each ambassador within their major's college.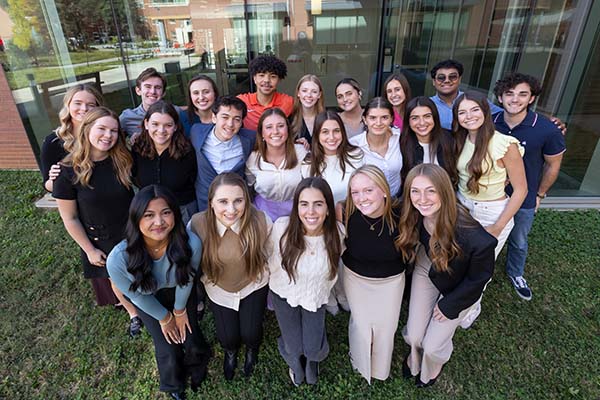 Name: Charles Henry
Hometown: Fayetteville
Major: Microbiology, Biomedicine Emphasis
Class: Junior
Email: cmhenry@clemson.edu
Introduction: My name is Charles Henry, and I am a junior Pre-medical student from Fayetteville, Arkansas. I love spending time at the lake with my friends, playing intramural sports, exercising, and sailing with friends or family. On campus, I am in the Sailing Club, Whitewater sports club, Phi Delta Epsilon, and participate in intramural sports.
Ask me about...: I participated in the Honors College's EUREKA! undergraduate research program, so feel free to ask me about that! I also love to get outside, so I am pretty familiar with the trails and camping areas in and around Clemson. I have been involved in undergraduate research during my time at Clemson, so I might be able to offer some insight to that! I am also a Honors Wellness Ambassador, so please reach out if you would like!
My advice for prospective students: Really try to ask as many questions regarding things that are important to you! Deciding on a school is a huge decision, so you need to make sure you inquire about things you think you would truly value in a school!
My involvement in the Honors College: I am an Honors Ambassador, a Wellness Ambassador, and I lived in the Honors Residential College my freshman year.
Orange or purple?: Orange
If I could travel anywhere: I would go to Switzerland or Italy for two weeks. I would love to go Skiing in the Alps, while also seeing a few premiere soccer matches.
What makes me happy to be alive: Snow skiing is probably one of the things that makes me happiest. I love going with my family or friends, but can also shred all day by myself with some great music and scenery.