Clemson Honors Student Ambassadors
Looking for a Student Perspective on Clemson Honors?
Clemson Honors Student Ambassadors are Honors student volunteers who are official ambassadors for the Honors College and who are passionate about Honors at Clemson University.
Ambassadors meet with prospective students and their families to provide a student perspective on their various Honors experiences.
They are a diverse group of students, representing each of Clemson's academic colleges listed below, and they are involved in all aspects of campus life. They are developing communication, teamwork, and leadership skills as they interact with prospective students and their families.
You can read more about each ambassador within their major's college.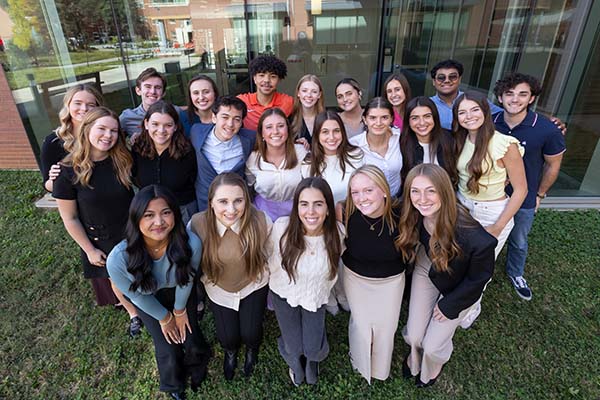 Name: Emily Lay
Hometown: Woodstock
Major: Nursing
Class: Freshman
Email: ealay@clemson.edu
Introduction: Hey! My name is Emily Lay and I am a freshman from Woodstock, GA. I am a nursing major with a business administration minor, and I look forward to working in a hospital or other healthcare setting in the future. I love being outdoors and trying new clubs or activities on campus or exploring the Clemson area!
Ask me about...: Ask me about Greek Life, the Dixon Fellows Program, Health and Wellness groups, Clemson Miracle, the Student Nurses Association, intramural sports, or the best places to eat (on- or off-campus!).
My advice for prospective students: My advice for any prospective student is to take a walk on campus by yourself and try to picture yourself there as a student. You should go to a school where you feel comfortable and happy, and I found that by taking a moment to really walk through campus and envision myself here, I was able to realize that Clemson was the place where I felt most at home.
Why I chose Clemson and the Honors College: I struggled with deciding where to go for school, but ultimately I knew Clemson was the right place for me when I walked on campus and felt like I could really see myself here as a student. The Honors College also played a huge part in my decision, as it has so many resources and opportunities that were unique in comparison to other school's honors programs.
My favorite thing about the Honors College: My favorite thing about the Honors College is all the connections that come from being a part of this program. Not only does it provide connections between students, but it also allows for me to meet and interact with professors and faculty on a more personal level through programs like Dixon Fellows or seminar courses.
My involvement in the Honors College: Currently, I am a member of the Dixon Fellows program and the Cooking and Nutrition Health and Wellness group. I have also taken an Honors seminar course about "Religion, Cults, and Secret Societies" that I found very interesting. As a Dixon Junior Fellow, I meet a couple times a month with a small group of other students and a faculty member to discuss intellectual ideas that are focused in a specific program. This program provides me with the valuable opportunity to get to know more honors students, create connections outside of the classroom with faculty members, and guide me towards learning and growth. My membership in the Cooking and Nutrition group is a great way for me to connect with other honors students that share the same interest in healthy eating as I do and have fun cooking and trying new foods! One of my favorite things about the Honors College is that it is really up to you to decide how involved you want to be; there is always going to be something that you can get involved in if you want to. Students are always texting asking if anyone wants to get lunch, workout, or just hang out, and it's so nice to know you have that group of people already on campus.
My involvement in Clemson University: Outside of Honors, I am on the Hospital Relations Committee for Clemson Miracle, an organization that raises money for our local Prisma Health Children's Hospital. As a member of this committee, I primarily talk with parents and their children to organize games and fun activities for them. I am also involved in Greek Life on campus and I am a member of the Student Nurses Association. I also just joined an intramural soccer team and flag football team this semester.
Orange or purple?: Orange
What is on my Spotify/iTunes playlist?: I am a big country music fan, so you will definitely find lots of Luke Bryan or Dierks Bentley in my playlists.
Three things I cannot live without: I hate to say it, but I really don't think I could live without my phone. It's something that keeps me in touch with my family at home and high school friends that are now scattered all over! Coffee would be another tough thing for me to live without, and I know I couldn't live without my mattress topper. Unfortunately dorm beds are not built for extreme comfort, so that mattress topper has made a huge difference in my sleep!
My spirit animal: I have been told by friends that my spirit animal would be a squirrel. They explained that this is because I am always talking, chattering, or running around doing something, much like a squirrel.
Three interesting facts about me: My three interesting facts that I use are: I am gluten free, I love the beach, and I have a CNA license!
My future goals: I plan on graduating from Clemson with a nursing degree and a business minor, and I hope to get to study abroad some time before I graduate. During these next few years, I would like to continue to improve my communication, time management, and leadership skills so that I can better prepare myself for my future career.
How has the Honors College made a difference in your life?: The Honors College gave me a group of like-minded people who are always willing to hang out, help you with an assignment, or just do whatever they can to make you feel more at home. It has given me numerous opportunities for networking and provided me with opportunities to explore different subjects or concepts I never thought I would get the chance to study. For example, the Dixon Fellows group I'm in now is focusing on design and invention, and we are taking the semester to come up with, present, and create a prototype of an invention. Invention and design isn't something I thought I would get to study as a nursing student, so it is really cool that I was able to do this through the Honors College.