Clemson Honors Student Ambassadors
Looking for a Student Perspective on Clemson Honors?
Clemson Honors Student Ambassadors are Honors student volunteers who are official ambassadors for the Honors College and who are passionate about Honors at Clemson University.
Ambassadors meet with prospective students and their families to provide a student perspective on their various Honors experiences.
They are a diverse group of students, representing each of Clemson's academic colleges listed below, and they are involved in all aspects of campus life. They are developing communication, teamwork, and leadership skills as they interact with prospective students and their families.
You can read more about each ambassador within their major's college.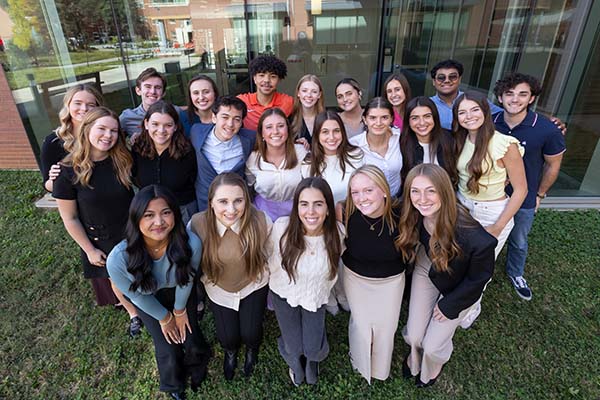 Name: Faith Shupard
Hometown: Bluffton
Major: Animal and Veterinary Science
Class: Class of 2023
Email: fshupar@clemson.edu
Introduction: Hey y'all! My name is Faith and I am currently a sophomore Animal and Veterinary Sciences major. I am an ice cream connoisseur, a bit of a thalassophile (I LOVE the ocean), and I enjoy spending time outside whenever possible! After graduating from Clemson, I hope to pursue my dream of becoming a veterinarian.
My advice for prospective students: My advice for prospective students is to enjoy the rest of high school and the college search! "Life moves pretty fast. If you don't stop and look around once in a while, you could miss it." - Ferris Bueller
Why I chose Clemson and the Honors College: I chose Clemson for the renowned Animal and Veterinary Sciences program and for the Honors College. As an AVS major, I have the opportunity to interact with a variety of livestock and gain hands-on animal experience. As an honors student, I have access to smaller class sizes, classes with unique focuses, and a multitude of honors events held throughout the week in the Honors Center.
My favorite thing about the Honors College: The community! Students and staff alike are always so supportive and are there to help you succeed.
My involvement in the Honors College: During my freshman year, I became an Honors College Ambassador, was a member of the Dixon Fellows Program, and participated in several small groups hosted by the Honors Wellness Ambassadors. I was also an Eco-Rep for the Honors Residential Community. This upcoming school year I am additionally a Peer Mentor for incoming honors students.
My involvement in Clemson University: Outside of my involvement in the Honors College, I am also the Agriculture and Natural Resources Chair for the Block and Bridle Club and the Historian for the Pre-Vet Club.
Orange or purple?: Purple
If I could travel anywhere: I have always wanted to travel to Australia because of the variety of unique indigenous wildlife found there.
Three things I cannot live without: 1. My pets! (Thank you Facetime for allowing me to attend college several hours away from them) 2. My phone (See #1) 3. At least one AVS course in my schedule
What makes me happy to be alive: I love spending time outdoors, whether that be in the marsh, on the beach, or in the mountains.
Favorite place on campus: My favorite place is definitely the Clemson Dairy Center!
Three interesting facts about me: 1. I accidentally went swimming with sharks once. 2. I have 10 pets at home. 3. I have never traveled outside of this time zone.
My future goals: I want to help both people and animals as a veterinarian.
How has the Honors College made a difference in your life?: Through the honors college I have made lifelong friends and found a support system to help me attain my goals.