Clemson Honors Student Ambassadors
Looking for a Student Perspective on Clemson Honors?
Clemson Honors Student Ambassadors are Honors student volunteers who are official ambassadors for the Honors College and who are passionate about Honors at Clemson University.
Ambassadors meet with prospective students and their families to provide a student perspective on their various Honors experiences.
They are a diverse group of students, representing each of Clemson's academic colleges listed below, and they are involved in all aspects of campus life. They are developing communication, teamwork, and leadership skills as they interact with prospective students and their families.
You can read more about each ambassador within their major's college.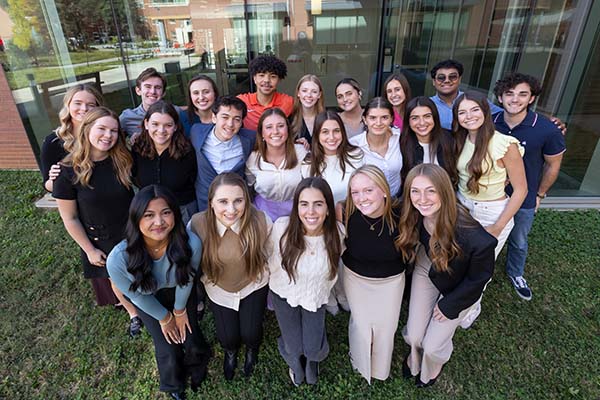 Name: Gracie Wells
Hometown: Greenville
Major: Psychology and Sociology
Class: Sophomore
Email: giwells@clemson.edu
Introduction: Hi, everyone! My name is Gracie Wells and I am a sophomore at Clemson! I am from Greenville, SC and I am double majoring in Psychology and Sociology with minors in American Sign Language and Non Profit Leadership. I am interested in working in the Non-Profit sector, although I'm not sure exactly what that will look like yet! A few things about me are that I'm vegetarian, and I love animals, nature, and music!
Ask me about...: Ask me about Central Spirit, Campus Outreach, or Clemson Undergraduate Student Government (CUSG) (I was on the committee for Community Development last year). You can also ask me about almost any major at Clemson, I went through a change of my major last year and, being very indecisive, I gave just about every major a serious consideration...
My advice for prospective students: If you are considering Clemson, don't allow just one aspect of Clemson to intrigue you. Yes, we have a LOT of things going for us, but so do a lot of other schools! Make sure that you've looked at everything Clemson has to offer, and if those things match up with your list, then come join us in TigerTown!
Why I chose Clemson and the Honors College: Honestly, the Honors College just felt right for me. It wasn't a choice that I had to think about for very long. However, the fact that Honors was so inviting whenever I visited Clemson as a prospective student was definitely a factor. Even before knowing all the benefits of being in Honors, I could tell that it was an inclusive environment that wouldn't leave me behind.
My favorite thing about the Honors College: My favorite thing about the Honors College is the community! Nowhere else will you be surrounded by so many supportive and unique individuals! Clemson University is full of wonderful people, but the Honors College community just makes me feel at home!
My involvement in the Honors College: Within the Honors College, I am involved as an Honors Ambassador, which allows me to meet prospective students, provide insight to life as an Honors student, and proudly represent the Honors College!
My involvement in Clemson University: At Clemson, I am involved with Campus Outreach, Central Spirit, and CUSG. I plan on joining a few different organizations this year, but those are TBD.
What is on my Spotify/iTunes playlist?: My Spotify playlists have everything under the moon on them, but lately I've been listening to a lot of calm music. I think that calmer music has been a really good balance for me in these rather stressful times, but I keep it interesting by mixing in some jazzy pop, too. A few songs I've been loving lately are Vienna by Billy Joel, Kick It to Me by Sammy Rae, and Find me in the River by Delirious!
Three things I cannot live without: Three things I can't live without... number one is definitely my dog Leila, number two is my journal, and number three is my yoga mat!
My favorite Clemson class: My favorite Clemson class that I've taken is, without a doubt, public speaking. Talk about a challenging class! I think almost everyone who has to take it walks in with sweaty palms, myself included. However, that class gave me not only a newfound confide
What makes me happy to be alive: There aren't many moments that don't make me happy to be alive, but the Clemson moments that truly bring that joy out are the ones spent with friends. Whether it's us eating dinner together in the dining hall, playing a game in someone's dorm room, or laying in the sun at Y beach, the simple times with friends are for sure some of my favorites. It's the joy that comes from those otherwise forgettable moments, that makes them oh so special.
How has the Honors College made a difference in your life?: The Honors College has made my Clemson experience everything that it is, which is joyful and exciting and enriching and so much more! Not a day goes by that I am not thankful for the opportunity that I've been given to be a part of such a wonderful organization at Clemson. Clemson Honors is truly a family within a bigger family, and I wouldn't want to be anywhere else!