Clemson Honors Student Ambassadors
Looking for a Student Perspective on Clemson Honors?
Clemson Honors Student Ambassadors are Honors student volunteers who are official ambassadors for the Honors College and who are passionate about Honors at Clemson University.
Ambassadors meet with prospective students and their families to provide a student perspective on their various Honors experiences.
They are a diverse group of students, representing each of Clemson's academic colleges listed below, and they are involved in all aspects of campus life. They are developing communication, teamwork, and leadership skills as they interact with prospective students and their families.
You can read more about each ambassador within their major's college.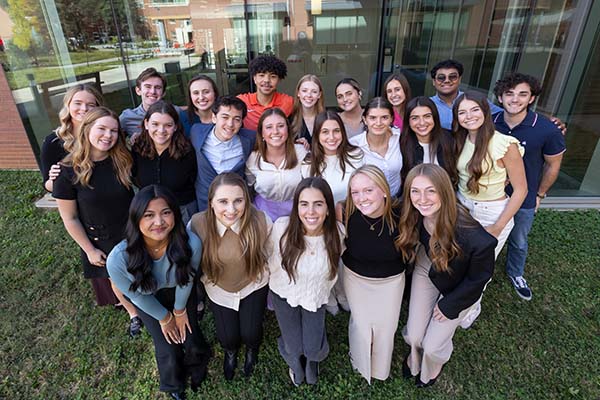 Name: Haleigh Gartner
Hometown: Hilton Head
Major:
Class: May 2025
Email: hgartne@clemson.edu
My involvement in the Honors College: I am a part of the Dixon Fellows, which is a way for Honors students to learn about a subject of their interest just for fun. No grades, no extra benefits besides the joy of learning. My Dixon Fellow Group is the Forests of the Southern Blue Ridge, where we get to hike in local areas and learn about plant species. I'm also an Honors ambassador, and I often seize the opportunity to use the free Brooks Center tickets that the Honors College provides. We can see any Brooks Center performance for free!
My involvement in Clemson University: Outside of the Honors College, I am a member of the hiking club, which usually goes on a hike every weekend. I am also a member of the Clemson College democrats, and an official Clemson ambassador for gubernatorial candidate Joe Cunningham. Most of my work there involves encouraging students and community members to vote. Finally, I volunteer at the Brooks Center helping out with backstage stuff such as set building and painting.
Why I chose Clemson and the Honors College: I chose Clemson because of its top-notch engineering program and their approach to sustainability. Clemson has been making huge strides in sustainable architecture, agriculture, and even dining. I chose the Honors College because I wanted to be surrounded by a group of like-minded learners who put school first but still know when it's time to relax.
My future goals: