Clemson Honors Student Ambassadors
Looking for a Student Perspective on Clemson Honors?
Clemson Honors Student Ambassadors are Honors student volunteers who are official ambassadors for the Honors College and who are passionate about Honors at Clemson University.
Ambassadors meet with prospective students and their families to provide a student perspective on their various Honors experiences.
They are a diverse group of students, representing each of Clemson's academic colleges listed below, and they are involved in all aspects of campus life. They are developing communication, teamwork, and leadership skills as they interact with prospective students and their families.
You can read more about each ambassador within their major's college.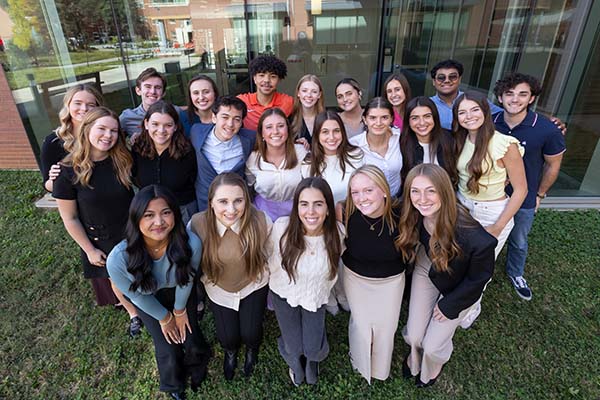 Name: Hugh Tagert
Hometown: Bristol
Major: Biochemistry
Class: 2022
Email: htagert@clemson.edu
Introduction: Hey guys, my name is Hugh and I am a Biochemistry student from Bristol, TN set to graduate in 2022. I'm involved with a few clubs such as Foundation for the International Medical Relief of Children (FIMRC), Campus Outreach, and Fellowship of Christian Athletes (FCA). I also am into soccer, both playing intramurals and watching the Premier League. I'm currently planning to attend medical school where I will study to become a family physician.
Ask me about...: - Fun outdoor weekend activity spots - The best places to eat in Clemson - Clubs (FIMRC, Campus Outreach, FCA) - Music suggestions
My advice for prospective students: Scope out a few organizations/clubs you're interested in early on, then pick the ones you want to stick with early! If you spread yourself too thin you'll have trouble getting settled anywhere, but any club has the potential to be great for you if you get plugged in early and meet people!
My advice for current students: Take your studies and activities seriously, but don't take yourself too seriously. Try to learn and laugh at your mistakes instead of overly stressing about them.
Why I chose Clemson and the Honors College: I originally planned to attend a smaller private school, but once I visited Clemson's Honors College and saw how close the students and faculty were, it seemed like a great way to get solid academics without missing out on the perks of a big school.
My favorite thing about the Honors College: The Honors Center at Cribb and DesChamps Hall is definitely my favorite part. It's such a great study environment where you'll see lots of familiar faces and get free coffee/printing! Many of my best Clemson memories happened in the Great Hall and study rooms of the Honors Center.
My involvement in the Honors College: As a freshman, I lived in DesChamps Hall and was active in the honors community. I was also involved with the Seniors Advising Sophomores in Honors program (SASH). Lastly, I can often be found hanging out in the study rooms or attending honors seminars/events in the Great Hall.
My involvement in Clemson University: My main clubs that I spend time with are FIMRC, FCA, and Campus Outreach. With FIMRC, I've been able to find great opportunities to volunteer with children and learned more about the medical school process along the way. In FCA, I have attended and hosted small groups, which is a great way to develop close friends. I have just recently got involved with Campus Outreach, but have enjoyed their online summer project and meeting new people through that. Lastly, I enjoy getting the chance to play sports semi-competitively through intramurals.
Orange or purple?: Purple
What is on my Spotify/iTunes playlist?: You'll mostly find alternative music by bands like Peach Pit, Briston Maroney, and Rainbow Kitten Surprise (don't let the name throw you off, they're awesome). I also occasionally listen to some rap by artists like Kanye and Juice Wrld.
Three things I cannot live without: Music, coffee, and other people.
My spirit animal: My spirit animal is probably a sugar glider. They're pretty high energy, adventurous, and have a healthy dose of weirdness.
What makes me happy to be alive: Hanging out around a campfire making s'mores, playing music, and having great conversations.
Three interesting facts about me: 1. I love playing guitar and have recently started recording/mixing my own music. 2. Skiing is my favorite outdoor activity and I have been to multiple resorts in Utah, Colorado, and Wyoming. 3. I build a La Croix wall along shelves or on top of cabinets in every residence I live in.
My future goals: My current goal is to become a family physician. Later in life, I hope to go on medical missions to impoverished countries and maybe become a professor.
How has the Honors College made a difference in your life?: The friendships with students and staff I have made in the Honors College have definitely impacted my life in many positive ways. I've developed into a much better thinker, a much harder worker, and an overall better person because of the people I have been surrounded by.