Clemson Honors Student Ambassadors
Looking for a Student Perspective on Clemson Honors?
Clemson Honors Student Ambassadors are Honors student volunteers who are official ambassadors for the Honors College and who are passionate about Honors at Clemson University.
Ambassadors meet with prospective students and their families to provide a student perspective on their various Honors experiences.
They are a diverse group of students, representing each of Clemson's academic colleges listed below, and they are involved in all aspects of campus life. They are developing communication, teamwork, and leadership skills as they interact with prospective students and their families.
You can read more about each ambassador within their major's college.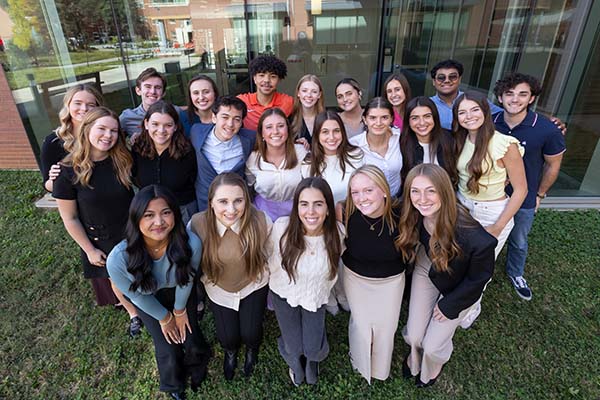 Name: Julia Blouin
Hometown: Central
Major: Food Science and Human Nutrition
Class: Sophomore
Email: jabloui@clemson.edu
Introduction: Hello everyone! My name is Julia Blouin. I am a sophomore nutrition major from Central, SC. I love being outdoors, playing sports, eating good food, and meeting new faces. I hope to attend medical school after college to become a physician.
Ask me about...: The best bucket list for Clemson freshmen
My advice for prospective students: Appreciate and live in the moment. Enjoy every step of the journey even in the biggest transitions of your life.
My advice for current students: Get involved in everything and anything that interests you! Build a network, be busy and adventurous, befriend all strangers, and leave your legacy at Clemson.
Why I chose Clemson and the Honors College: I chose Clemson University because of its welcoming atmosphere and tight-knit family. I chose the Honors College because I wanted to be a part of a smaller community to push me to pursue more challenging endeavors.
My favorite thing about the Honors College: Living in the Honors Residential College my freshman year
My involvement in the Honors College: Dixon Fellows Program, Wellness Ambassadors Cooking & Nutrition Community Group
My involvement in Clemson University: Kappa Delta sorority, Phi Delta Epsilon fraternity, Tour Guide, Nutrition Club secretary, College of Agriculture, Forestry, and Life Sciences (CAFLS) Ambassador, Academic Success Center (ASC) Tutor, Clemson University Student Government (CUSG) Activities Committee
Orange or purple?: Orange
Three things I cannot live without: Spikeball, New Girl, and strawberries
My spirit animal: Penguin! I choose the most fun opportunities, always enjoy the presence of company, am easy-going, and dive into any adventure.
My favorite Clemson class: Hybrid Literature! It was an honors seminar class with about twelve students so we all grew very close together. I would always come prepared and ready because of how much I loved the class and professor.
What makes me happy to be alive: Admiring a sunrise on the top of a mountain above the clouds
Favorite place on campus: Bowman field
Three interesting facts about me: I weighed 11 pounds at birth. My family is from France so I speak French. I have a little Weiner dog.
My future goals: Become a medical doctor and have my own practice
How has the Honors College made a difference in your life?: After applying for grants through the Honors College, I was able to attend conferences over the summer that helped further my career and professional development.