Clemson Honors Student Ambassadors
Looking for a Student Perspective on Clemson Honors?
Clemson Honors Student Ambassadors are Honors student volunteers who are official ambassadors for the Honors College and who are passionate about Honors at Clemson University.
Ambassadors meet with prospective students and their families to provide a student perspective on their various Honors experiences.
They are a diverse group of students, representing each of Clemson's academic colleges listed below, and they are involved in all aspects of campus life. They are developing communication, teamwork, and leadership skills as they interact with prospective students and their families.
You can read more about each ambassador within their major's college.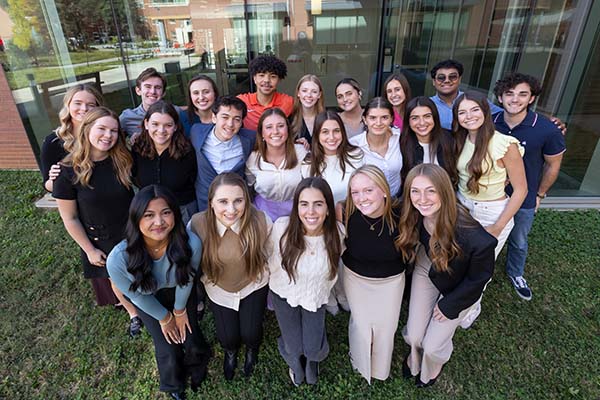 Name: Jarrod Bohr
Hometown: Mount Pleasant
Major: Chemical Engineering
Class: 2022
Email: jbohr@clemson.edu
Introduction: My Name is Jarrod Bohr, I am a Senior Chemical Engineering major from Mt. Pleasant, SC. In my spare time I greatly enjoy hiking and exploring the natural side the the Clemson area and just getting outside in general.
Ask me about...: Ask me about the Cooperative education program, student ministry organizations on campus and the pizza scene at Clemson.
My advice for current students: Don't leave Clemson without going through our incredible Career and Professional Development services. The opportunities they afford both in conjunction with the honors college and separately are incredible and I strongly recommend every person to try out an internship or Cooperative Education Program (Co-op) with their major before they commit to a career in it.
Why I chose Clemson and the Honors College: Clemson has a family feel to it. I have visited many college towns seeing friends and relatives and always make a point of asking about the colleges culture. There really is a difference at Clemson and I could tell when I came here. The Honors College is just a smaller subset of that which is all the more close knit.
Orange or purple?: Orange
What is on my Spotify/iTunes playlist?: Old hymns and Johhny Cash, an odd mix I admit but I find them both quite enjoyable and comforting.
Three things I cannot live without: A journal, a Bible, and people that enjoy good conversation.
Birthday meal: Chicago style deep dish pizza.
What did you do this summer?: This summer I completed my second COOP rotation at KEMET ELECTRONICS in Simpsonville SC. I had a great time getting my feet wet out in industry and had the chance to make some incredible friends as well.