Clemson Honors Student Ambassadors
Looking for a Student Perspective on Clemson Honors?
Clemson Honors Student Ambassadors are Honors student volunteers who are official ambassadors for the Honors College and who are passionate about Honors at Clemson University.
Ambassadors meet with prospective students and their families to provide a student perspective on their various Honors experiences.
They are a diverse group of students, representing each of Clemson's academic colleges listed below, and they are involved in all aspects of campus life. They are developing communication, teamwork, and leadership skills as they interact with prospective students and their families.
You can read more about each ambassador within their major's college.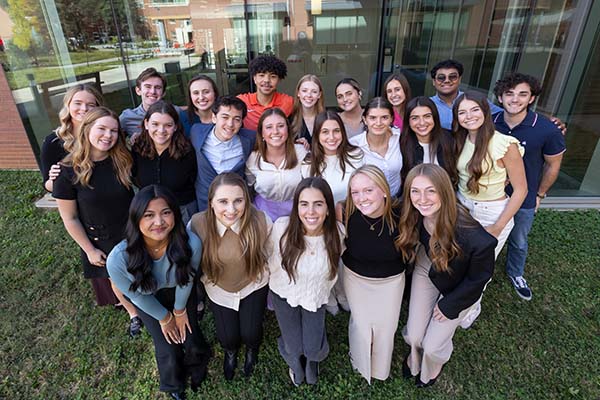 Name: Jazzy Merry
Hometown: Tampa
Major: Mathematical Science
Class: Class of 2023
Email: jmerry@clemson.edu
Introduction: Hi! My name is Jazzy Merry, and I am a sophomore from Tampa, Florida. I am currently majoring in Mathematical Sciences with a concentration in Actuarial Science. I love hanging out with my friends, especially on Bachelor Mondays or during our Sunday dinners before my sorority's chapter. On the weekends, when the Tigers aren't playing of course, I spend time with my friends, go grocery shopping, and catch up on homework before chapter on Sunday nights. Sometimes I will drive down to Atlanta and visit my aunt and uncle for the weekend. Other interests of mine that aren't school related are anything Star Wars or Disney.
Ask me about...: Ask me about the best places to get Mexican food in Clemson, Greek Life, or what it is like to do math for almost every class (not going to lie, it is kinda fun).
My advice for prospective students: Get involved! Sign up for any club that sounds interesting and get on their email list so you can know about their events. Nobody will notice if you unsubscribe from their email list later, I promise you.
My advice for current students: Plan out your day! Too many students will just go to class and leave all of their actual work till the last minute, then they are up till 3:00 or 4:00 a.m. trying to get everything done. If you plan to do your work in-between classes and throughout the entire week, I promise you that the only time you will be staying up till 3:00 a.m. is when you've just binged an entire Netflix series.
Why I chose Clemson and the Honors College: Unlike many of my peers, I did not grow up a Clemson fan. In fact, my parents were die hard FSU fans. But once I was in high school and had to actually start thinking about colleges and what I wanted to do when I was older, Clemson became my dream school. I knew I wanted to study mathematics so Clemson was an obvious choice in terms of their mathematics program. I also wanted to join the Honors College so I would be able to easily find peers who were as dedicated to their academics as I was and have the chance to take classes that were more in-depth. Joining the Honors College at Clemson was a simple choice for me that I am so glad I made.
My favorite thing about the Honors College: My favorite thing about the Honors College are the Honors sections of classes. I have been able to take two so far and they have both been great. I find that I get more out of the honors section of classes that I would normally have to take anyway. It is a great way to connect with your peers and your professor because instead of being in a class of 100-200 students, you are in a class of maybe 25 students who are also in honors. The professors also get to teach a bit more with honors sections so I find myself learning more.
My involvement in the Honors College: My freshman year I lived in the Honors Residential College and was a mentee within the Peer Mentoring program. This year, I am a member of Seniors Advising Sophomores in Honors (SASH) and am a Honors Student Ambassador.
My involvement in Clemson University: At Clemson, I am involved in many things including the Honors College and Greek Life and I work in the Mathematical Sciences department. I am currently an undergraduate for MATH 1060. Within my sorority, I serve as an officer and through my sorority, I connect with a variety of other clubs on campus.
If I could travel anywhere: In high school, I was in A.P. Art History and during that class, I became fascinated by art. So, if I could travel anywhere in the world it would be to Paris, France just so I could see The Louvre.
Three things I cannot live without: I can not live without coffee (specifically cold brew), my younger sibling, and my cat, Salem.
My favorite Clemson class: My favorite class that I have taken so far at Clemson has been "Young Adult Literature". It was an honors seminar that I took the first semester my freshman year. We read a variety of YA books and analyzed how social constructs were presented in the books
What makes me happy to be alive: I love making my bed in the morning. It reminds me that everyday is a fresh start and that there are so many things that the new day can bring.
My future goals: I hope to be able to complete all of the ASA exams so that I will be able to become a certified Actuary. I would like to travel abroad to places like Russia, England, Germany, and Norway.
What are your plans after graduation?: After graduation I hope to get a job as an actuary with a larger insurance firm where I can continue to take my exams to become a certified Actuary. I hope to stay either in South Carolina or in the Southeast.
How has the Honors College made a difference in your life?: The Honors College has introduced me to so many different individuals. With that and the variety of seminars, it has truly widened my world view. It has held me accountable and makes me continue to push myself to be the best that I can be. Being a part of the Clemson Honors College is a great privilege and I love the community it has created.