Clemson Honors Student Ambassadors
Looking for a Student Perspective on Clemson Honors?
Clemson Honors Student Ambassadors are Honors student volunteers who are official ambassadors for the Honors College and who are passionate about Honors at Clemson University.
Ambassadors meet with prospective students and their families to provide a student perspective on their various Honors experiences.
They are a diverse group of students, representing each of Clemson's academic colleges listed below, and they are involved in all aspects of campus life. They are developing communication, teamwork, and leadership skills as they interact with prospective students and their families.
You can read more about each ambassador within their major's college.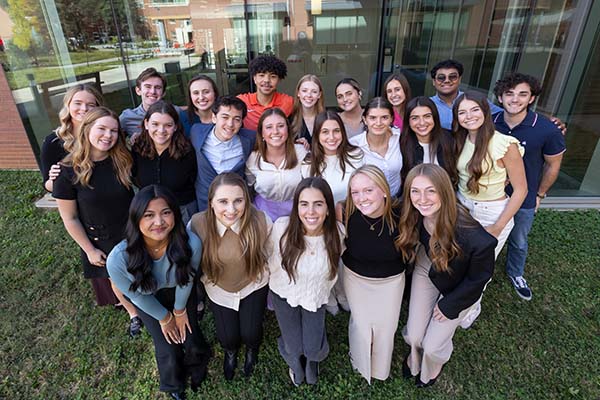 Name: Jake Liguori
Hometown: Marlton
Major: Computer Science and Economics
Class: Spring 2022
Email: jrliguo@g.clemson.edu
Introduction: My name is Jake Liguori, and I am a rising junior Computer Science and Economics major from Marlton, NJ. I am interested in Data Science and Data Engineering. Here at Clemson, I am involved in our all-male acapella group TIGEROAR as well as the Men's choir. I am also an undergrad Teaching Assistant for the School of Computing. My favorite hobbies include playing guitar, playing basketball, singing, gaming, hanging with friends downtown, going to the beach, and watching our team dominate on game days. In addition, I'm a big fan of anything Disney and even participated in the Disney College Program last semester.
Ask me about...: Getting involved with choirs and acapella at Clemson, STEM majors and classes, watching Clemson sports, and playing basketball.
My advice for prospective students: Don't stress too much about your major yet! Focus on working hard and getting the most out of your high school experience. If Clemson is the right fit for you, there will be plenty of great programs to choose from.
My advice for current students: Figure out a routine that works out for you and stick to it. Manage your time well to complete your work, but don't forget to leave some time later in the day for socializing and fun. Enjoying your time at school makes everything a whole lot easier.
Why I chose Clemson and the Honors College: I loved the idea of a bigger school but with a smaller, closely-knit community built-in. You get all the perks of a large school like many academic programs, tons of organizations, and competitive sports, but with the close friendships and engaging classes you can get at a smaller school, too.
My involvement in the Honors College: I am an Honors Mentor and Honors Ambassador for the 2020-2021 school year. I also participated as a mentee in the Peer Mentoring program my freshman year and in the Seniors Advising Sophomores in Honors (SASH) program sophomore year.
Orange or purple?: Purple
If I could travel anywhere: Italy. One side of my family is from there and I've always wanted to see it for myself and try genuine Italian food. I also love the history that its cities hold.
What is on my Spotify/iTunes playlist?: I have a bunch, but my favorites are one that is 70s/80s rock full of Eagles, Billy Joel, Elton John, Led Zeppelin, Fleetwood Mac and more. I have two others full of Alternative Rock and Alternative Pop with bands like Cage The Elephant, Foster The People, Tame Impala, Grouplove, and too many other bands to name.
My spirit animal: Penguins because I like the snow.
Three interesting facts about me: 1. I once sang at The White House. 2. I'm a die-hard Philadelphia Eagles fan and season ticket holder. 3. I've had four open-heart surgeries.
My future goals: Become a Data Engineer or Data Analyst for a large company and eventually pursue a Master's in Data Science.
How has the Honors College made a difference in your life?: It has brought me some of my best friends at Clemson and given me a ton of great knowledge from honors classes and events.