Clemson Honors Student Ambassadors
Looking for a Student Perspective on Clemson Honors?
Clemson Honors Student Ambassadors are Honors student volunteers who are official ambassadors for the Honors College and who are passionate about Honors at Clemson University.
Ambassadors meet with prospective students and their families to provide a student perspective on their various Honors experiences.
They are a diverse group of students, representing each of Clemson's academic colleges listed below, and they are involved in all aspects of campus life. They are developing communication, teamwork, and leadership skills as they interact with prospective students and their families.
You can read more about each ambassador within their major's college.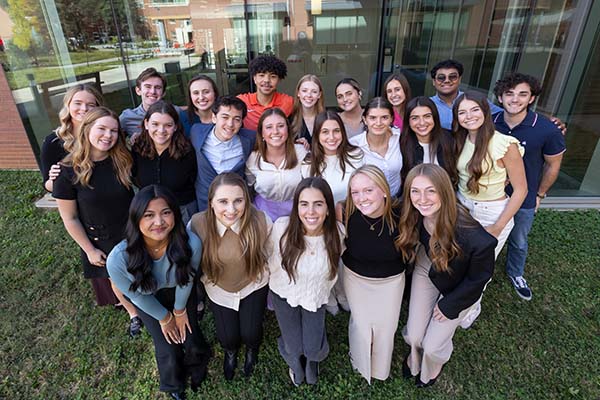 Name: Katie Golden
Hometown: River Edge
Major: Undecided
Class: May 2025
Email: ktgolde@g.clemson.edu
My involvement in the Honors College: My involvement in the Honors College spans beyond our Ambassadors program in a few ways. For one, I am a resident of Cribb Hall, which is one of the two buildings belonging to the HRC. Moreover, I am part of the Dixon Fellows program, currently in a focus group surrounding the impact of Greek Life on Clemson's campus. Lastly, I am part of the Relax & Unwind Community Group!
My involvement in Clemson University: In addition to my involvement within the Honors community, I am active in other campus roles (which is equally as important and rewarding!). I am on the steering committee for the Women in Leadership Conference, hosted in March. Moreover, I am a member of Kappa Kappa Gamma sorority, in which I hold positions on the Diversity, Equity, and Inclusion committee, as well as the Standards committee.
Why I chose Clemson and the Honors College: Coming from a commuter suburb, I wanted a college experience that provided a complete opposite. I have always been charmed by the South, and Clemson's campus radiates the same hospitable energy. I felt home at Clemson immediately because of the beautiful campus, top academics, and most importantly, the active student body. I knew I could easily get involved and make lifelong friendships at Clemson in so many different groups. The Honors College won me over because of the Residential College's centralized campus location, copious opportunities for research, and atypical, but exciting classroom experience with Honors seminars and course sections.
My future goals: Broadly, in the future, I want to have lived in at least 3 major cities before settling down to raise a family somewhere on the East coast. I hope to continue to be a Cycle-bar instructor in my free time, and I hope to write a bulleted-type book on the best advice I have learned in life. I also hope to learn to cook something so well, it could be coined "Katie's Famous ____".