Clemson Honors Student Ambassadors
Looking for a Student Perspective on Clemson Honors?
Clemson Honors Student Ambassadors are Honors student volunteers who are official ambassadors for the Honors College and who are passionate about Honors at Clemson University.
Ambassadors meet with prospective students and their families to provide a student perspective on their various Honors experiences.
They are a diverse group of students, representing each of Clemson's academic colleges listed below, and they are involved in all aspects of campus life. They are developing communication, teamwork, and leadership skills as they interact with prospective students and their families.
You can read more about each ambassador within their major's college.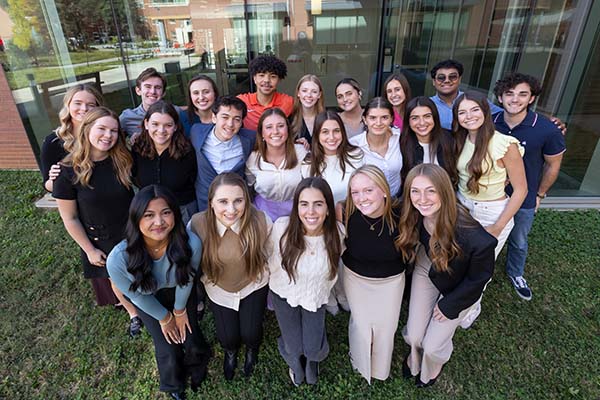 Name: Morgan Usher
Hometown: Greenville
Major: Mechanical Engineering, Psychology Minor
Class: Junior
Email: morganu@clemson.edu
Introduction: Hey, y'all! My name is Morgan Usher, and I'm a junior Mechanical Engineering major with a Psychology minor from Greenville, SC. My favorite parts of Clemson are the people and the iconic sunsets! I'm super involved in the Honors College, but I also spend a lot of time with my campus ministry group (the Navigators), playing for the club volleyball team, and I get to do tours for the Mechanical Engineering Department, too! My future goals at the moment include grad school and diving into research of my own.
Ask me about...: the Navigators, the best sunset spots, club sports, studying abroad !
My advice for prospective students: Go where your heart tells you. I know it sounds cheesy, but I chose Clemson because it felt like home and I can't imagine being this happy anywhere else!
My advice for current students: Try new things! Try out a lot of clubs that sound cool, talk to people you think are cool, and make those connections. Making connections with other students and especially professors is the biggest thing. My professor is the reason I got my internship last summer, and he has basically become my mentor now!
Why I chose Clemson and the Honors College: It felt like home. (: I really loved the small community feel of the Honors College alongside the big opportunities Clemson offers as a large university.
My favorite thing about the Honors College: The atmosphere. It's very much a build-you-up community compared to a cut-throat one. The people in the Honors College work to be the best versions of themselves and push you to be your best, too.
My involvement in the Honors College: Dixon Fellows, Honors Ambassadors, EUREKA!, Peer Mentoring program, Seniors Advising Sophomores in Honors (SASH), honors seminar experience
My involvement in Clemson University: Navigators, FCA, Grand Challenges Scholars, LEAD CI (leadership program), Mechanical Engineering Department Tour Guide, Club Volleyball
Orange or purple?: Both
If I could travel anywhere: Italy! I love their culture, their language, their history, and of course their food! I also studied abroad there so I am biased. (:
My spirit animal: Tiger! 1) I'm a Clemson fan through and through, 2) They have an air of sophistication paired with playfulness and a fierce spirit.
Three interesting facts about me: I had my first burger the summer before my freshman year of college. I can name most Taylor Swift songs within the first 6 seconds of hearing them. I can watch the entire High School Musical movies (all 3) in my head.
My future goals: Right now my plan is graduate school for Mechanical Engineering. PhD is on the table, but I definitely want to get my Masters (hopefully abroad). I would also love to find a practical way to combine my psychology minor with mechanical engineering research.
What did you do this summer?: I was a remote intern at Oak Ridge National Laboratory where I worked with large scale concrete 3D printing. I also took two classes and got my Research Endorsement certification.
How has the Honors College made a difference in your life?: It has introduced me to my best friends who are also my support group! It's given me people to rely on and has opened so many doors for me in discovering where I want to go after college.