Clemson Honors Student Ambassadors
Looking for a Student Perspective on Clemson Honors?
Clemson Honors Student Ambassadors are Honors student volunteers who are official ambassadors for the Honors College and who are passionate about Honors at Clemson University.
Ambassadors meet with prospective students and their families to provide a student perspective on their various Honors experiences.
They are a diverse group of students, representing each of Clemson's academic colleges listed below, and they are involved in all aspects of campus life. They are developing communication, teamwork, and leadership skills as they interact with prospective students and their families.
You can read more about each ambassador within their major's college.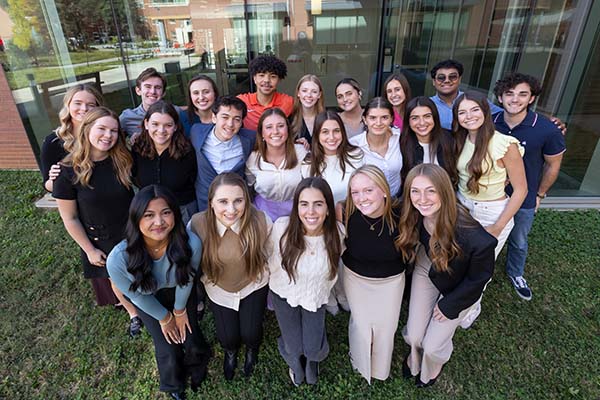 Name: Mirabella Paolucci
Hometown: Hopkinton
Major: Health Sciences- Preprofessional Health Studies
Class: May 2025
Email: mpaoluc@clemson.edu
My involvement in the Honors College: Aside from being an Honors Ambassador, I am part of the peer-mentoring program in the Honors College, which I would definitely recommend to prospective students (and current students)! All of the peer mentors are super welcoming, and you will meet with your group periodically to get food/catch up. It gives you a way to meet some upperclassmen and people in your class during your first few months of college so you'll have some familiar faces around campus! As a freshman, I have only taken one honors class, but it ended up being my favorite one. I took sociology, and I found it to be more interesting than my other classes, as it was more discussion-based rather than a lecture!
My involvement in Clemson University: Outside of the Honors College, I am involved in Clemson Canines and Clemson Miracle. Within these clubs, I learn about service dogs and their training as well as help to raise awareness and money for children in local hospitals. I also hope to join the medical fraternity in the future!
Why I chose Clemson and the Honors College: I chose Clemson because I went to a small high school, so I wanted to go to a bigger school with a lot of spirit and pride, which Clemson undoubtedly has! But, I also knew I wanted to be able to challenge myself academically and have access to more enriching opportunities, which is why I applied to the Honors College. I also was hoping to have some smaller classes where I could get to know my professors well.
My future goals: In the future, I hope to study abroad before I graduate from Clemson. After graduation, I want to work on getting experience in a hospital/clinic and apply to PA or medical schools. As a general goal for college, I want to improve my public speaking skills!