Clemson Honors Student Ambassadors
Looking for a Student Perspective on Clemson Honors?
Clemson Honors Student Ambassadors are Honors student volunteers who are official ambassadors for the Honors College and who are passionate about Honors at Clemson University.
Ambassadors meet with prospective students and their families to provide a student perspective on their various Honors experiences.
They are a diverse group of students, representing each of Clemson's academic colleges listed below, and they are involved in all aspects of campus life. They are developing communication, teamwork, and leadership skills as they interact with prospective students and their families.
You can read more about each ambassador within their major's college.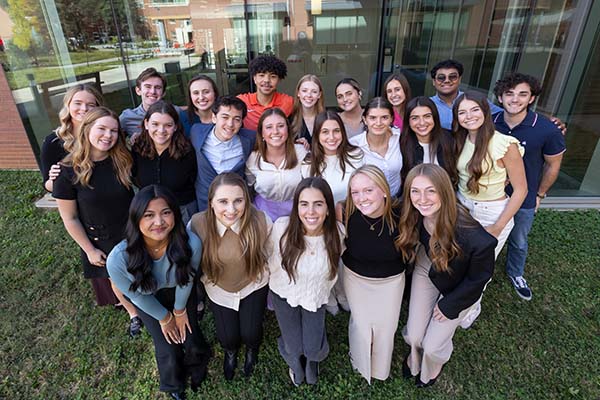 Name: Omika Merchant
Hometown: Greenville
Major: Microbiology
Class: Class of 2024
Email: omercha@clemson.edu
Introduction: My name is Omika Merchant, and I am from Greenville, South Carolina majoring in Microbiology with a concentration in Biomedicine. In my free time, I love painting and being outside when it's warm. In the future, I hope to attend medical school to become a Doctor of Pediatrics or Emergency Medicine.
Ask me about...: You can ask me about pretty outdoor places to visit around Clemson! I love being around nature and Clemson's campus is perfect for that!
My advice for prospective students: Even though I knew Clemson pretty well through my summer research on-campus and living nearby, attending a Future Tiger day really allowed me to see which organizations I would fit into if I were to attend and solidified my final decision to attend.
Why I chose Clemson and the Honors College: I chose Clemson after I fell in love with its campus and welcoming environment after I researched on campus for six weeks. I chose the Honors College because I wanted to be surrounded by a community of like-minded peers, make lasting connections with my professors, and be challenged to learn at a higher level in honors courses.
My favorite thing about the Honors College: My favorite things about the Honors College are its small class sizes, Honors Peer Mentoring program, and Honors Residential College filled with like-minded students.
My involvement in the Honors College: I am a 2020 EUREKA! Program participant, Honors College Ambassador, Honors Residential College resident freshman year, and Honors Peer Mentoring participant.
My involvement in Clemson University: I researched brain cancer in Clemson's Nanobiotechnology lab for six weeks in 2019, I am an active member in HPP, Best Buddies club, Girl Up, and the Indian Cultural Association.
If I could travel anywhere: I've always wanted to visit the Amazon Rainforest and explore its wildlife!
What is on my Spotify/iTunes playlist?: I enjoy listening to just about anything, but recently, I've been listening to Cavetown, Clairo, and Dayglow.
Three things I cannot live without: Three things that are really important to me are my friends and family, music, and fluffy animals!
My spirit animal: My spirit animal is an elephant. I admire how loyal they are to their family, their strength during migration, and how kind they are to other species.
My favorite Clemson class: My favorite class is Biology. It was one of my first honors courses here at Clemson and the professor made every effort to connect with her students. Her genuine interest for the subject flowed into her classes and even though it was challenging to learn
Three interesting facts about me: I was an Indian Classical Bharatanatyam dancer for nine years, I've been vegetarian for seven years, and my favorite flowers are sunflowers!
My future goals: In the future, I hope to be a Doctor of Pediatrics or Emergency Medicine, work with Doctors Without Borders, travel the world, and have many dogs!