Clemson Honors Student Ambassadors
Looking for a Student Perspective on Clemson Honors?
Clemson Honors Student Ambassadors are Honors student volunteers who are official ambassadors for the Honors College and who are passionate about Honors at Clemson University.
Ambassadors meet with prospective students and their families to provide a student perspective on their various Honors experiences.
They are a diverse group of students, representing each of Clemson's academic colleges listed below, and they are involved in all aspects of campus life. They are developing communication, teamwork, and leadership skills as they interact with prospective students and their families.
You can read more about each ambassador within their major's college.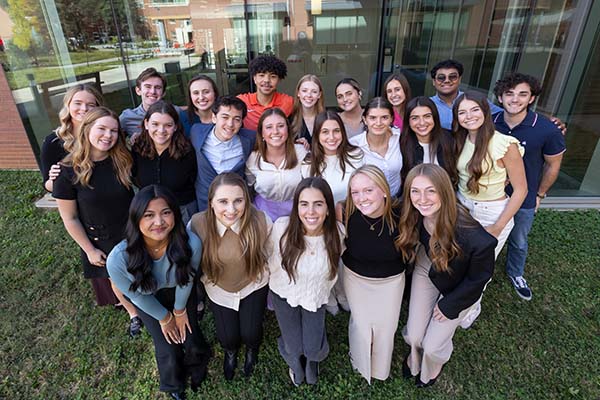 Name: Raj Dwivedi
Hometown: Fort Mill
Major: Biological Sciences
Class: 2022
Email: rdwived@clemson.edu
Introduction: My name is Raj Dwivedi, and I'm a Biological Sciences major from Fort Mill, SC. In my free time, I love to watch TV shows, hang out with my friends, golf, and watch sports, especially basketball. I'm currently on the pre-med track here at Clemson, and I hope to become a physician in the future!
Ask me about...: If you have any questions about classes, especially if you're pre-health, or just any questions about Clemson in general, I'm always happy to try and help in any way I can!
My advice for prospective students: Work hard and make the most of your educational opportunity here at Clemson, but also use your time in college to socialize with others and meet new people. This campus is filled with so many amazing people, so you'll definitely want to try to make as friends new as you can!
Why I chose Clemson and the Honors College: I knew that the Honors College would allow me to make the most of my educational experience here at Clemson by surrounding me with other hard-working students and challenging me to push my self to be the best that I can.
My involvement in the Honors College: I'm currently an Honors College Ambassador and part of the Honors Student Advisory Board.
My involvement in Clemson University: I'm an Honors College Ambassador, a member of the Honors Student Advisory Board, a member of Phi Delta Epsilon (a medical fraternity), and a member of Clemson Students Against Alzheimer's.
Orange or purple?: Both
If I could travel anywhere: I'd travel to Hawaii because I went there a few years ago and loved everything about it. I thought it was an amazing experience!
What is on my Spotify/iTunes playlist?: Travis Scott, Juice World, Lil Uzi Vert, Lil Baby, Drake, Tame Impala, Post Malone, The Weeknd, DaBaby, Kanye, Carti, and so many more artists
My spirit animal: A tiger, because I'm powerful and ambitious!
Favorite place on campus: My favorite place on campus is Death Valley on game days! I'm most likely to be found eating at Chick-fil-A or in the library studying with my friends.
Three interesting facts about me: -I love to play basketball and golf -I've never gotten a sunburn in my entire life -I love Chick-fil-A
My future goals: I want to become a doctor and help others as much as I can!
How has the Honors College made a difference in your life?: It has given me the opportunity to meet so many new and amazing people that I've become friends with, as well as given me the chance to take exciting classes that other students don't normally get the opportunity to take here at Clemson.